Sarasota's Art Galleries: Downtown Sarasota, Part 2
Art in Sarasota County is not just found on museum walls or artist colony tours, but also in our rich collection of art galleries all around the destination
In our first installment of this gallery tour series, we covered three intriguing galleries located in the Downtown Sarasota area, which are by no means the only examples of quality art galleries in town. In part two, we continue our list on excellent downtown galleries.
In downtown Sarasota, it's easy to spend a leisurely afternoon casually shopping in our charming array of retail storefronts, dining on either light café snacks or going all-in for a fine dining experience, or even just spending a relaxing hour or two in the various parks and free bayfront attractions. But Sarasota has much more to offer than just carefree pleasures. Take, for example, the act of stepping into any one of a number of our amazing art galleries downtown. For me, this experience, which I've described in part I and now part II, has been an unintentional ride of emotions as I browse the works of art, which range from whimsical and colorful to the somber and profound.
Other viewers (be they visitors or locals) can also have this experience, and maybe even procure the object of their inspiration. These galleries are, after all, making a point to creatively display these arts to interested buyers, and from what I can tell, they are doing some compelling work in this curation.
I'd like to share a few examples of the galleries whose upcoming exhibits have caught my eye, and have even made me schedule a few shows and artists' meet-and-greets in my calendar.
[Blank] Slate Gallery
538 S Pineapple Ave
(941) 312-5700
Nestled in the Burns Court area of Sarasota, Blank State Gallery is an interesting combination of art gallery space and a stylish retail shopping experience. The gallery hosts many of the usual mediums of visual fine arts ranging from paintings, sculpture, and media works to furnishings and fine jewelry (from both local artisanal designers and mainstream makers). There is even a selection of men's and women's clothing by Scott Spahr, a designer from Delaware (where a sister gallery to [Blank] Slate Gallery can also be found). The space itself manages to project a stylish and sophisticated vibe, and it seems to burst with rich creativity from wall to wall.
Upcoming Events / Shows
There are two upcoming exhibits at [Blank] Slate Gallery which caught my eye for very different reasons. One exhibit features an emphasis on the abstract (represented across various mediums) to express the personal and interior world of artist Gay Germain, whereas the other exhibit by Dane Tilghman features a very personal surrealism-influenced rendering of historical subjects. Let me unpack those descriptions a bit for you below.
Gay Germain's "Sculpture Garden Conversations"
Oct. 1-29, meet-and-greet 5 to 8 p.m. Oct. 14
The work in this series ranges from two to three dimensions in medium, consisting of her mixed media paintings and sculptures (which very evidently belong together in style and form, regardless of differing mediums). Her pieces present abstract and geometric forms resulting from what the artist refers to as a "boundless process." The output of this process is meant to reflect and communicate some of her internal experience, rich with contrasts and densities. The series began as a succession of painted pieces and then progressed to three dimensional sculptures as well, but the common thematic and visual aesthetic threads are clear.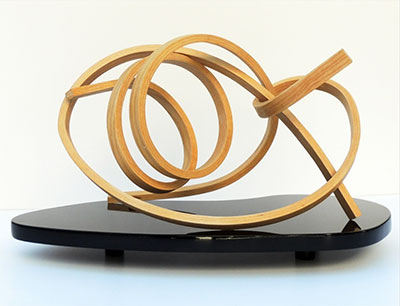 (one of the pieces in Gay Germain's upcoming exhibition at [Blank] Slate Gallery)

Dane Tilghman
5:30 p.m. Nov. 4 until 8:30 p.m. Nov. 26
Dane Tilghman's work features an Americana theme whose settings range from those of rural African American historical, to music (Jazz/Blues) and sports. The subjects of his paintings are often seen through a spatially warped and elongated surrealistic perspective. They each contain a spread of color saturations which ultimately resemble an assemblage of pieced-together solid shapes of varying hue. The historically-themed surrealism and color saturation combine in a rather emotionally charged way. This author found "Billie's Blues" and "Man and His Horse" particularly evocative.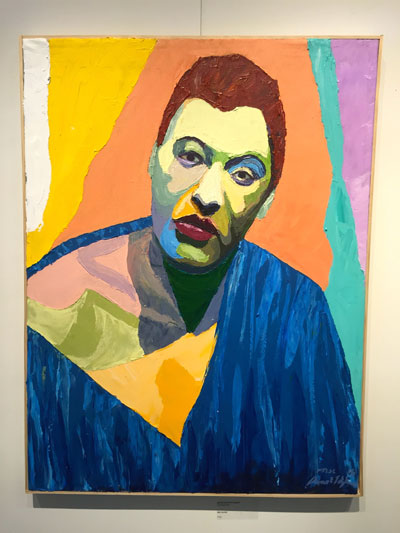 Billie's Blues, at [Blank] Slate Gallery
Art Uptown Inc.
http://www.artuptown.com/home
1367 Main St
(941) 955-5409
Art Uptown Inc. is a gallery in the heart of downtown Sarasota, right on lower Main Street. Artist and consumer can often meet and greet on First Fridays, further bridging an authentic sense of community between makers and buyers of art. The gallery features a visual art pieces in many of the formats we've come to expect as the commonly exhibited mediums: paintings in acrylic, oil, watercolor, etc; collage; photography; three dimensional pieces ranging from glass, wood jewelry, ceramics, metals, wood, and more. However, the gallery also feature digital pieces, which is not necessarily typical of the other art-buying spaces around the Sarasota area. In fact, one of the eye-catching upcoming events belongs to the former category (non-digital two dimensional work) and another belongs to the digital variety.
Upcoming Events / Shows
Jacqueline Clark - "Wacky Jacquie Interiors - Using Your Non-Dominant Hand"
2 to 4 p.m. Oct. 10
Clark's award-winning work in this series has a very unique process, in that she uses her non-dominant hand to craft the paintings. This process also involves unorthodox methods of combining various separately drafted objects into one final composition, almost like collage assemblage of the non-dominantly drafted pieces before rendering them into their final painted medium. Her current concentration is watercolor, and the subtle soft-focus typical of that particular medium adds to the strange and wonderfully destabilized world depicted in her compositions; where line and shape are under no obligation to conform to solid, smooth structures of everyday life. The bends and irregular curvature make for a not-unpleasant dream-like experience of her subjects, which appears to be uniquely Clark's own innovative signature in these works.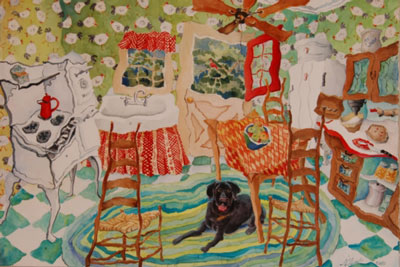 Summer Kitchen, at Art Uptown Inc.
Elisabeth Trostli - "Creating a Custom Digital Masque"
3 to 5 p.m. Oct. 31
This is less of an exhibition and more of a "how-to" demonstration. Trostli (trained at the Rhode Island School of Design) will be demonstrating step-by-step digital painting techniques for edits and embellishments on a human subject's photographically captured face. The artist considers the process as alternative to digital portrait, and calls her pieces "digital masques." There is a $20.00 attendance price, and she will even offer to carry out the process on one or more of those in attendance at the event. Considering the photographic source material, one marvels at the high stylization and use of the fantastic seen in the final look and feel of her digital pieces. The prospect of a live demonstration of this process is a fascinating and exciting one. Aspiring digital artists should also take note.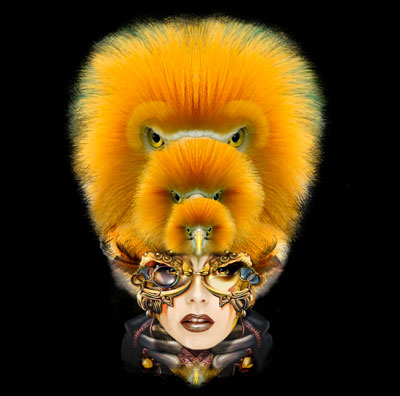 Birdwoman Masque
State of the Arts Gallery
http://www.sarasotafineart.com
1525 State St
(941) 955-2787
Since opening six years ago, State of the Arts has been a haven for art buyers seeking some of the fine art pieces created by artists specifically working in Sarasota. The gallery curates two dimensional works in a variety of mediums (including many large-scale paintings up to 10') ranging from mixed media, oil works, collage, and others. Three dimensional work is also exhibited and sold in their recently doubled wall-space, including sculpture, and other irregular mediums. In addition to to the classic gallery sections, they also have an "art lounge" which includes a considerable collection of art books that the visitor can browse within the gallery space.
Upcoming Events / Shows
Au Naturel: Sept 15 to Nov 15
State of the Arts used the following terms to describe the show in their press materials: "Nude, natural, free form, loose, grounded, sexy, raw." In sampling the images provided, I can see how those descriptions may fit in different ways to different pieces to be exhibited, but I'd add a few personally as well: "austere, understated, textured, minimal, subtle." Many of the other gallery pieces in other venues reviewed in this series have caught my eye because of the vibrant use of color, but the pieces in this collection have a dignified solidity and strength in their use of earthy and metallic tones.
Preview images: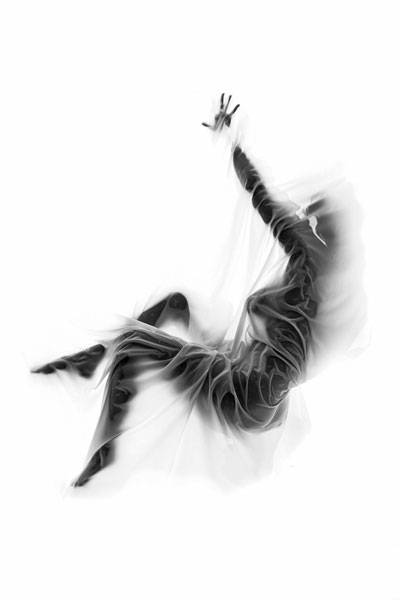 Photography by Salvatore Brancifort, at State of the Arts Gallery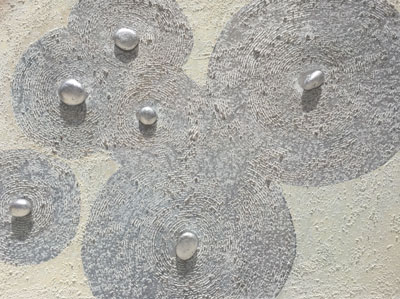 DL Steiner - Zen Garden - 51 x 39 1/2, at State of the Arts Gallery
Stay tuned for future installments of this gallery tour series, where we will preview exhibits and shows at other galleries in Sarasota (and not just those in Downtown City of Sarasota area)