Public Art Installations To Put On Your Radar
From larger-than-life murals to sculptural works of fine art, spot a sundry of public art pieces as you road trip or stroll Sarasota County.
Truly an art lover's paradise, especially for those who'd rather stumble upon public art outside in nature instead of inside the walls of a museum or gallery. And thanks to a thriving artistry scene, travelers and locals alike can enjoy public art displays as abundant as the palm trees—from the elevator doors of parking garages to the centerpiece of a roundabout and the backdrop to a bayfront park. And they all happen to fit in quite well to the natural landscape and architectural envelope of the Gulf Coast—bringing additional color, creativity and culture to an already vibrant community.
Downtown Sarasota
Spattered throughout Downtown Sarasota, passersby—on wheels or on foot—will discover a plethora of contemporary and abstract sculptural art to admire as you get to where you want to be. A few standouts from the street include Rob Lorenson's stainless steel sculpture, Sarasota Deco (across from Five Points Park on Main Street and Central Avenue); Embracing Our Differences infinity-esque sculpture (center of the roundabout of Main Street and Orange Avenue); Jorge Blanco's abstract, Bravo (center of the roundabout of Orange Avenue and Ringling Blvd); the Samurai sculpture (outside of City Hall); the stunning, bright red metal, abstract sculpture, Complexus (at the intersection of US 41 and John Ringling Bridge); and many, many more!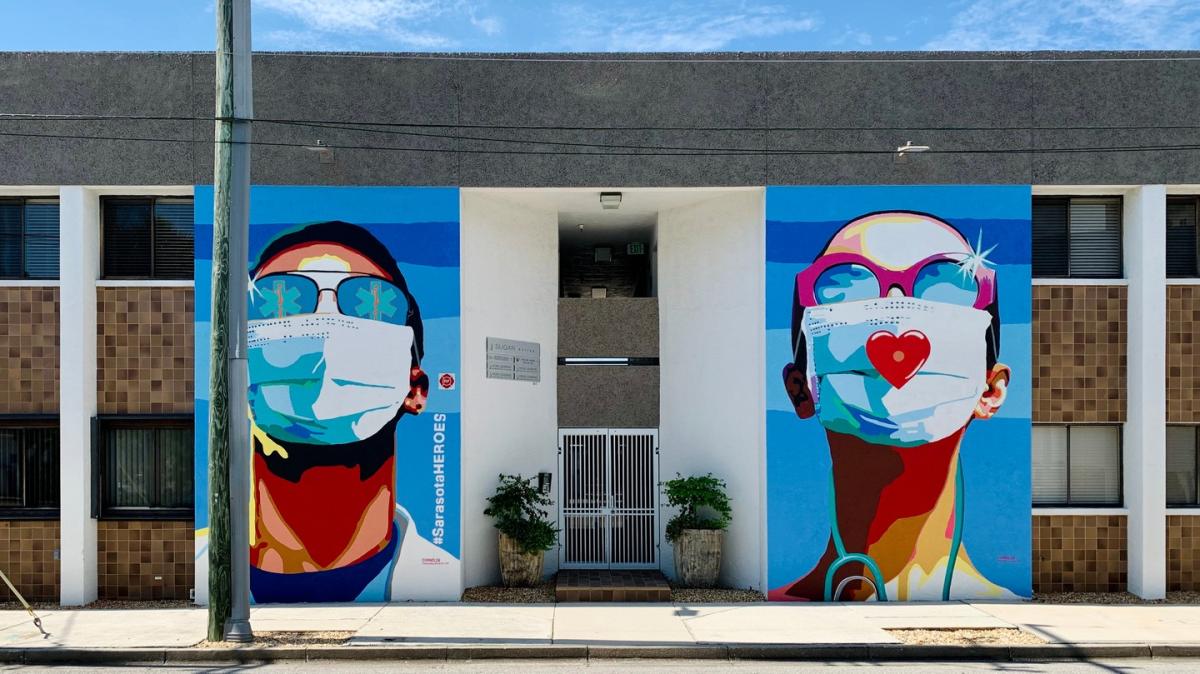 Beyond the sculptures, pedestrians and drivers will notice an abundance of city murals in the heart of downtown. The new mural at The Mark Sarasota luxury condos and retail building between Lemon and Pineapple Avenues is a striking, large-scale pineapple mural, titled Flora Urbana, by Danny Doya. Meanwhile,, find artist Brandon Thrift's Instagram-famous Spread Love (behind the Living Vogue office off of State Street) and Love One Another (on the corner of Cocoanut and Pineapple Avenues) murals—featuring the rainbow-colored array of graffiti paint dripping hearts for a fun photo opp.
During the pandemic, The Arts & Cultural Alliance of Sarasota commissioned local artist Karen Chandler to create a tribute mural to honor the bravery of local healthcare professionals in a collaborative display of gratitude, titled Sarasota Heroes (on 2nd Street). Additionally, the Alliance commissioned Chandler to paint Shop Dine Local (found outside of Mattison's City Grille on Main Street), an effort to support local restaurants and boutiques during the pandemic. Today, it is a trendy and photogenic mural to snap for Instagram.
And in Palm Avenue's parking garage, you will be welcomed at the elevators of every floor level with a cultural mural before heading down to the street. Beyond these few mentioned, find many more painted works of art to take in as you explore the robust downtown area.
Sarasota Bayfront Park
Down by the waterfront of Marina Jack of Downtown Sarasota, find the area's most prolific and recognizable statue, "Unconditional Surrender." The 30' statue is part of a computer-generated series by Seward Johnson—installed in the cities of Sarasota, FL; San Diego, CA; New York City; Pearl Harbor, HI; and Hamilton, NJ—created from an iconic 1945 photograph taken following soldiers' return from WWII. Unconditional Surrender, also known as Embracing Peace, can be seen and photographed with the picturesque bay and marina as the backdrop, or spotted driving along Tamiami Trail coming off and on John Ringling Bridge.
Historic Burns Court
Up and down Pineapple Ave and Orange Ave in the Historic Burns Court neighborhood of Sarasota, find a handful of classic to abstract murals over local businesses colorfully-painted buildings. And beyond looking up at the walls, also look down at your feet, to find a self-guided tour of 200 hand-painted sidewalks on both sides of the street, dubbed Avenue of Art, to enjoy as you meander in and out of the cafes and boutiques in this quaint arts and cultural district.
Rosemary District
The neighborhood of Rosemary has been exploding with public art the last few years—even dubbed recently as the Rosemary Art & Design District (RADD) for all of Sarasota—due to its dozens of public art murals that celebrate the local arts scene of the community. Just look around and you're bound to spot some—whether the Dream Large mural, painted by local students off Boulevard of the Arts, or the five-part series of murals within the confines of Rosemary Square, painted by volunteers at Art Impact Initiative to commemorate the local visual and performing arts scene.
And on the corner of 5th Street and Central Avenue, pedestrians and drivers will spot the first community-produced public art mural in Rosemary, led by contemporary local artist Grace Howl and featuring a collaborative collage of colorful shapes. This mural is the first of many hopefully public art projects organized by ART UP initiative through the Rosemary District Association.
Lido Key
Allegory of Sarasota, Its Seven Virtues was conceived and designed by Edward Pinto in 2008—located at various points on the island of St. Armands Circle on Lido Key. The street statues represent seven qualities of life: water, music, flora, sculpture, learning, medicine and bounty.
Right off the circle, at Lido Beach Pavilion, beachgoers will find a series of murals to showcase the history and spirit of Lido Key. Local artist Tim Jaeger lead this project to depict the Famous Lido Beach Casino and the Car Caravans to Lido for the Wade-In Protests. Multiple spaces and subjects have been identified for future murals at the Lido Beach Pavilion which will be completed in phases over several years.
Historic Downtown Venice
As you explore the vibrant shops and restaurants of Historic Downtown Venice, notice a few murals on the sides of buildings that proudly represent the Gulf Coast city and its local history and heritage. For instance, this interactive 3-D mural by artist David Lee, commissioned by Venice Area Beautification organization, evokes a variety of Venice city themes and is meant to serve as a background for selfies—on the east wall of Celebration Corner, off of West Venice Avenue facing Nassau Street.
Casey Key, Nokomis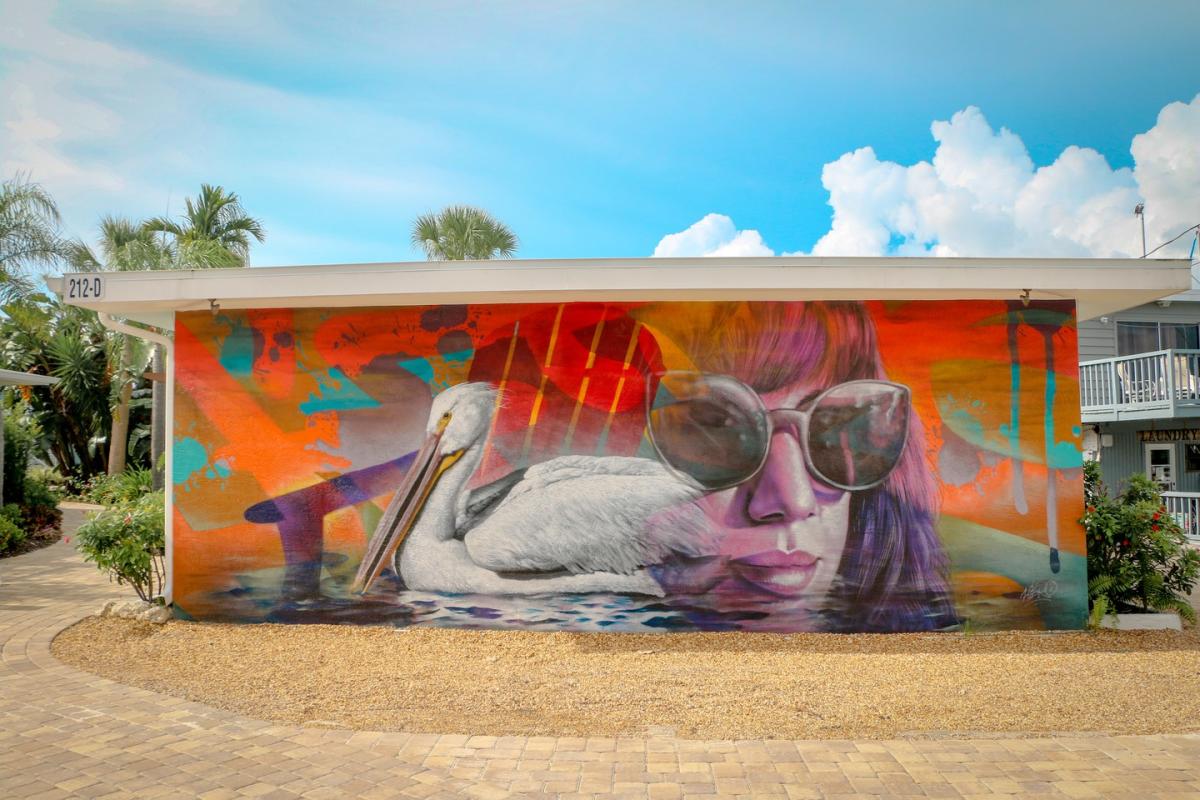 Out on the tropical oasis of Casey Key, find the secluded Escape Resort and Marina. There, guests and onlookers driving by Casey Key Road will be able to spot an eclectic assortment of spray-painted murals by artist Hiero Veiga—meant to reflect the environment and make a cultural impression on the beachfront getaway. If you're a guest, take a photo in front of Escape's vintage, tropical palm leaf-painted VW van.
Dearborn Street, Englewood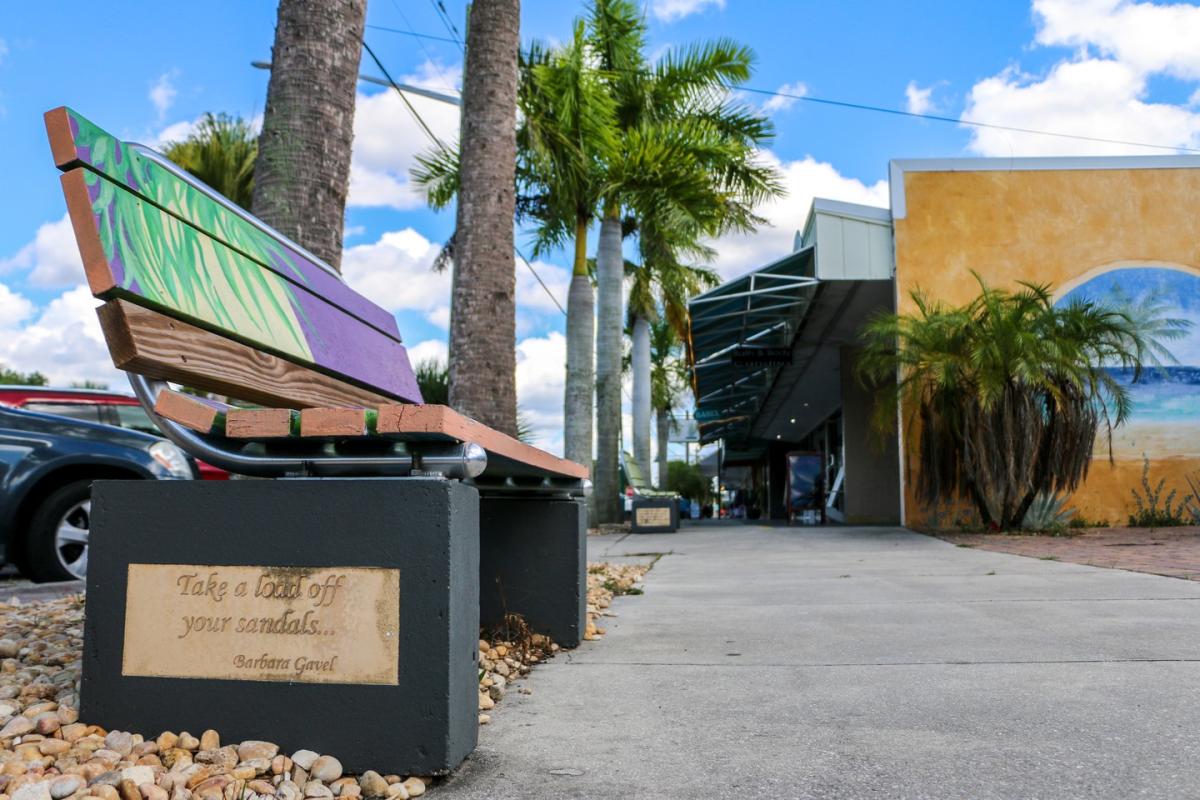 In the small, local community of Englewood, there is the quaint and artsy street of Dearborn, where pedestrians will be able to sit and enjoy the local creations of beautiful hand-painted benches. The 17 park benches provide an inspirational quote along with a painted theme/subject matter—adding a touch of color and uniqueness to what are usually plain, wooden benches to sit down on.
Meanwhile, in the heart of Olde Englewood Village on Dearborn Street, visitors will find two very fun tropical murals—one on Waterways and the other on Mango Bistro restaurant. The area is currently part of an ongoing arts initiative to continually introduce Dearborn Street with contemporary and quirky art, led by Illegal Art, which plans to install interactive public art projects, more large-scale murals and more.
Additional Resources
Arts & Cultural Alliance of Sarasota County's website is an awesome guide to arts and culture in the county along with Downtown Sarasota's Street Art site. You can also check out attractions and events at sarasotaarts.org, and on the City of Sarasota's Public Art List, you read up on the city's Public Art Program—including public art collections by artist, location or medium.