Mountain Biking: Adventures in North Port
North Port is home to nine miles of primitive mountain biking trails
North Port, Fla., situated between Tampa and Fort Myers in Sarasota County, is well known for its unique natural environment and abundant choice of activities for the outdoor enthusiast. The city offers an array of canals and trails for hiking, fishing, kayaking, horseback riding and more.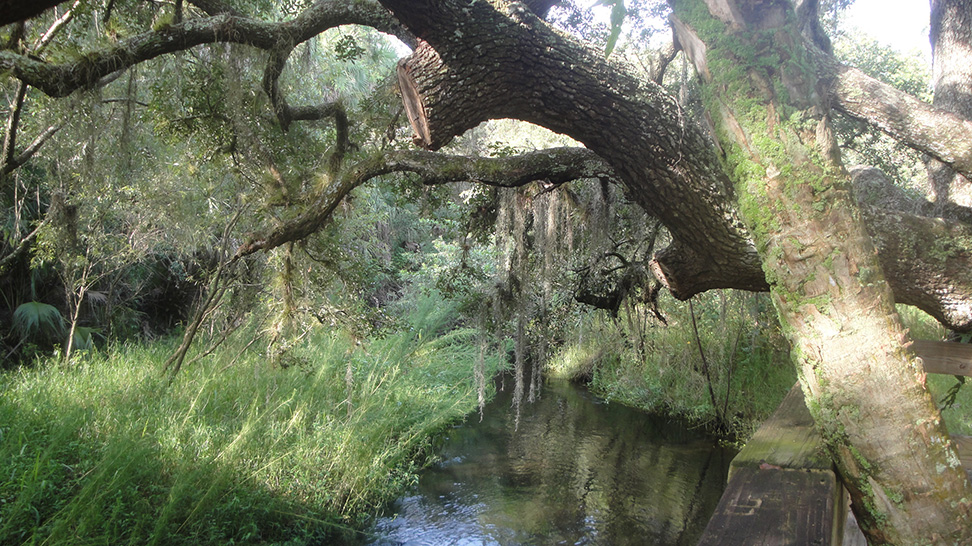 Most notably, the city of North Port is home to one of the most challenging mountain biking trails in Southwest Florida. Years ago, local mountain bike enthusiasts blazed the trail along the canopy-covered Myakkahatchee Creek, which cuts through the heart of North Port. The creek is lined with pristine moss-covered oaks, looming slash pines, ancient cabbage palms and thick palmettos. Much of the trail includes rugged terrain with exposed roots of oak trees, sharp turns, and short dropoffs ideal for jumps. For those who are less experienced riding mountain bikes, the trail does offer sections ideal for an intermediate rider or an aggressive beginner.
About the Trails
Just a short drive off Sumter Boulevard, near Interstate 75, the park is located in a remote neighborhood, creating a feeling of escape from bustling city life. The park is owned by the city and maintained by Sarasota County. Additionally, visitors can access the trails from Butler Park, located on Price Boulevard near North Port High School.
One of the highlights of riding the trail is the likelihood of seeing a myriad of native Florida wildlife. Some of the creatures known to live in the area are bobcat, deer, alligators, owls, armadillo, otters, various water birds and reptiles.
The North Port mountain biking trail offers riders a challenging mountain bike adventure and the opportunity to enjoy the natural beauty of Southwest Florida. For more information, visit www.CityofNorthPort.com or call the city's Parks and Recreation Division at (941) 240-8126.