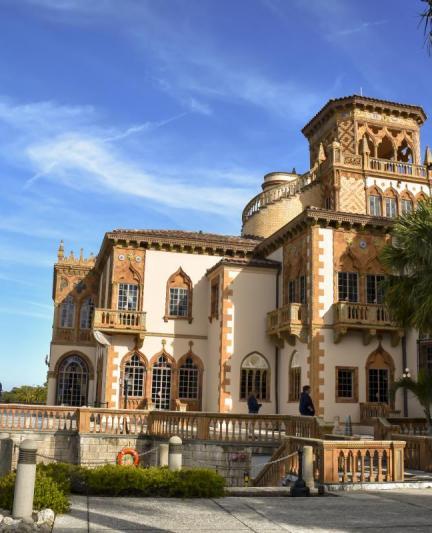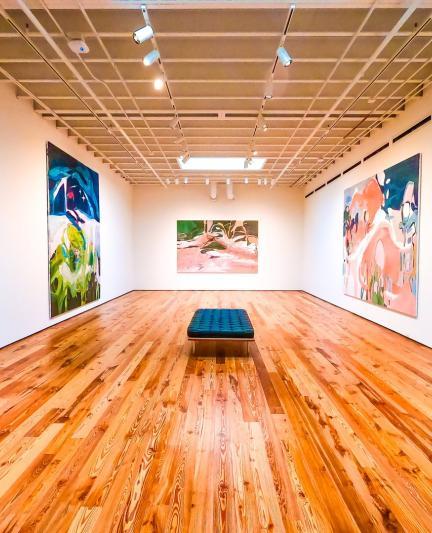 Itinerary: Have an Art-Filled Visit to Sarasota
Art lovers, rejoice—Sarasota is known as Florida's Cultural Coast because of the large number of artists and art venues located right in our area.
Whether you want museums, theater, live music, photography or paintings and sculpture, there's a little bit of everything here. It's all nestled in the backdrop of the beautiful Gulf Coast.
Day 1
Ringling Museum, Bayfront Gardens, and Ca' d'Zan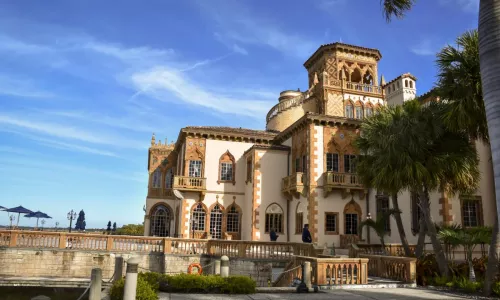 One can't-miss attraction for your art-focused visit to Sarasota is The Ringling. The Ringling features a world-class museum with European and Asian art, located on the estate of the late circus magnate John Ringling and his wife Mable. The art museum includes hundreds of Baroque-style paintings from Europe as well as the Ting Tsung and Wei Fong Chao Center for Asian Art, the latter of which opened in 2016. The Ringling also is home to the Keith D. and Linda L. Monda Gallery for Contemporary Art, focusing on artists in the 20th and 21st centuries. Free docent-led tours of the art museum are available.
That art collection alone would make The Ringling a must-see destination, but there's more. There's also the Circus Museum, as well as Ca' d'Zan—the ornate former home of the Ringlings—located right on beautiful Sarasota Bay. Plan to tour Ca' d'Zan if you're into architecture and opulence. The 66-acre Bayfront Gardens include the Bolger Playspace playground, rose garden, and both native and exotic trees. You'll definitely want to snap some pics beside the imposing banyan trees.
Stop by the gift shop on your way out and grab a bite at The Ringling Grillroom, Mable's Coffee and Tea, or The Ringling Concessions. We're pretty sure all of these attractions will leave you famished.
Also located on The Ringling property is the Historic Asolo Theater. Check out the Asolo's website for details on any shows that may be going on during your visit.
Art Galleries at the Ringling College of Art & Design
Keeping up with your Ringling theme, make your way just a short drive down to the Ringling College of Art and Design, which has seven galleries that display work from students, faculty, alumni and visiting artists. As the name implies, Ringling College attracts students with a strong interest in art, design and filmmaking. The galleries on campus have rotating exhibits, and there are often lectures related to the artworks on display. Plus, the campus has some cool architecture that makes for an interesting stroll.
Catch a Show
You'll have your pick of venues to catch a show during your visit to Sarasota, whether it's the Historic Asolo Theater, Westcoast Black Theatre Troupe, Van Wezel Performing Arts Hall, Florida Studio Theatre, Sarasota Opera, Asolo Repertory Theatre and more. Just check out their schedules, buy your tickets and enjoy!
Day 2
Take an Art Tour With Discover Sarasota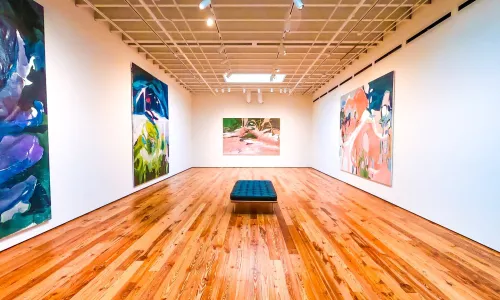 What better way to get to know the arts scene in Sarasota than a tour? With Discover Sarasota, you'll have a knowledgeable guide to fill you in on Sarasota's art scene while you sit back, listen and take in the sights. Discover Sarasota has a wide range of local tours given in their air-conditioned trolley or van. Discover Sarasota offers two art-focused tours: the Public Art Tour and the Art Crawl Gallery Tour. With the 90-minute Public Art Tour, you'll get to see more than 50 sculptures, statues and murals in downtown Sarasota, all explained by their guide. The Art Crawl Gallery Tour is a two-hour tour that takes visitors to three galleries as well as some of the public art spaces in downtown. Check availability of these tours in advance online.
Sarasota Art Museum
Located in what was once Sarasota High School, the Sarasota Art Museum focuses on contemporary art in its 15,000 square feet. In addition to gallery space, there's a sculpture courtyard, a gift shop, a bistro and an auditorium for special events. The Sarasota Art Museum is operated by the Ringling College of Art and Design.
Listen to Live Music
Wrap up your second day with a live music show, available at many venues around Sarasota. Here are just a few possibilities: O'Leary's Tiki Bar and Grill, The Beach Club Siesta Key, Gator Club and more. If you're still at the Sarasota Art Museum, there's live jazz in the evening on the second Thursday of each month.
Day 3
Hermitage Artist Retreat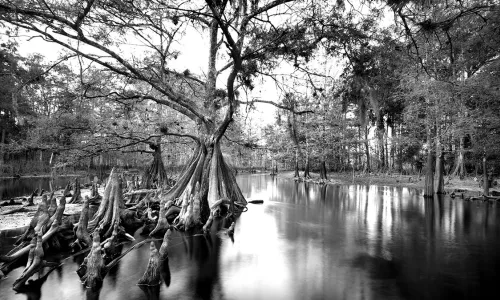 The Hermitage Artist Retreat is a dedicated space for artists to visit and work on their craft. The Hermitage sponsors an impressive array of regular shows and events. Some are held at the retreat, while others are offsite. Events held by its resident artists include talks, beach readings and meet-the-composer series. Visit the Hermitage website in advance to find out what special events are going on during your visit.
Clyde Butcher Venice Gallery & Studio
Clyde Butcher has taken stunning photos of Florida's wildlife (including pictures of Sarasota's Myakka River State Park), and his black-and-white landscape shots may remind you of Ansel Adams' work. Butcher now has his Clyde Butcher Venice Gallery & Studio in Venice, in addition to a location in the Everglades. Check out his gallery, open Tuesday to Fridays, and visit the gallery's website to find out if tours of the darkroom may be available during your visit. When you visit, you can also check out his wife Nikki's hand-painted photography.