10 Things to Do in Venice
Venice, Florida, named one of the top two "happiest seaside towns in America" will undoubtedly leave you smiling. Here are ten reasons why.
For the epitome of Floridian dining, Sharky's on the Pier gives all other waterfront restaurants a run for their money. Located directly on the beach with a stunning view of the Gulf and insanely long pier, it's a rare location where you can eat, chat, drink, watch fishermen, and take a mid-dining swim during the same meal. Order some grouper and a local brew, listen to the sounds of troprock music and waves crashing, and feel the salty breeze on your skin.
2.
Take a Ride on the Wild Side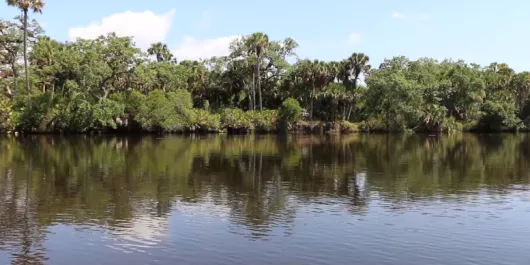 Explore an alternate side of Venice with a River Boat tour along the Myakka River. Search for alligators, herons, snook, turtles, and critters galore. After all that adventuring, grab a bite at local eatery Snook Haven for some smoked deliciousness.
3.
Aquatic Paleontology, Anyone?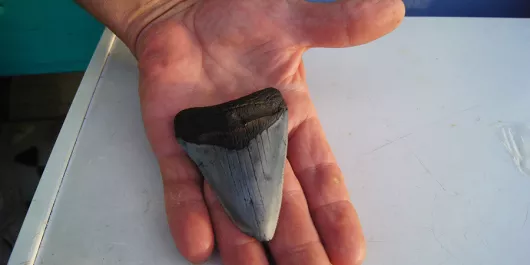 Your best bet to find the big, big shark teeth – we're talking Megalodon here – is to grab a mask and snorkel and search from within the waters. Caspersen Beach gives you ample opportunities to pursue your treasure. No need to venture far; just wade in, pop on that mask, and start searching. Many stores along the main shopping drags in Venice sell shark tooth sifter to give you that extra edge.
4.
The Real 'Old Florida'
Learn a little more about this unassuming, yet historic, town at the Venice Museum & Archives. Free admission gives visitors a glimpse of what made it what it is today. Fossils, artifacts, and pictures tell the tale of Venice. Frankly, I could look at old fishing pictures all day; why was everyone always dressed so elegantly and the fish so massive?
Whether you're looking for traditional Florida or modern décor, staying at the Ramada Venice Resort and Inn at the Beach will leave you rested and in the midst of Florida leisure.
Local, fresh seafood is the standard at Dockside Waterfront Grill on the Venice Intercoastal. Grab a boat drink and watch the boats along the marina while noshing on grouper, shrimp, stuffed mushrooms, and bisque.
The Jetty is a Venice staple; full of surfing, fishing, lounging, rock climbing, sunset viewing, and dolphin spotting, it's unlike anywhere else in the best possible way.
One weekend each month the Venice Mercato opens its doors. Inside are treasures you didn't know you needed until that magical moment when you are united. This European-style vintage market spends each month searching out and cleaning up goodies from rugs to tables, dresses to that weird breadbox like your aunt had. The hunt is half the fun and the story that goes along with your new finds is the other half.
There is a little hidden gem of a beach in Venice that no cars, bikes, hoverboards, or even feet can reach. To visit the South Venice Beach, you need to venture via water, and the Venice Ferry is the ideal way to get there. A mini tour of the Intercoastal is just an added bonus to the trip. If you happen to have your own means of water travel, squeeze in a jaunt up nearby Alligator Creek to search for snook, herons, mullets, and crabs.
It's Venice. You must. I'm pretty sure the beach would be sad if you didn't. Take a walk along the tidal edge, look down, and search for those black pointy signs of a prehistoric age for the ideal summation of a Venice visit.