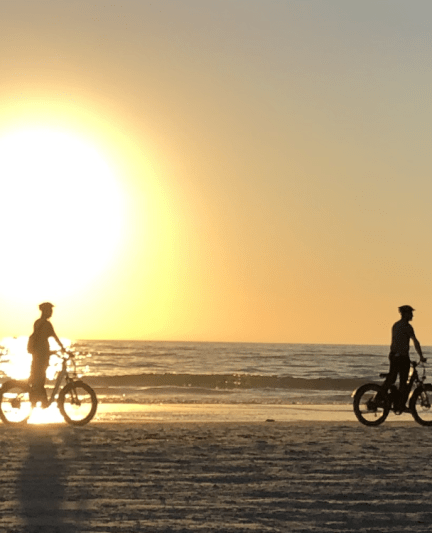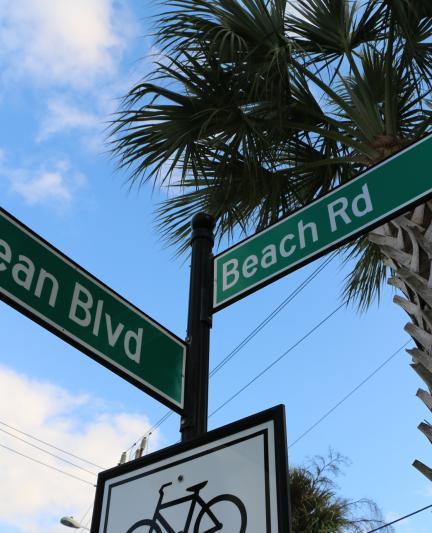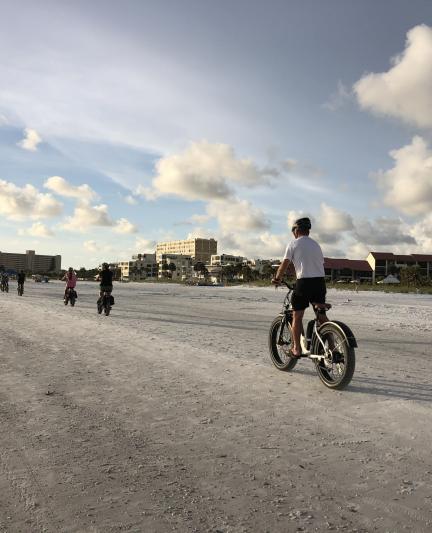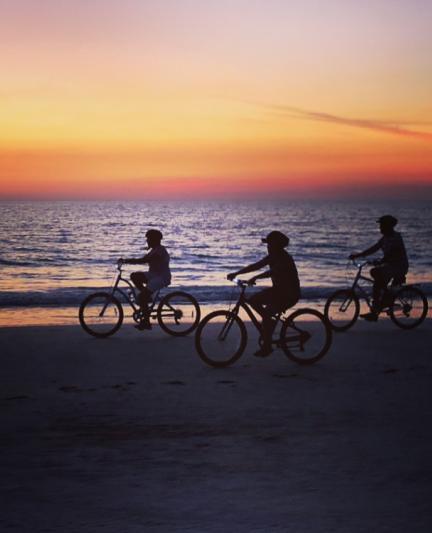 Going Electric Across Sarasota Sands
From Lido's shores to Siesta's sunsets, two wheels and a motor are arguably one of the best ways to explore the beaches of Sarasota County. Jump on an e-bike yourself and see what all the hype is about!
Grab your friends, family and loved ones, or cruise solo to experience a fun, relaxing and informative ride—either down the entire length of the #1 Beach in the country, over scenic bridges, through architectural neighborhoods. Ebikes offer comfort, power and inclusivity—enjoyed by people of all ages, experience and physical activity levels, whether traversing sand, roads or trails. Riders have the option to pedal and work out their legs, or, choose to simply sit and let the bike do the work with the push down of a throttle.
From popular city and beach tours to scenic back roads and hidden secrets that only locals know about (and even many do not), Sarasota Bike Tours takes you through the well-traveled streets as well as the off the beaten paths to see something special not considered the usual tourist sites. Best part is, there's an easygoing vibe with no pressures of "keeping up" — riders of all experience levels are welcomed to ride together and maintain a comfortable pace effortlessly.
With the growing popularity and interest in e-bikes, Sarasota Bike Tours added new RadRover Step-Thru Electric Fat Bikes in addition to its regular bicycle fleet. These fit-for-anyone e-bikes offer a low center of gravity, puncture-resistant fat tires which make them ideal for riding both the streets and across crystal sands, an intelligent 5-level peddle assist and power on-demand throttle, allowing you to use as much, or as little, effort as you desire while cruising the coastline. They have a top speed of about 20 mph and the battery range average is between 25-45 miles. After a quick tutorial on the bikes and safety, riders will be paired with a bike, given a helmet (if desired), and accompanied by a knowledgeable tour guide to lead the way and provide insight on the local sights along your chosen route.
With different tours to choose from—including custom and elite tours available—the sunset tour hugging the tide line of Siesta's beach remains the most popular amongst visitors and residents alike. The route includes riding on the quaint roads of Siesta Village as well as across the white quartz sands of Siesta Key Public Beach. There are also various vantage points along the way to Sunset Point to soak in the views of a Sarasota sunset over the Gulf of Mexico. The guided tour of 7-9 miles takes about two hours.
Don't be fooled though—Lido Key's sunset tour is just as scenic and fun to jump on. Just further north up the coast., the tour begins and ends at Lido Public Beach Pavilion, exploring the world-famous St. Armands Circle and the majority of Lido Key. At the conclusion of the tour, you will enjoy a sunset with water and snacks amongst your group. The guided tour of 5-7 miles takes about two hours.
What are you waiting for? Pedal-powered bicycling adventures await in Sarasota—year-round!