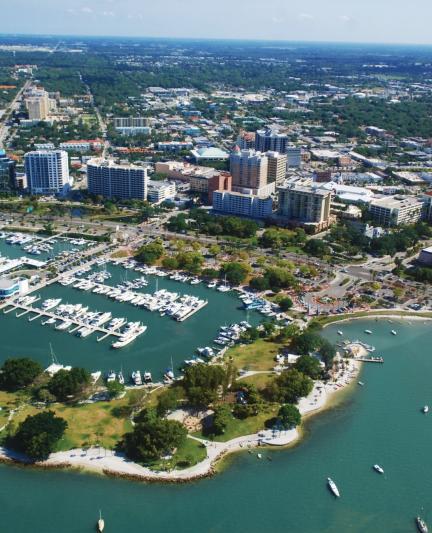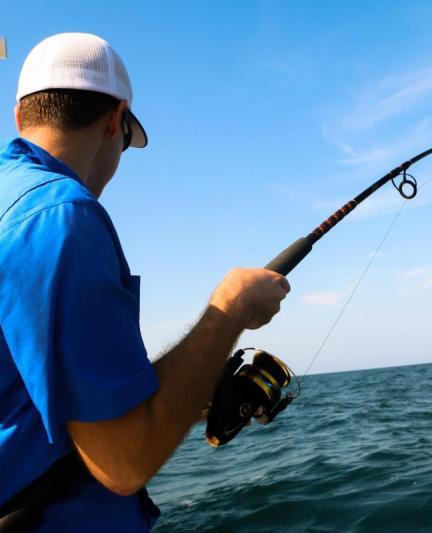 Boat Rentals in Sarasota and its Barrier Islands
Get out on the water on your own terms and find a suitable watercraft for your group at one of these local boat rentals
Sarasota has been, and always will be, a paradise for those who love being out on the water. With weather that averages 73° and sunny all year round and a stunning coastline spanning 37 miles with pristine beaches, plus numerous freshwater canals/waterways (known as the Blueways), it's no surprise that boats are in high demand.
Whether you're looking for a leisurely day to fish, idle through the mangroves and look for sand dollars along sandbars, or an adventure-filled outing of snorkeling, water sports and tiki bar hopping, Sarasota has many local boat rental operators and watercraft options to suit your aquatic pursuits. From fishing boats to luxury yachts, there's a boat for every style, size and budget. With these top boat rental providers, you can explore the shorelines, sandbars and barrier islands of Sarasota in no time!
Founded right here in Sarasota, FL with headquarters in Venice, Freedom Boat Club is now the world's largest members-only boat club with hundreds of locations across the US. In Sarasota County alone, you can find a Freedom Boat Club to rent/launch from at seven different locations: Marina Jack - Bayfront Park, Sarasota Hidden Harbor Marina, Laguna Drive in Venice and Venice MarineMax. Englewood Ainger Creek, Stump Pass and Englewood Cape Haze.
Membership grants you access to thousands of boats from its local, nationwide and worldwide fleet with 0% of the hassle that comes along with owning/maintaining a boat. The club takes care of all the maintenance, cleaning, repair, insurance and storage. You just get to show up and go!
Siesta Key Boat Rentals: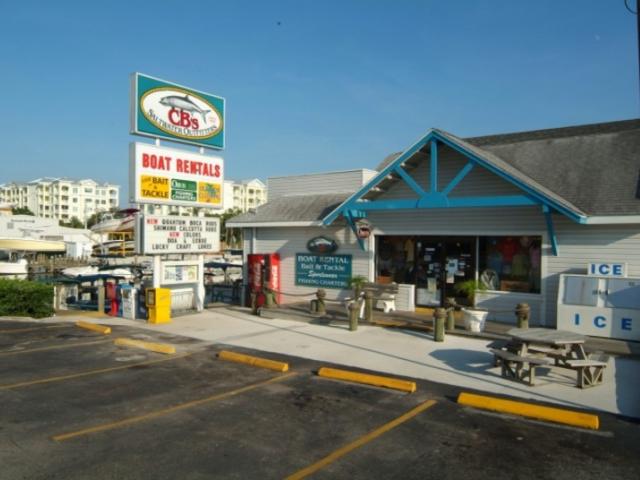 CB's Saltwater Outfitters, Boat Rentals & Parasailing: Located on Stickney Point Road at the South Siesta Key Bridge, find local mainstay, CB's Saltwater Outfitters, the largest bait and tackle shop on the water. A one-stop shop for all your boating needs, they offer a wide range of boats for rent, from fishing boats to pontoons and even kayaks. They also provide everything you need for a full day on the water, including fishing gear, bait, SPF protection, hats, sunglasses, apparel, snorkel/dive gear, safety equipment and more. With a knowledgeable and friendly staff, CB's is an excellent choice for those new to boating or those looking for a hassle-free experience.
Siesta Key Watersports: This is the place to go for a large-group pontoon boat big enough to fit 11 people. With a prime location on Siesta Key, you'll have easy access to some of the area's best water activities, as boat rentals here are allowed in the Gulf of Mexico so you can cruise to Siesta Beach, Lido Beach, Longboat Key and even Venice and Englewood. A perk to note: Someone from the company always fuels the boat for you, so you don't spend your rental hours waiting at the fuel dock. They also offer a variety of water sports equipment, including jet skis, parasailing and wakeboarding, in addition to their boat rentals.
Bayfront Yacht Works & Marina: For those looking for a more personalized luxury experience, this marina offers private boat charters on luxury yachts, catamarans and sailboats. Their experienced captains will take you on a customized tour of the area, showing you the best spots for swimming, snorkeling or just relaxing on the water. To take on the Intracoastal Waterway on your own, choose from renting a deck boat, bowrider, pontoon boat or fishing boat, and the crew will help point out a few areas to see while your're out exploring.
Downtown Sarasota Boat Rentals: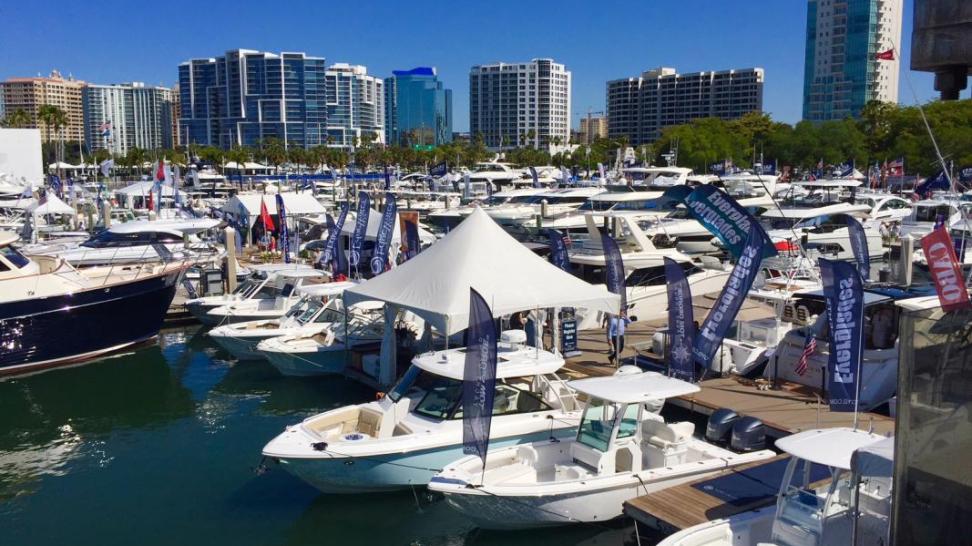 Sarasota Boat Rental by Suntex: Located right in the heart of downtown Sarasota's Bayfront Park, find the picturesque Marina Jack. The marina's fleet, operated by Suntex includes double-decker pontoon boats with slides, center consoles and deck boats, and they offer a range of rental periods, from two, four and eight hours. Equipped with a Bluetooth stereo, cooler, bimini tops and economical outboard engines, you are all set for fishing, beach hopping, swimming, sunbathing or just cruising to your favorite waterfront restaurants, including Marina Jack's. If you're a frequent visitor/renter of Sarasota or a local, it may be a good idea to sign up for the Suntex Boat Club to get more bang for your buck!
Off The Hook Boating: Providing real-time availability when booking and a high-quality rental fleet of meticulously maintained boats, this family-owned and operated company is a great option to launch from Centennial Park Boat Ramp neighboring The Bay Park. Offering affordable rates (daily, weekly and monthly rentals available) and flexible rental times. Just ask and they'll also provide details of suggestions for great places to visit for a day filled with fun!
South Sarasota Boat Rentals: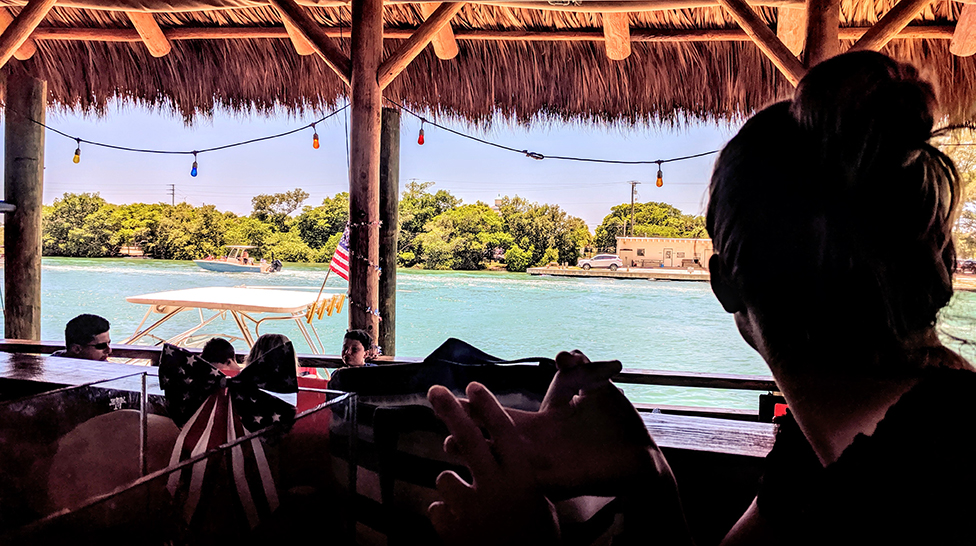 Cool Breeze Boats & Jet Ski Rentals: With eight high-quality, affordable boats to choose from, as well as jet ski rentals, this company serves the south Sarasota County region of Nokomis/Casey Key, Venice and Osprey. Whether an easy-going pontoon boat or a hydraulic steering deck boat, Cool Breeze will have you exploring the more southern waters of Sarasota in style at low prices for either a half-day or full-day on the water.
Venice Boat Rentals: Located in the historic Fisherman's Wharf Marina across from Dockside Waterfront Grill in Venice, check out the variety of this locally-owned fleet. For the experienced boater, its 26-ft center console is great option for offshore fishing trips out in the Gulf or diving to find fossilized sharks' teeth! Want to spend a day on the water without the hassle? Hire one of the captains here to show you around Venice's waterways.
Longboat Key Boat Rentals: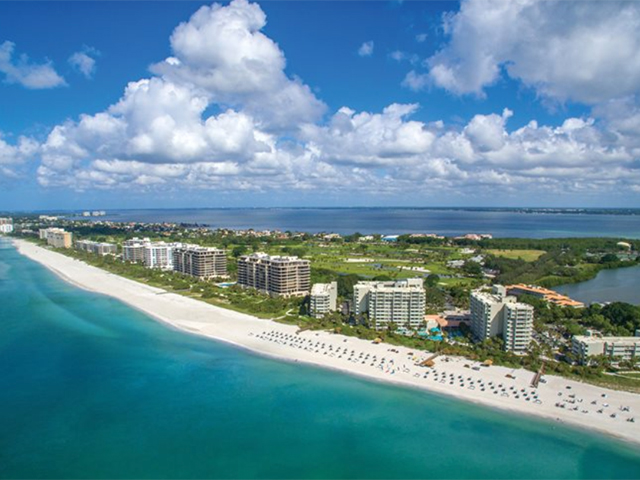 Cannon's Marina: This longtime local marina of Longboat Key specializes in boat sales and rentals of all kinds. They offer a fleet of well-maintained boats—including pontoon boats, center consoles and deck boats. They also provide a variety of add-ons, such as coolers, water sports equipment and GPS systems to enhance your boating experience so you can explore Sarasota's most northern key, its sandbars and elevated waterfront restaurants to rock up to and anchor at, such as Dry Dock Waterfront Grill and Shore.
Curious about what other restaurants you can anchor and eat at? These are the best waterside restaurants to dock and dine for when you need a refreshment or bite after a healthy dose of sunshine and saltwater!
Requirements to Operate a Boat:
For those wishing to operate a motorized watercraft of 10 HP or more in Florida, the Florida law requires anyone born on or after January 1, 1988 to successfully complete an approved boating safety course. Passing this course will grant you a Boating Safety Education Identification Card (also generally referred to as a Lifetime Boating License) issued by the Florida Fish and Wildlife Conservation Commission (FWC).
BOATERexam.com® is a delegated provider for the FWC. Once you pass the exam, get certified for $34.95 and print your new boater ID card, you'll be certified for life and be on your way to cruising Sarasota's waterways.
Boaters wishing to rent a boat or a PWC in Florida that were born in or after 1988, and who do not wish to possess a Lifetime Boating License, are required to still take the Boaters Test to obtain a Florida Temporary Boating Certificate. Your Temporary Certificate is valid for 90 days after completing the 25 multiple choice-question Boaters Test. You can take this test for $9.99 via BoatTests101.com which is approved by the FWC.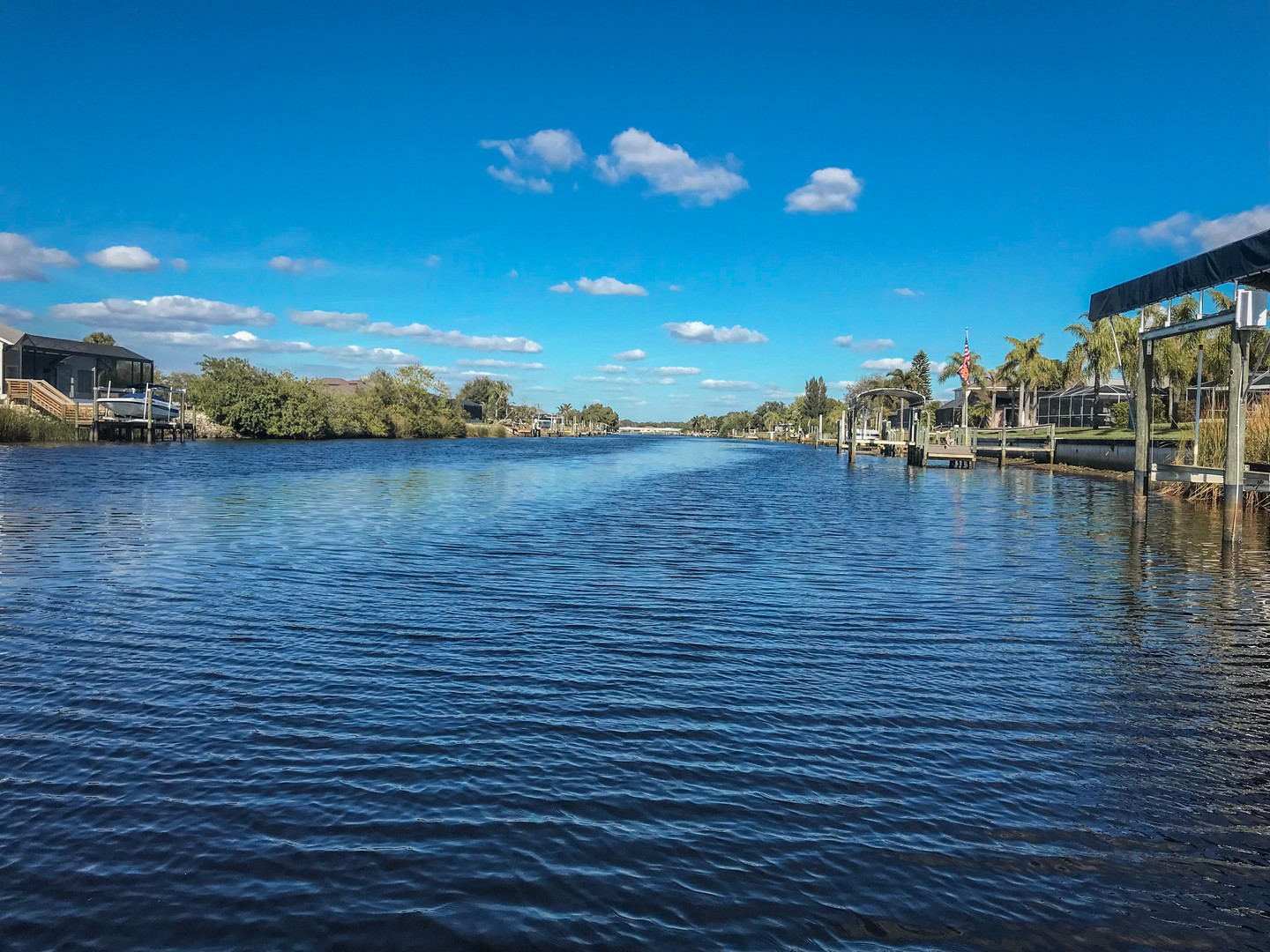 Boating Age Requirements:
Minors may become certified as there is no minimum certification age. However, no one under the age of 14 years old may operate a PWC. Boaters in Florida can operate a vessel on Florida waters without restrictions if they are older than 21 years of age.
Have fun and stay safe on the water!