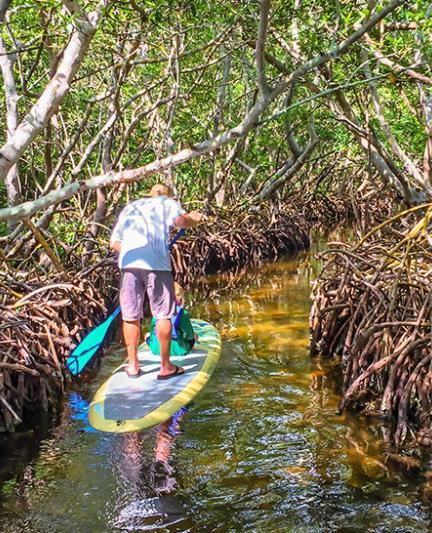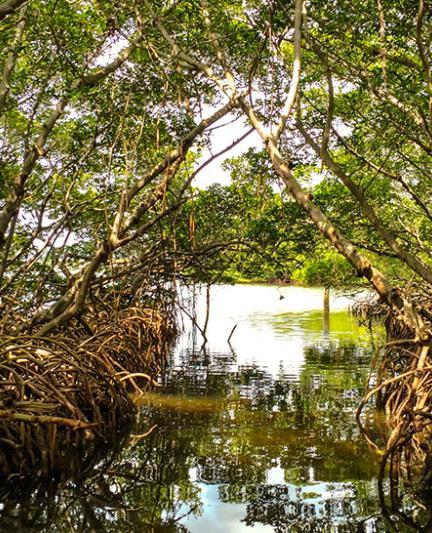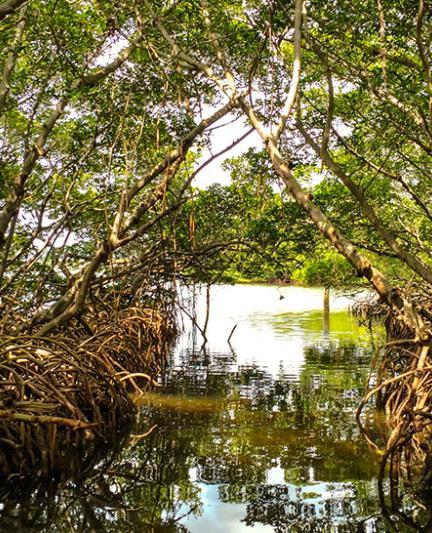 Sarasota Mangrove Tunnels Take You to a Whole New World
A trek through the mangrove tunnels of Ted Sperling Park at South Lido Beach Nature Park gives kayakers and stand-up paddleboarders unique routes for exploring a unique ecosystem
"Aaah! I almost just bit it! I was dodging that branch and almost fell right off!" Cue incessant giggling, leading to further instability. I wish I could say it was one of my kids who claimed this prime example of agility and grace, but, alas, it was I.
Fear not, I stayed upright, saving myself and my son from a plummet into a foot and a half of crystal clear 87 degree water. Phew! It's pretty much the most danger we will encounter while paddleboarding at the mangrove tunnels, which ensures I can turn off my mommy alert and enjoy the ride. The mangrove tunnels are part of the Ted Sperling Park at South Lido Beach Nature Park. Surrounded by condos and resorts, you'd never expect to find this aquatic labyrinth here. But once you arrive, it's a whole new world.
Kayak or Paddleboard
Your choices for navigation are kayak or stand up paddleboard (SUP). The waters are shallow at times, narrow at times, and the tunnels' construction requires careful maneuvers. A map at the onset of the course directs you to follow the numbered paths, which will lead you back to your origin. If you've been there before or have more time to enjoy and explore, additional tunnels beg to be navigated. The road less traveled, mangrove style.
We have our own SUPs, so we brought those. But there are also a variety of companies that rent them, and/or give tours directly from this location, including Kayaking SRQ Tours & Rentals.
With our six-year-old riding with me and his three-year-old sister riding with Daddy, we set off. At first, my boy is the paddler for our board. This is a great place to practice. With no boats or waves to wreak havoc, you can focus on simply moving forward and not falling. Plus there's the added bonus of solitude, so there's not the audience of mockers that you may have at the beach. He eventually gets tired, sits down, and enjoys the ride as I propel us through the course.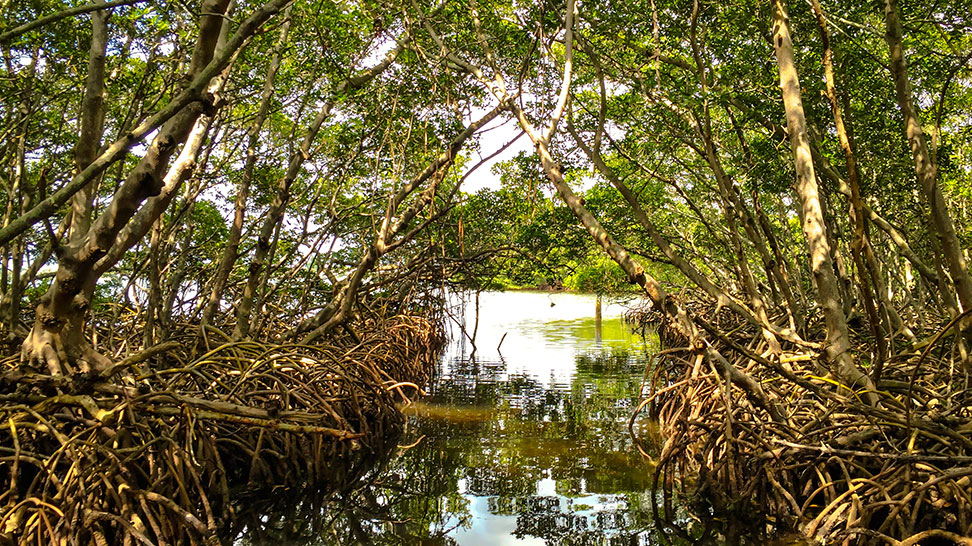 What You'll See
Once in the tunnels, it's an awe-inspiring sight. Mangroves always amaze me, a representation of the durability and adaptability of nature. Now, imagine that they are forming an archway overhead, surrounding you in a hidden world where fish swim inches away from you in waters so clear you can see the grasses below them, fiddler crabs scurry on exposed roots nearly brushing your body, trees grow so thick above you that you can't see the sky, quiet lingers so stilly that you hear a leaf fall and nearly tumble off your board due to the thunderous 'crash', and then…… "Crab! Crab! Crab! Crab!" My daughter has decided to yell "crab" each time she sees a fiddler. Which means incessantly. So much for serenity. But it's our own personal world and we can enjoy it in our own special way, which, for us, means cheering for crabs.
While on our adventures, we not only see fiddlers – loads and loads of fiddlers – but also a myriad of jellyfish, in what seemed like a jellyfish nursery, and spotted a large snook, which my husband desperately wanted to catch.
When to Go
When considering going to the mangrove tunnels, it's not an issue of if you go – you gotta go – but when. Review the tide information as a too low tide may lead you to walking your kayak or SUP through some shallower parts and a too high tide will make the lower hanging branches a bit, well, lower. It makes quite an adventure when you're dodging mangrove vines.
Just Be
Fear not getting lost. Each tunnel in terconnects and leads you to an easy path back. But because they are so dense and labyrinthine, you don't see many other adventurers. You just hear the sound of your motion, the leaves falling, the birds diving, and the mullet jumping. It's a time to stop your paddling, sit down on your vessel, and just, be. Be in this unique ecosystem. Be an unobtrusive part of the ocean life's habitat. Be apart from civilization. Be an observer. Be an adventurer. Be together. Be alone. Be the one who takes the untaken tunnel. You never know what you'll discover.