Events & Festivals
There's always something happening on Florida's Gulf Coast. Find out what events will be going on during your stay, or take a look at some of our favorite annual festivals!
Note: Due to COVID-19 regulations from Federal, State or County governments, events may be postponed or cancelled. Please refer to the event and/or the event host's website for the most accurate and up-to-date information regarding each event.
Displaying 1 - 10 of 442 listings
Narrow Your Results
= Multiple Dates
Your favorite weeknight hangout has arrived at its new home, Waterside Place, the newest town center in Lakewood Ranch!
| 6-9 PM, Every Wednesday, starting November 10, 2021 - May, 2022 |
- New food trucks + dessert truck each week
- Weekly live music from local artists
- Night...
Waterside Place at Lakewood Ranch
7500 Island Cove Terrace
Westcoast Black Theatre Troupe will close its 2021-2022 season with two world-premiere one-act plays, under the auspices of its New Playwrights Series. These plays, "From Birmingham To Broadway" and "Float Like A Butterfly," will be presented together May 4-29. "From Birmingham to Broadway" was...
Westcoast Black Theatre Troupe
1012 N Orange Ave
By Jonathan Spector  
Directed by Bianca  LaVerne  Jones 
In the Cook Theatre
An illness is spreading through the progressive and painstakingly accepting Eureka Day School–and it's more than the mumps. When the outbreak threatens to become an epidemic, it's a race to see what...
Asolo Repertory Theatre
5555 North Tamiami Trail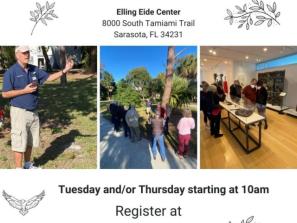 Join Docent Norman Burr on a 90-minute fascinating trek through the historic grounds. Walk through the arboretum and learn about rare, interesting, and exotic plants. Normal will discuss the geologic history of Florida and how plant life evolved. He will also share the history of the inhabitants...
Elling Eide Center
8000 South Tamiami Trail
Enjoy live jazz outdoors at Phillippi Estate Park, Sarasota. Concert benefits the scholarship program of the Jazz Club of Sarasota. Entertainment features Dan Miller, David Mason, Anthony Aldissi, Michael Ross and Jean Bolduc. Music from 6-8 pm. Tickets $15. Bring chairs.
Phillippi Estate Park
5500 S Tamiami Trail
Enjoy an delightful afternoon cruise on Sarasota Bay aboard the Marina Jack II. Boarding begins at 2:30 pm. Vessel sails at 3:00 pm. Entertainment Fred Johnson (vocals) and Michel Ross Trio. Jazz Club of Sarasota (941)260-9951. Tickets $30 - $35; https://www.eventbrite.com/e/jazz-on-the-water-...
Marina Jack II
2 Marina Plaza
Have an event that you want to share with visitors? Submit your event to our calendar!