Events & Festivals
There's always something happening on Florida's Gulf Coast. Find out what events will be going on during your stay, or take a look at some of our favorite annual festivals!
Note: Due to COVID-19 regulations from Federal, State or County governments, events may be postponed or cancelled. Please refer to the event and/or the event host's website for the most accurate and up-to-date information regarding each event.
Displaying 1 - 10 of 433 listings
Narrow Your Results
= Multiple Dates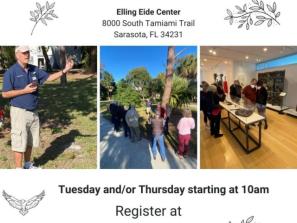 Join Docent Norman Burr on a 90-minute fascinating trek through the historic grounds. Walk through the arboretum and learn about rare, interesting, and exotic plants. Normal will discuss the geologic history of Florida and how plant life evolved. He will also share the history of the inhabitants...
Elling Eide Center
8000 South Tamiami Trail
Have an event that you want to share with visitors? Submit your event to our calendar!