Riding The Legacy Trail
Sarasota County's Legacy Trail attracts exercise enthusiasts wanting to enjoy the beauty of natural Florida on an easily accessible 12-mile long route.
The trail opened in 2008, complete with a smoothly paved path, 15 rest areas and 7 trailheads offering free parking. Its beautiful landscaping, informational signage and old railway hardware make for an excellent excuse to get outdoors, exercise, and explore Sarasota County.
Whether you prefer bicycles, razor scooters, skateboards or plain old tennis shoes, multiple modes of transportation are permitted along the Legacy Trail. However it is a particularly popular destination for local cyclists. Wide lanes and smooth pavement create a breezy ride, and seclusion from busy traffic ensures a worry-free experience.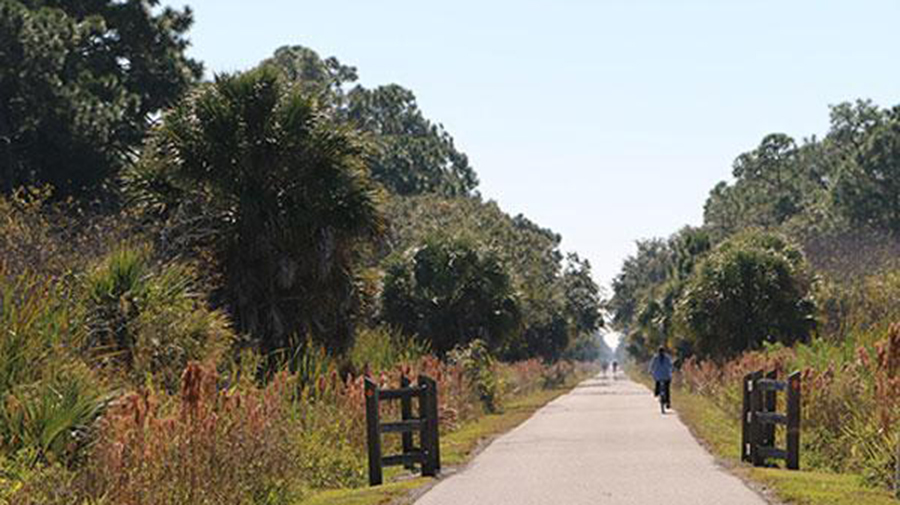 The trail has become a must-see attraction for tourists interested in Florida's natural environment. Crossing through Oscar Scherer State Park and connecting to the Venetian Waterway Park, riders can spy a variety of different wildlife and plant life in one ride. Gopher tortoises, foxes, bobcats and scrub jays are just a few of the creatures that can be spotted along the trail.
Tourists are not the only people taking advantage of this outdoor enthusiast's gem of Sarasota County. About a quarter of locals who purchased a bicycle in the past year mentioned wanting to ride Legacy Trail. Since it's opening, the trail has become a staple in Sarasota County's local bicycling community.
In addition to solo riders, the trail is a popular route for cycling clubs as well. The Sarasota Manatee Bicycle Club hosts weekly rides down the Legacy Trail and about 5 other routes. The Club's major activity is road riding and offers member-led rides throughout both Sarasota and Manatee counties. Anyone can join and those interested are encouraged to attend a ride on the Legacy Trail to start out.
For information about club rides and membership, visit http://www.smbc.us/.