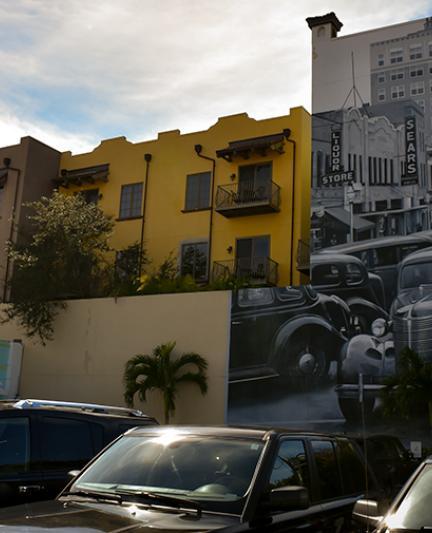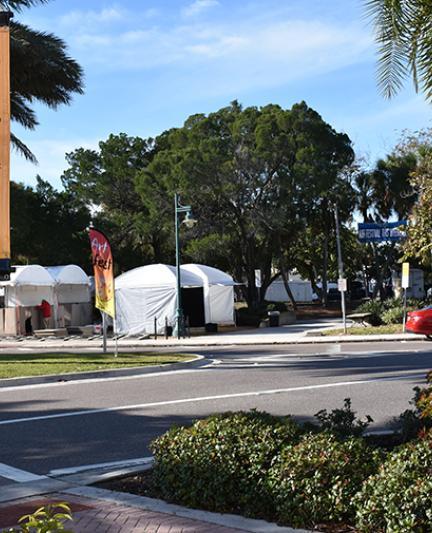 Must-See Neighborhood: Burns Court
Sarasota's Historic Burns Court Square neighborhood is small and old, with a bit of spunk - it's the Sophia Petrillo of neighborhoods.
Amid the new construction and tropical vibes of Sarasota lies a neighborhood unlike any others found here. Instead of Island-inspired pastels or stark modernity, brick and patina exude an Old World charm. The historic Burns Court community, spanning only a few blocks, fills a much-needed niche, one that brings visitors to a time and place where charm, pride, and friendliness surpass mass production or speed. Small and old, with a bit of spunk, it's the Sophia Petrillo of neighborhoods.
Located south of downtown Sarasota, between Pineapple Avenue and Burns Court, the Historic Burns Court Square neighborhood represents the history of Sarasota in a triangle-shaped summary. Owen Burns rightfully deserves credit for most things Sarasota, from our boundaries to our paved roads, seawalls to St. Armand's Circle. As homage to this man, we have this historic neighborhood bursting with Sarasota pride.
This pride in the area is represented in each aspect of Burns Court. From the brick buildings, proudly boasting their patina, to the hand-painted art on the walls, to the quaint, unassuming friendliness in the names, décor, and attitude of the establishments within.
While I have never witnessed it, I feel as though this is where every morning begins with shopkeepers using vintage brooms to clean their stoop as they chat with neighbors and water their urned plants and flowers. It's not pristine, it's loved.
Burns Court is not the place for chain restaurants or mass production stores. Small businesses rule in this neighborhood.
Shopping consists mainly of vintage shops, including Sarasota Trading Company and Pineapple Bay Trading Company, and their treasured merchandise seems perfectly at home in their surroundings. A stroll past the décor outside will inspire a purchase or two inside. Clothing retailers do not represent the large chain offerings, but rather boutique and couture themes. L Boutique, The Clever Rose, and Treat Boutique offer well-made, hand-picked attire and accessories that the friendly staff is clearly proud of. No angsty sales staff annoyed to be pulled away from their cell phones here. Have a chat, buy a scarf; it's an enjoyable experience rather than a rushed one. Barbers, small salons, and herbal apothecary Starflower tend to the modest vanity within us.
Dining in Burns Court continues the slow experience theme. But, as a whole, we tend to rush. We rush our meals, we rush our visits, we rush, rush, rush. Burns Square reminds us to slow down and chat with our company and savor our food. If you're running late and need a quick bite, this isn't the place for you.
The wait at Owen's Fish Camp – undoubtedly one of Sarasota's most popular restaurants, with both visitors and locals – can reach hours. But as you wait for your (totally worth it) food, you get to enjoy your friends and family in their back patio area, where live local music plays under massive trees, kids laugh on a suspended tire swing, the bar is open, games are played, and an open fire serves up oysters. Suddenly, that wait doesn't seem too long, it doesn't seem long enough. (Though if you are starving or are waiting with hangry kids, food can be eaten out back without a wait; just order at the bar).
The Fountain Kitchen + Wine Bar, located in the Burns Building, the triangular brick structure located at the tip of the neighborhood. The building was the creation of an architect based in both Sarasota and New York and the combined influences demonstrate something truly unique. This is where you fill find signage explaining the history of Owen Burns and his neighborhood, as well as an inviting pizza joint. Inside, the vibe is truly old neighborhood, where live music hums in the background; good, simple food appears with a friendly face; and desserts and wine entice you to never leave. It's a splendidly unique combination of 'where everyone knows your name' and 'the more the merrier.'
Burns Court Café & Art Gallery serves up their brew with a side of Europe. Sitting outside, sipping a cappuccino or glass of wine and noshing on an omelet, panini, or trios en baguette, it's as though you have been transported to a small town near Paris. Unlike the hurry-hurry urgency of chain coffee establishments, it's an invitation for a slow sip and a deep breath. It's a good thing they are open all day because you may find yourself still sitting and chatting come sunset, just in time to order meal nombre trois.
A date at El Amore gives the opportunity to sit amongst iron gates, hand painted walls, or a quaint patio. Nothing is ho hum. It's a great date place for some Italiano and slow convo. Throw in a walk down to the movies and you've got the perfect retro date night.
Nestled even deeper into the neighborhood is one of Sarasota's greatest secrets – the Burns Court Cinema. The pink theatre features screenings of the Independent movies you didn't even know you wanted to see. There are no reclining chairs or t-bones brought out during the previews. This is a classic film viewing experience. There is something liberating and nostalgic about watching films made with pride and artistic expression rather than box office profits in mind.
Even if you don't feel hungry or in need of a new blouse, a stroll through the neighborhood soothes the soul. There's no rushing and every nook and cranny features some hidden goodie to find. As such, it's a photographer's dream. The character, art, and architecture are unlike any others and the lens is guaranteed to find myriad subjects to capture. I dare you to share photos of Burns Court and ask friends where they think you took them – it's so gloriously unexpected, they'd never guess it's Sarasota.
The 'come one, come all' attitude of Burns Court extends to its scheduled activities. These aren't the large, loud block parties of Main Street, but rather intimate gatherings for all generations. All activities seem to encourage togetherness and creative souls. At Pineapple Yoga, they are "here to serve the community." And with classes such as Children's Yoga and donation-based yoga, everyone is included.
Each year, the Sarasota Film Society hosts their Cine-World Film Festival to bring independent films from around the world to our small town, for spectators of all ages and demographics.
The Craft Bar removes the stress or uncertainty some of us may have about crafting by allowing – or encouraging – guests to bring the libation of their choosing; taking care of the setup, cleanup, planning, and instructing; and offering classes for novices and children. Suddenly, it's just a group of friends getting together to do something fun. No pressure, just togetherness and laughter.
And that's the overall theme of Burns Court. It's a time and place to be together and invite more to be together with you.