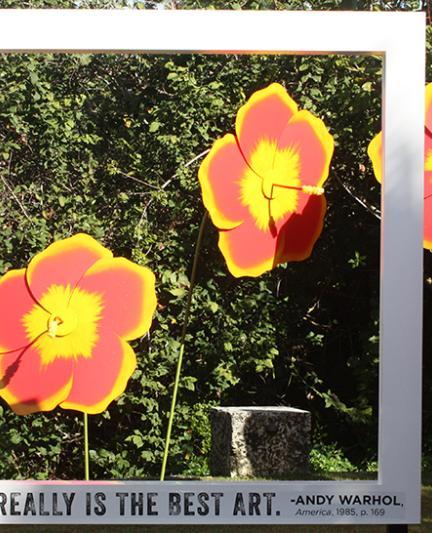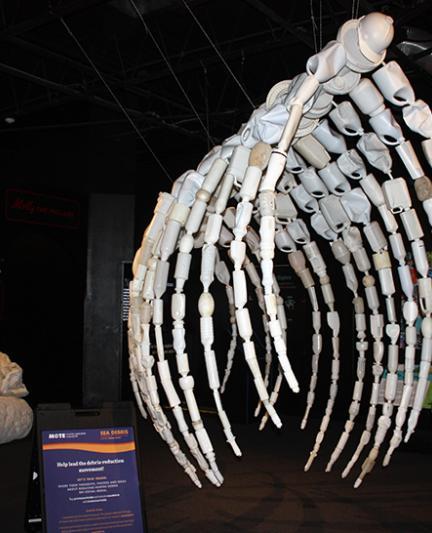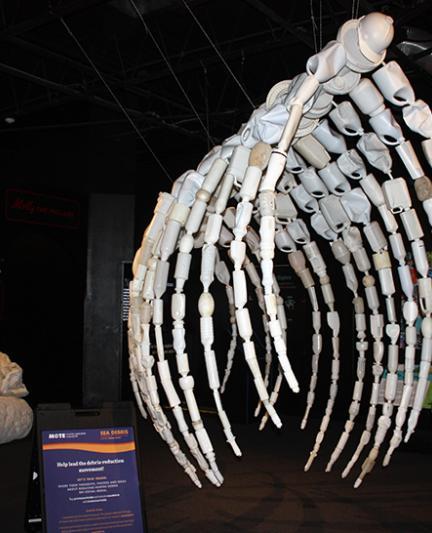 A New Perspective: Spring exhibits in Sarasota County
New exhibits unveiled at Mote Marine, Marie Selby Botanical Gardens, Ringling Art Museum, and Sarasota Art Center give us a new perspective to something we thought we already knew.
Four of Sarasota's top attractions – Mote Marine, Marie Selby Botanical Gardens, Ringling Art Museum, and Sarasota Art Center – are must-see locations for anyone popping into Sarasota for a visit. To see something new, each has unveiled exhibits for this Spring that you'll want to check out, be it your first visit or your fiftieth.
Mote Marine Laboratory & Aquarium
Meandering through Mote Marine Laboratory & Aquarium, as you pass sandbar sharks, alligators, moray eels, and octopus, a massive whale rib cage appears. Adjacent to it, a bleached coral reef and a monstrous jellyfish. While the first four are alive and well, the rib cage, reef, and suspended jellyfish are part of the current exhibit Seadebris: Awareness through Art featuring Washed Ashore.
The exhibit, scattered throughout both halves of the aquarium, features recreations of sea life constructed entirely out of debris found on the beach. The artist collected the rubbish and skillfully used it to make a life-size great white shark, a sea turtle riding an 8-foot wave, jellyfish, the aforementioned true-to-size grey whale rib cage, and more works up to 15 feet in length. In doing so, she is able to demonstrate the enormity of the repercussions of this garbage on our planet and our seas. For each piece, an explanation is provided to emphasize the significance of the materials used and their consequences, as well as a scavenger hunt of can-you-find-it items - a shoe, a hard hat, shovel, etc. Finding them is a fun game, but also draws attention to wondering – why were they in the water to begin with? The exhibit runs until June 15.
Marie Selby Botanical Gardens
When one thinks of Andy Warhol, the images that come to mind are of New York, black sleek clothes, famous celebrities, and an urban lifestyle. He was best known for his Campbell's Soup and Marilyn Monroe pop art and "15 minutes of fame" quote. Initially, Mr. Warhol does not scream "quiet stroll through the bromeliads," but Marie Selby Botanical Gardens has unveiled a new side to this popular icon in their current exhibit Warhol: Flowers in the Factory.
The exhibit, which contains three parts – the outdoor grounds, the conservatory, and the museum – mixes photos, quotes, and original works by the artist himself along with the Garden staff's interpretation of his motifs into living art. Turns out, this flamboyant urban artist was also a nature conservationist who created art of 10,000 flowers throughout this career, donated land to preserve its natural state, and kept the quiet side to himself and his public persona out for all to see.
The exhibit utilizes his themes of repetition, color, and pattern to create massive works of which he would approve. Lounge in the Factory-inspired sunken living room as 1960s music plays overhead, the WarWall containing hundreds of cubed bromeliads to your side. Flowers he used in his art scatter the grounds, providing a subtle a "Pop" of Warhol-ism. In addition to the main exhibits, which are included with admission, Marie Selby Botanical Gardens hosts Warhol Nights, during which attendees may view the exhibit in the evening along with some of Sarasota's top art groups, as well as Andy's Art Factory, a family-fun Saturday event that introduces children to Andy's art and encourages them to explore his motifs.
Michael's on East, the resident culinary partner of the Gardens, has also tweaked its Selby House Café and on-site food truck (aptly renamed the Food Factory during the exhibit) to incorporate the theme of Andy Warhol, featuring such items as, you guessed it, Tomato Soup. The exhibit runs until June 30.
Ringling Museum of Art
If you haven't yet been to the Ringling Museum of Art, set aside a day and grab comfy shoes, because you've got a lot to see. Between the grounds, the myriad art pieces, and the mansion, it's a great day.
To ensure there is something for everyone and there's always something new for the repeat visitors, Ringling maintains rotating exhibits in addition to their permanent collection from John and Mable Ringling. In the newly unveiled Branded/Unbranded, located in the Monda Gallery for Contemporary Art, Hank Willis Thomas draws attention to stereotypes and prejudices by taking American advertisements from popular publications and removing the text, thus allowing the audience to see what we're being sold based on our perceptions – let me tell you, it's shocking. In a day where news abounds about algorithms, fake news, and being targeted by advertisers, this exhibit reinforces the truth about the manipulation used year after year to use prejudice for profit. The exhibit runs until June 10.
Across the grounds (you'll pass the giant Statue of David) is the Tony Dove exhibit, opening February 25 and continuing until May 20. The Embodied Machines exhibition is unlike anything you've ever experienced. Described by Ringling as a combination of "live performance, interactive narratives, and virtual reality," the exhibit is an innovated collaboration of various artists as well as the viewer, resulting in a unique experience for each person. The Dress That East Souls may frighten my children, but I can't wait to see what it has to say.
For a slightly more tame fashion installation check out A Kaleidoscope of Color: The Costume Designs of Miles White. Mr. White's designs served an integral role in the Ringling Bros. and Barnum & Bailey circus, linking it to Sarasota in a unique way. For more circus history, the Circus Museum portion of the Ringling Art Museum features 250 Years of Circus in Print until May 7.
Seeing how this American pastime evolved opens a new eye to the Greatest Show on Earth. Opening eyes was what photojournalist Alfred Eisenstaedt was all about and Ringling showcases it well in his Defining Moments exhibition. His historic photographs of candid moments unveil the true spirit of such subjects as Ernest Hemingway, Albert Einstein, President Taft, and Adolf Hitler. His images will remain on view until March 18.
Wander the grounds to view the stunning landscape and you'll fall upon Ai Weiwei's Circle of Animals/Zodiac Heads. The large bronze sculptures mean something different to each person, despite its history, hence the dual name. What does it mean to you?
In addition to the new, temporary exhibits, Ringling has unveiled a new permanent fixture, their Kotler-Coville Glass Pavilion, home to their glass art pieces.
Art Center Sarasota
Art Center Sarasota is the quiet art institute on Tamiami Trail, known for its rotating exhibits of local artists. On the same road as the Ringling Art Museum and only a few miles south, it's the unassuming home to much of Sarasota's art talent. The exhibits change every month-ish, so there's always a reason to come back and see what's new.
After spending a few days in Sarasota, you'll start noticing some familiar scenes in John Pirman's art. In his My Sarasota, you'll notice recognizable local structures that are both familiar and cast in a new light by this local illustrator and artist. Professor at Ringling College of Art + Design and illustrious artist George Pratt skillfully depicts images that truly make us feel in his Raw Nerve / Ragged Edge.
A third exhibit showcases work from a variety of artists within the ASALH (Association for the Study of African American Life and History) group entitled Muse. With a range of creators masterminding the works, a visual spectrum results. Each of these exhibitions remain on view, open and free to the public, until March 9.