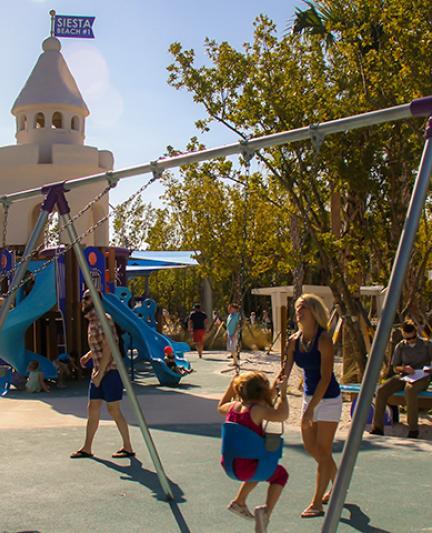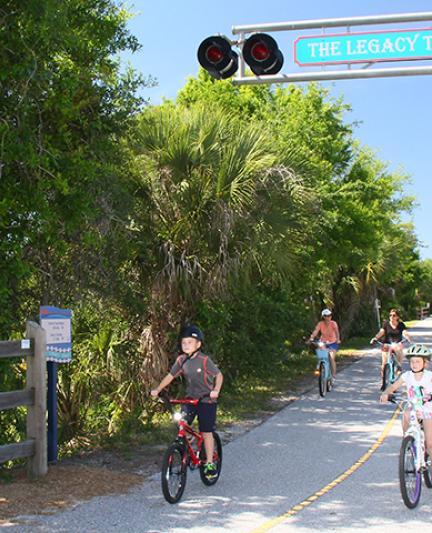 60 Fun Things To Do With Your Kids This Summer
We've listed this many activities to do with the kids in Sarasota in an effort to eliminate the dreaded "I'm bored" declarations
If you're drawing a blank and can't remember any of the myriad of fun things you were hoping to do with your little ones this summer, you've come to the right place. Take your pick and get ready for summer fun.
From climbing amongst banyan trees to train and circus themes, there is no shortage of novel parks to visit
Feed baby gators and play a round of mini golf at the pirate-themed Smuggler's Cove
Tour citrus groves, visit the wildlife refuge and burn off energy at the play place at Mixon Fruit Farms
Search for shark's teeth on the Venice beaches
Pet sharks and sting rays while learning about coastal sea life at Mote Marine Laboratory & Aquarium
Grab your buckets and nets to search for sea creatures in Sarasota Bay. Ken Thompson Park is a family favorite. Don't forget your water shoes!
Run, skate, scoot or blade around the 3.5 mile path at Nathan Benderson Park. Start or finish by the park's playground to ensure those little ones are tuckered out. No equipment? No worries: you can rent pedal boats, kayaks and stand-up paddleboards on site.
Dance to the beat as the sun sets at the Siesta Key Drum Circle on Sunday evenings
Savor and artisan popsicle or fresh coconut water straight from the coconut at the Downtown Farmer's Market
Go see - or participate in - the circus through the Circus Arts Conservatory
Spend your Saturdays in July getting soaked in the sun, surrounded by succulents, at Selby Splashin' Saturdays
Feed a mythical liger at Big Cat Habitat
Feed a flamingo and watch parrots on roller skates at Sarasota Jungle Gardens
Discover a whole new world on kayaks or stand-up paddleboards at the Lido Key Mangrove Tunnels
Cool off at the free children's fountain at Bayfront Park
Grab your rod to see what you can catch during a fishing excursion either from a boat, dock or right from the beach
Sarasota County Libraries abound with activities throughout the summer
Tackle the adventure course and zip line at TreeUmph!
Grab your bikes and helmets for a cruise down the Legacy Trail
Hike Myakka River State Park in search of alligators, armadillos, turtles and hogs
Go birding at Oscar Scherer State Park and keep a close lookout for the Scrub Jay
Try skateboarding, rollerblading, BMX or scooting at the skate park on downtown Sarasota's Payne Park property
Paint pottery at The Artful Giraffe
Go to the beach!!!
Splish and splash at North Port Aquatic Center where there's a splash pad for the little ones, a water slide for the older ones and lap pools for the serious ones
Perfect that long shot at Evie's driving range then discuss your backswing over ice cream and air hockey a this one-stop shop
Kids can explore, appreciate and make their own art at the Ringling Museum for Family First Saturdays from June through August.
Learn about the world beyond ours with a visit to the Bishop Planetarium. Be sure to visit the manatees on your way out
Explore the ancient shell midden and learn about the indigenous people of Sarasota at Historic Spanish Point
Countdown as the sun sets
Spend a day at Pinecraft Park then head over to Der Dutchman to stuff your face with the best pies imaginable
Learn about our coastal treasures through interactive wildlife cruises with the Sarasota Bay Explorers
Take a walk over the Ringling Bridge and take in the stunning views of Sarasota Bay
Visit the Jetty in Nokomis for dolphin watching, fishing, and surfing
Take a dip in the Warm Mineral Springs in North Port and reap the benefits of its 51 minerals.
Have a family race up the observation mound at the Celery Fields. Bring a picnic basket and enjoy the scenic views.
Fill your bellies with creative cuisine in the Rosemary District.
Visit Sun-N-Fun for a zip down their mega waterslide
Cool off while watching the waves at Lido Beach Pool
Build a sandcastle — anytime, anyplace
Make a wish at the Mable Ringling Memorial Fountain
Stop and smell the roses and hike the trail at the historic Phillippi Mansion
Have a picnic in the woods at Rothenback Park
Unstrap and ride freely on the trolley to the beach on both Siesta Key or Longboat Key
Get your strike on at Sarasota Lanes
Let your imagination roam at the Children's Garden where outdoor and creative play merge into a child's dream
Grab your gloves and play ball at the Englewood Sports Complex
Face off in a game of corn-hole at the South Lido Beach Playground
Check out the view of the beach from the skies with parasailing ride
Go on an ice cream tasting tour of St. Armand's. Pro tip: the chocolate peanut butter cup at Kilwin's is a worthy contender for best ice cream in Sarasota County
Decorate cookies in the historic downtown village of Sarasota
Kids bouncing of the walls? Let them bounce of each other at Knockerball N' Ninjas
Create something innovative at the Suncoast Science Center. Laser cutters? 3D printers? Yes, please!
Get your hands dirty and pop into the Kids and Clay class at Carla's Clay to learn how to throw clay.
Enjoy $1 movie as part of the Regal Summer Movie Express at the Regal Hollywood 11 theatre on Main Street. View the schedule online to see which G and PG rated movies will be playing on Tuesday and Wednesday mornings.
Venture through the Children's Discovery Path at the Crowley Nature Center and become the panther, bat, tortoise, and spider.
See an owl up close at Save our Seabirds
Rent a scooter car and zip around Siesta Key Village
Step back in time and marvel at the historic vehicles at the Sarasota Classic Car Museum.
Enjoy an adventure in Siesta Key Village - shop for seashells and beachy memorabilia that the kiddos are sure to cherish.