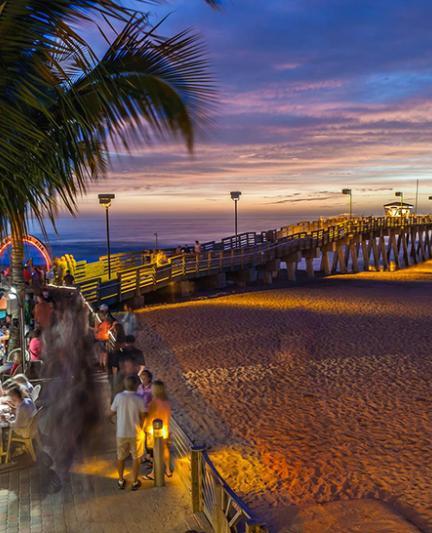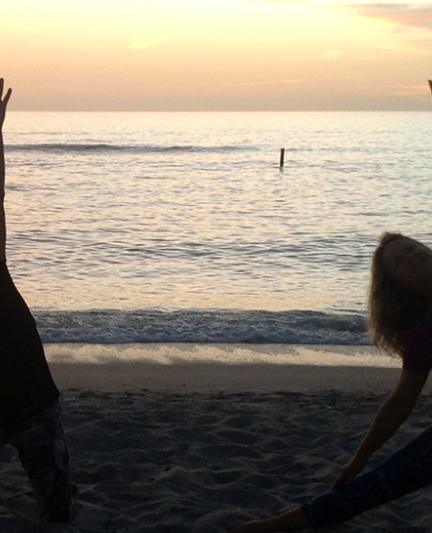 The Sundown Lowdown: Cool Ways to Experience the Sunset in Sarasota County
The sunset is part of the reason you decided to visit Sarasota County. So check out our guide for the best ways to enjoy it.
The sunset puts on a pretty good show most nights here in Sarasota County. And while you can always watch it for free from one of our local beaches, there are lots of other ways to take in the setting sun. From striking your best warrior pose to sipping cocktails at a waterfront watering hole, we've rounded up all kinds of activities you can partake in to mark that magical time when day turns into night.
Float Your Boat
Don't just look at the sunset from the water's edge—get out on that water! Almost Heaven Kayak Adventures offers kayak and paddleboard tours ($55 per person) that depart from Sarasota's Lido Key and wrap up right around the time the sun is going down.
During the winter months when the sun sets earlier in the day, Kayaking SRQ also offers a tour ($65 per person) that leaves from Ted Sperling Park on Lido Key and ends around sundown. During daylight savings time, it offers private sunset tours by appointment (four-person minimum).
"It's really calm and quiet at that time of day," says co-owner Kim Gregory. "The hustle and bustle of the park has died down. We're on the bay side, so we don't see the full sun drop. But we still get the aftermath of all the colors in the sky, and it's beautiful."
If you don't feel proficient with a paddle or would rather sit back and relax (maybe with a beverage in hand?), book a spot on Marina Jack II's sunset dinner cruise ($56.95 for adults), which departs from downtown Sarasota's bayfront area. The buffet includes options like prime rib and grilled salmon, all of which can be enjoyed as you're taking in the twilight scene.
For a more laidback vibe, climb onboard LeBarge's Tropical Sunset Cruise ($30 per person), which also sets out from the Bayfront Park area. There are Jimmy Buffett–style musicians playing tunes and tropical cocktails available for purchase on this boat that's festively attired with its own palm trees and mermaids.
For a fun group outing, try Sip-N-Cycle Cruises, which offers daily sunset cruises year-round. The vessel's 16 passengers provide the pedal power for the unique "bike-boat-bar," with a U.S. Coast Guard master captain actually operating the boat and doing the steering.
Sip-N-Cycle's sunset cruises leave from Bayfront Yacht Works & Marina on Siesta Key, cruise along the Intracoastal and stop at Evie's at Spanish Point in Osprey, then head back to the Midnight Pass area to watch the sunset. Sunset cruises also depart from Pop's Sunset Grill in Nokomis, making a halfway stop at Dockside Waterfront Grill at Marker 4 in Venice and then cruising around Snake Island to watch the sunset by the North and South Jetties. All cruises are BYOB, and folks can also bring their own food on board or order from the restaurant stops. The cost is $40 per person (plus taxes and fees) for two hours, or the entire boat can be rented out for up to 16 people for $560 plus taxes and fees.
Several local sailing charters also offer sunset tours, including Key Sailing and Kathleen D Sailing Catamarans. Key Sailing's 41-foot Morgan sloop departs from Marina Jack in downtown Sarasota for two-hour ($60 per person) and three-hour ($80 per person) sunset sails that head to Big Pass. Kathleen D tours ($60 per person) leave from Marina Jack or Longboat Key two hours before the sun's scheduled to sink, always keeping their eye out for dolphins or any other wildlife that might appear.
Toast the Twilight
If you'd like to watch the sun go down while sipping a glass of wine or eating a good meal, there are plenty of places where you can do just that. The newest entrant on the sunset scene is the Roof Bar & Eats at the Westin Sarasota. Located on the 19th floor of the hotel, it offers sweeping views of downtown Sarasota, Sarasota Bay, and the Gulf of Mexico, so you're well-positioned for nature's evening show.
Make a reservation at Lido Beach Grille at Lido Beach Resort to catch the sunset through the restaurant's floor-to-ceiling windows while dining on modern Gulf Coast cuisine (think fresh seafood) with Caribbean flavors. Other spots in Sarasota that are good for dining at dusk include the restaurants at Marina Jack and OLeary's Tiki Bar and Grill.
In southern Sarasota County, grab a table at Casey Key Fish House in Osprey, the aptly named Nokomo's Sunset Hut in Nokomis, or the Crow's Nest in Venice, which occupies a prime spot near the South Jetty. It's an easy walk between the two, so if you can't reserve a table at Crow's Nest until after the sun sets, you can watch it dip into the Gulf from the jetty.
Enjoy live music while taking in the setting sun at Spanish Point Restaurant & Tiki Bar nearby Historic Spanish Point in Osprey, Florida. Chow down on grouper tacos, shrimp nachos, burgers and more casual dining options.
Fins at Sharky's and Sharky's on the Pier sit side-by-side right on the beach in Venice. Sharky's on the Pier offers a laid-back option for sunset dining, serving up frozen cocktails, sandwiches, and lots of seafood-centric dishes in a family-friendly environment. Sharky's doesn't accept reservations from January through mid-May, so those frozen cocktails come in handy when waiting for a table.
The atmosphere is slightly more upscale at Fins, which offers indoor and outdoor dining with unobstructed views of the Gulf of Mexico (and accepts reservations year-round). Its dinner menu changes frequently but focuses on global cuisine and seasonal Florida ingredients. Sushi is always on the menu, along with lots of other seafood preparations.
Just Breathe—or Keep the Beat
Maybe you just can't imagine a sunset viewing that doesn't somehow involve the beach. We get it. But you don't have to just stand on the sand as the sun goes down.
About an hour before sunset, a crowd starts to gather every Sunday night on Siesta Beach, just south of the main pavilion between lifeguard stands 3 and 4. Everyone's on those famous powdery sands for the Siesta Key Drum Circle, a weekly sunset ritual since 1996. Expect to see hula hoopers, belly dancers, bongo drummers, and all kinds of other interesting folks grooving and moving as day becomes night.
On Wednesdays and Saturdays, folks also head to Casey Key for the Nokomis Beach Drum Circle, which starts about two hours before sunset. You'll find the same kind of peace, love, and happiness vibe here as participants sway and swirl to the music.
Not your scene? Then how about a yoga session near the water's edge? Instructor Katja Dietze—who's part of the Southwest Florida Beach Yoga group—offers a sunset yoga class on Wednesday evenings (free, donations accepted). It meets on the beach at Nokomis's North Jetty Park. There are also sunset yoga sessions on Venice Beach Monday through Thursday nights. Dietze likes how quiet and uncrowded her spot on the beach can be. "In a relaxation pose often all you can hear are the waves and birds," she says. "It's a wonderful way of ending a beautiful day on the beach, or to just come out after a long day of sightseeing and shopping to set your mind back into relaxation mode."