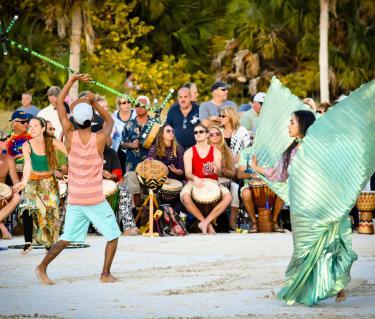 Feel the Beat: Siesta Key Drum Circle
Sunday evening Drum Circles on three Sarasota County beaches gather together artists, dancers, locals, tourists, children and adults for a night of dancing, music, sand, sunsets and judgment-free peace and unity.
Walking along the beach on a Sunday night, the siren call beckons you. Louder and louder it becomes as you succumb to its song, a beat that mimics that of your heart. Approaching the source of the rhythm, a gathering appears. Dozens and dozens of people from every demographic form a circle on the sand, headed by a plethora of percussionists. The drums and the drummers vary in size, type and sound, yet their music merges into one magical combination of unity. Watching, one can only realize that this is something special and that something special is the Drum Circle.
The Drum Circle, which meets every Sunday evening, year-round, on Siesta, Englewood, and Nokomis Beaches, begins approximately one hour before sunset. I cannot conceive how it's arranged or coordinated, and truly don't believe it is. I get the vibe that it's one of those organic events that happens almost by magic. Participants are there by choice, not obligation, and it's the joy brought by the Circle that draws spectators and artists alike back, on time, each and every week (weather dependent).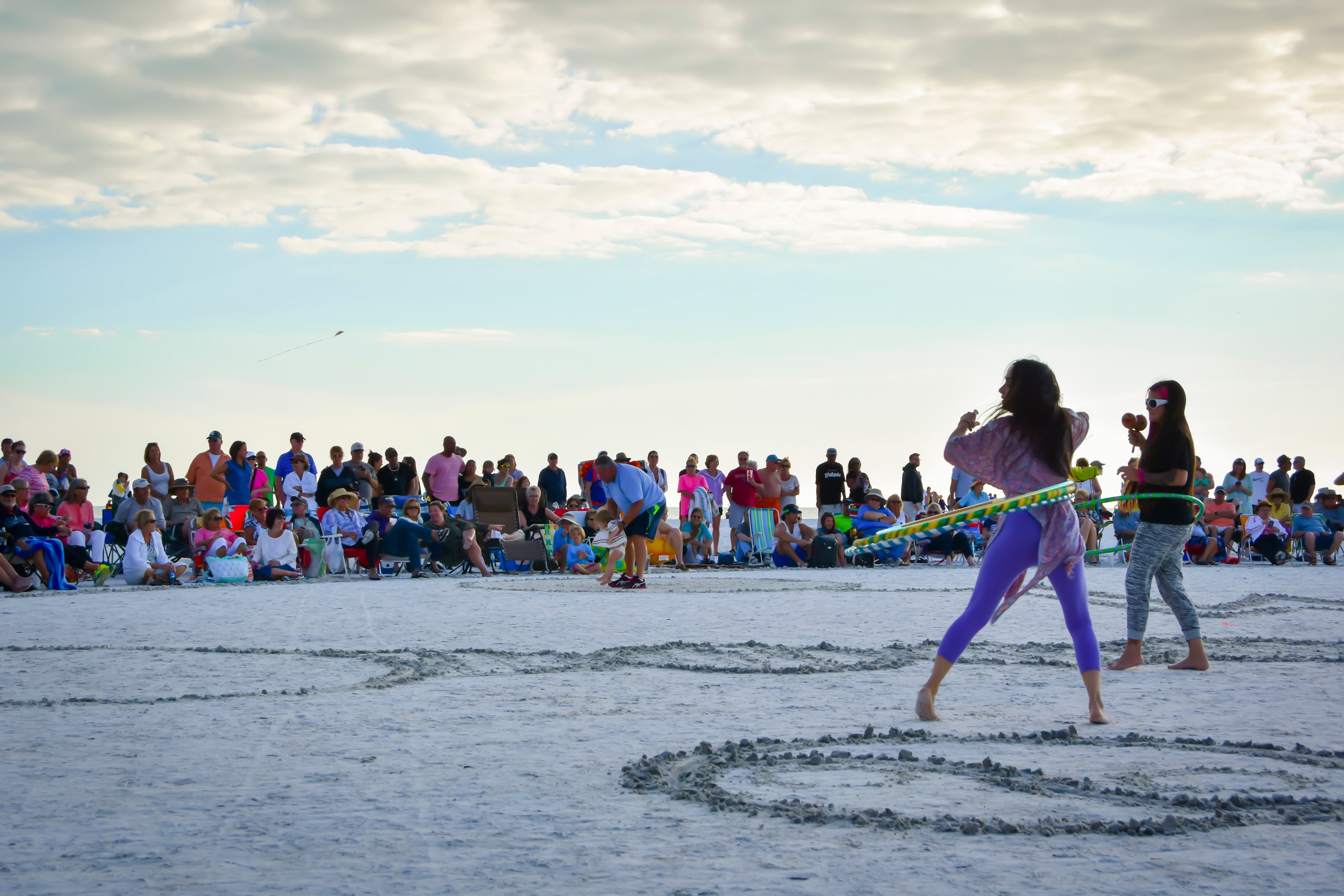 Depending on the time of year, the sunset changes, but an hour before is when the beats begin. This is generally when I bring my kids as it's still early and light-ish. Dancers attend weekly and many bring props to share with everyone – a common characteristic of the drum circle. This is not a "me" and "you" event, but an "us" one. Hula hoops, costumes, and instruments appear almost out of nowhere for sharing, enjoying and fully utilizing the honor policy. As the beats continue, it's typically the self-conscious-less kids who dance first, happy to frolic in the sand and unaware of the eyes upon them. Soon, more and more join in as it's hard to resist the romantic temptation of beating drums, smooth sand and a ravishing sunset.
Not that it's mandatory. This is a place to do what makes you happy. And if it's sitting and enjoying the performance with a cooler and a chair, then, by all means, do that. If photography is your thing, snap away. If you want to bring an instrument, go for it. The drum circle is no time for judgment, but an opportunity for all people to enjoy it in their own ways. We are all the same here in our differences.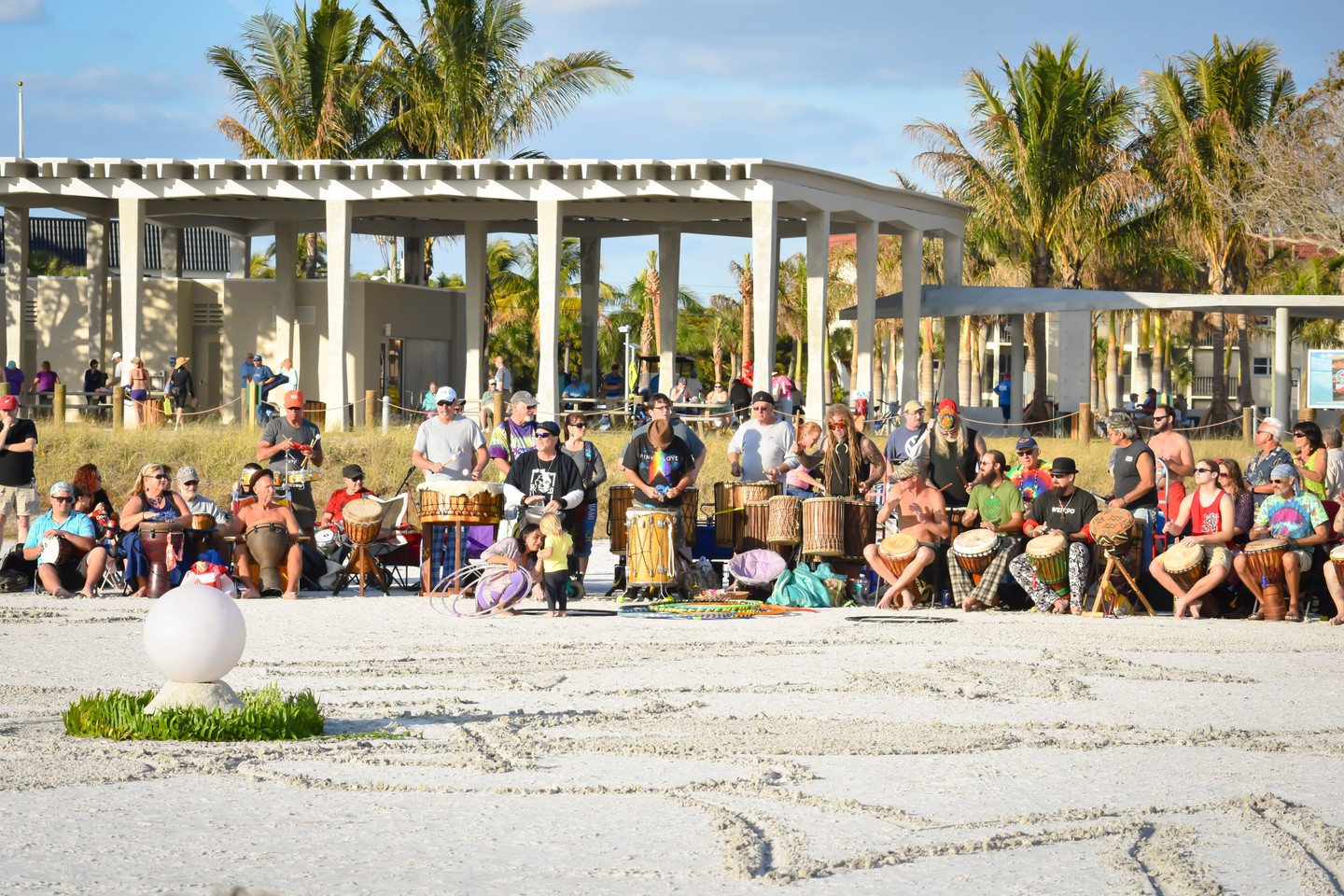 I've brought all types of visitors – a Pilates instructor, construction foreman, personal trainer, advertising executive, lawyer, conservative retired salesman, Parrothead grandmother – and each enjoyed it, but in their own way. And because the event is free and participants come and go at their leisure, there is no planning or obligation required. So refreshing.
As the evening progresses, the beats increase, the sun goes down and the population of children decreases. Often more drinks have had their chance to make us all think we're great dancers and the frivolity increases. We're all Spring Breakers again and this is our Cancun. Enjoy. Go free. Leave the stresses of work, politics and responsibility behind and let the music surround you.
At the end of the night, the dancers pack up their hula hoops, the drummers take their leave and poof – it's gone. They are the Keyser Soze of the beach and we can only wonder if it was all a glorious dream.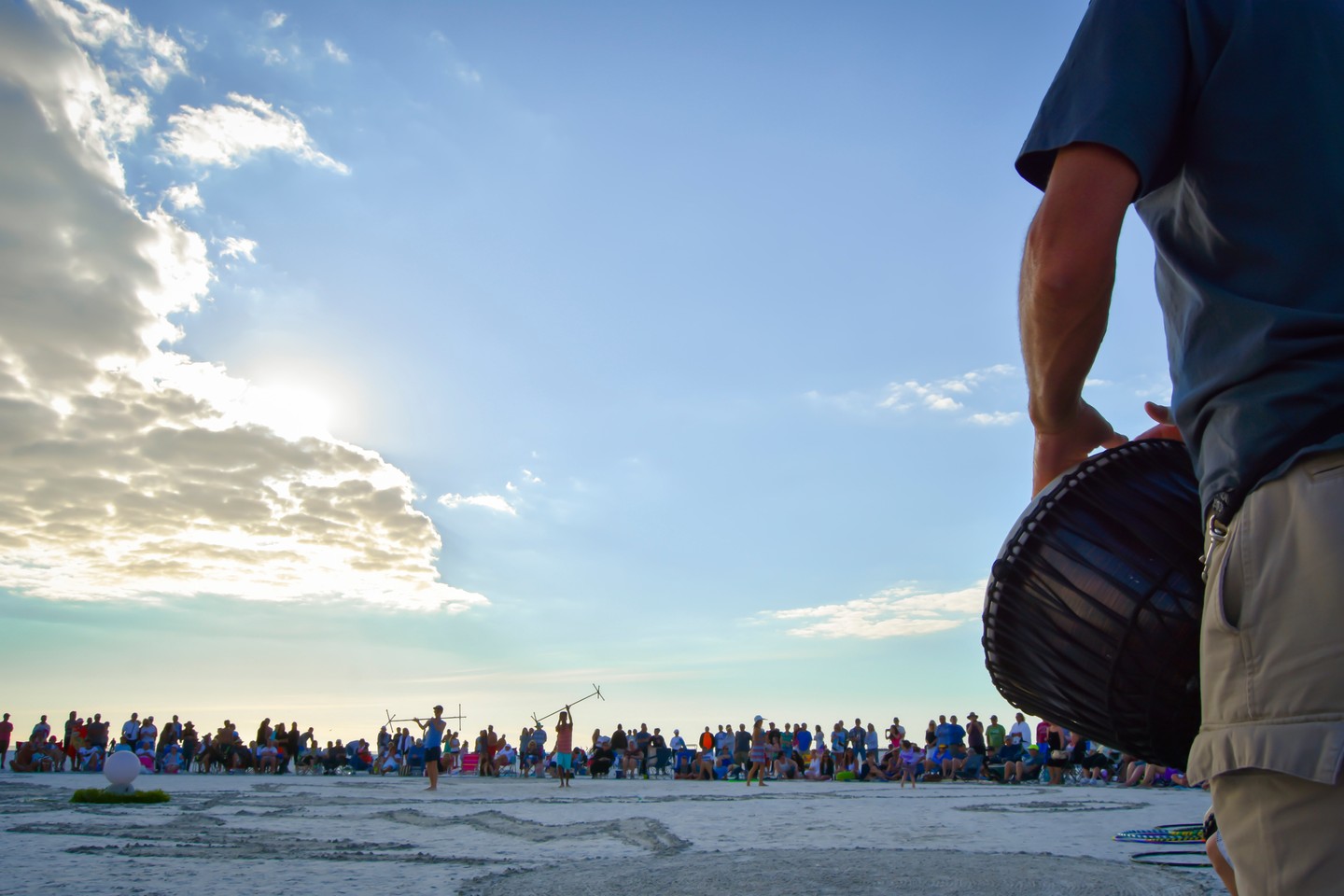 Locations
The Siesta Key Drum Circle gathers on the public beach, to the left of the concession stand. 948 Beach Rd, Siesta Key, FL 34242. It's the largest of the three and has been going on for over 20 years.
The Englewood Drum Circle can be found at 2100 North Beach Rd, Englewood, FL 34223.
The Nokomis Drum Circle is located at 207 Casey Key Rd, Nokomis, FL 34275. This group also gathers on Wednesday evenings.