Get Your Yoga On at These Public Outdoor Classes
It's a new year, a new chance to explore outdoor yoga opportunities around Sarasota
What's better than practicing your yogi squats and downward dogs in the warm sun with a cooling Gulf breeze overlooking blue waters? Being outdoors gives you access to a whole other world of sensations during your practice. Whether you're mastering a one-foot balance in Eagle pose or gently stretching the spine in Child's pose, there's something so gratifying about laying your mat to the grass and giving your nervous system a mini-holiday. From beautifully landscaped parks facing the bay to botanical gardens and white-quartz beaches, discover the many community yoga classes available to the public outside of a studio in Florida's top-notch weather and nature.
Further north on the coastline of Sarasota's waterfront, head to Bayfront Park and Marina Jack to catch Yoga By The Bay with Erin. Attracting large groups of all levels, this free outdoor, socially distanced yoga by the water is a relaxing way to slow the day. Bring your yoga mat, a water bottle and whoever wants to join every Tuesday at 5:30 pm (weather permitting) for a peaceful evening nestled between the mooring and marina with yoga instructor Erin.
Stay up to date on the latest classes on the event's Facebook page.
Further inland in Lakewood Ranch, the newly developed Waterside Place is not only the new home for LWR Sunday Farmers' Market, but is also now a beautiful outdoor venue for community yoga. Yoga in the Park is held every Sunday morning, 9am – 10am on the green of Waterside Place's Island Cove Terrace. Enjoy gentle yoga paired with lake views, then walk across the bridge and shop at the weekly farmers' market!
Registration is required ahead of time, which you can book here online.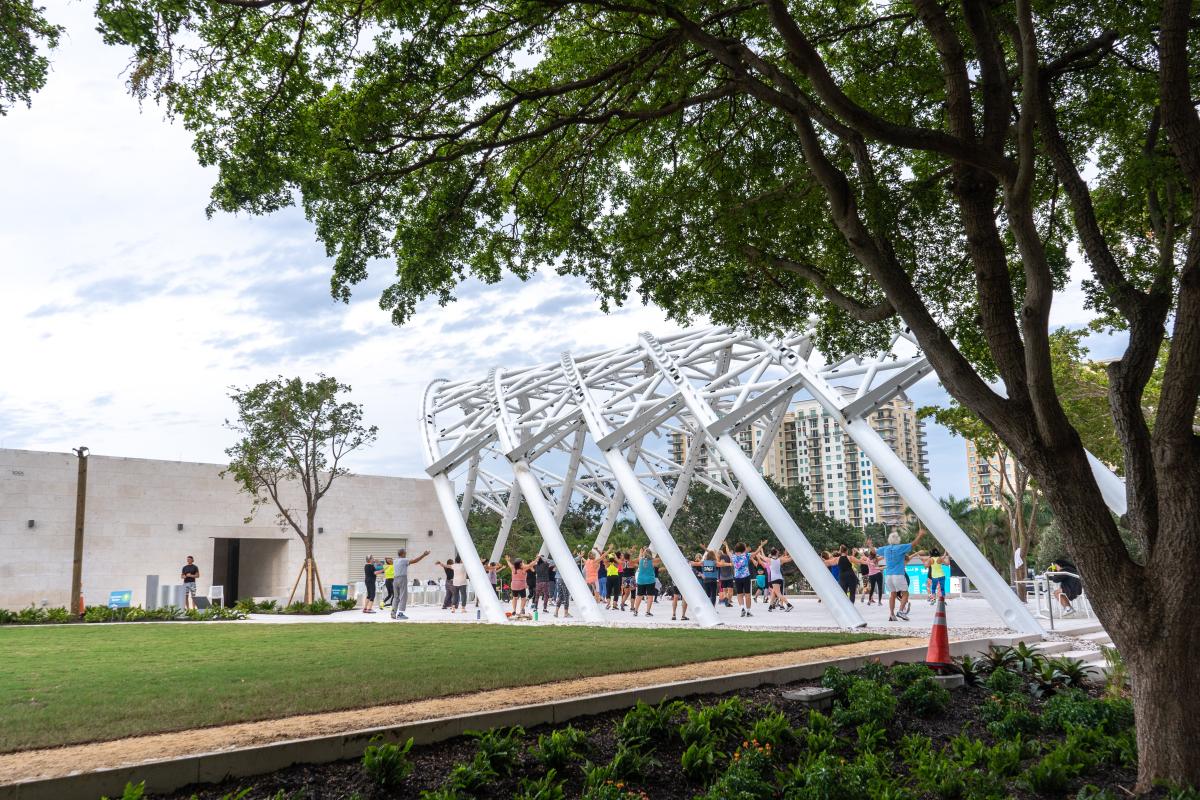 The newly opened Phase One of the Bay Park Conservancy is welcoming the public to its free "Heathy and Fit" programming, which includes core strength BootCamp, Zumba and yoga! Flow into the weekend with Namaste at The Bay, which happens weekly on Saturday mornings at The Oval area of The Bay. Join an assortment of Sarasota yogis for a morning of stretching and breath work from 9 am – 10 am (weather permitting). Bring a friend, a mat and water to experience the unique styles of a new instructor each week.
Namaste at The Park is free to attend, but it is recommended to register online in advance with Eventbrite.
Wednesday & Saturday Mornings: Selby Gardens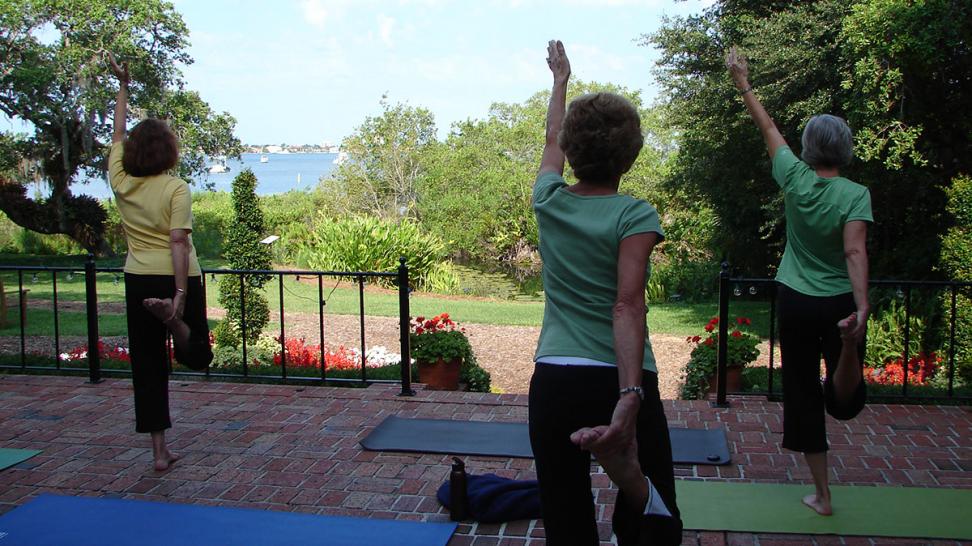 Marie Selby Botanical Gardens continues its Yoga in the Gardens programming into the new year every Wednesday and Saturday morning, 9:30am – 10:30am with yoga instructor Jessica. Treat yourself to a peaceful mind and body Yoga experience at the picturesque Downtown Sarasota campus. The focus is on alignment, breathing techniques, stretching and relaxation. Recommended supplies include a reusable water bottle, sunscreen, sunglasses, comfortable clothes and yoga mat.
Feel free to explore and enjoy the Gardens after your class! General Gardens admission is included in the program tuition ($15 for members; $20 for non-members). Tickets can be purchased ahead of time online or paid for the day-of as a drop-in.
The wildly popular sunset Yoga on the Terrace, held at The Ringling museum's Ca'd'Zan terrace, is truly an evening to remember. Hosted once a month on Wednesdays, 5:30 – 6:30pm, yoga instructor Ashley leads a group of yogis facing the bayfront atop Venetian marble tile of the iconic Mediterranean revival mansion. Dolphins are a common sight to be seen as the sun sets over the bay! Open to students of all ages and experience levels.
Class size is limited and tickets are $20/per person. Tickets are available 30 days prior to each event and must be purchased online in advance of the event. Visit The Ringling's website for tickets and additional information.
Monday, Wednesday, Friday & Saturday Mornings: Siesta Key Beach
Every Monday, Wednesday, Friday and Saturday morning, 9:00 am – 10:30 am, enjoy a coastal retreat with yoga instructor Ava for Yoga on Siesta Beach. Dress for the weather, bring your towel or mat, some drinking water and $10 cash, per person for a unique experience on the pure crystal sands of Siesta Key Public Beach (between the green and blue lifeguard stands). All levels are welcome to join!
It is recommended to bring exact change for $10 donation. No reservations are required.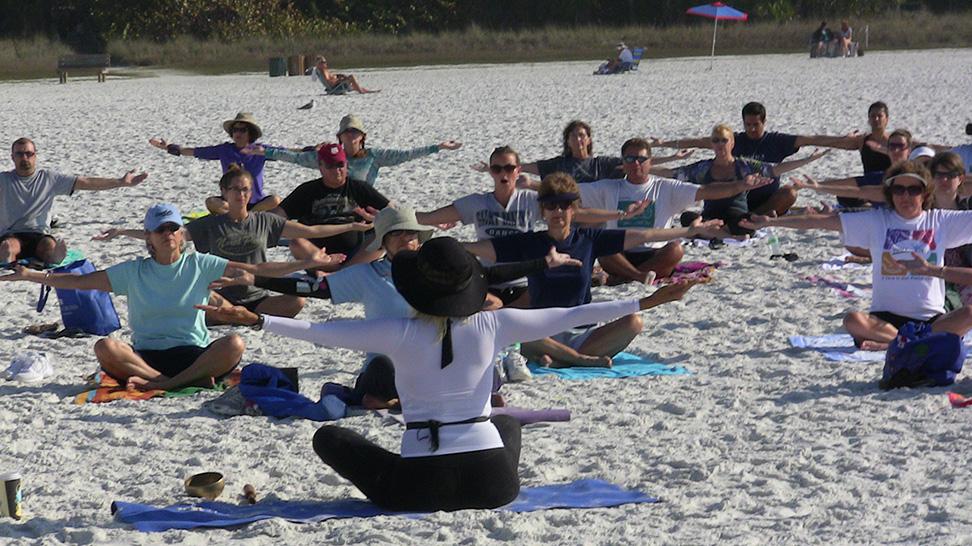 You'll never miss a morning with Free Yoga With Elin which takes place from 8am–9am every day of the week, as well as sunset sessions at 5pm, Monday through Thursday. Yoga instructor Elin teaches yogis to safely maneuver through their back, shoulder and knee issues while leading them to move the way the body was designed to move. These classes take place daily on Venice Beach and are for all abilities – including beginners who have never practiced yoga before and students with disabilities.