Spend a Day on the Sarasota Bay
Located on the Bay in Downtown Sarasota, Bayfront Park features everything a person could want in Florida.
There is a place, a place in Sarasota, where you can do everything at once. Pretty much anything a person can think of doing – from the casual, do nothing day to the adventurous night – is in this one place. Not a place where coordinating schedules and driving directions are needed; nay, this delightful place has it all within walking distance. Lazy walking distance, not New York City walking distance. Half a mile from farthest point to farthest point. From biking to boating, fries to fine dining, Bayfront Park has it all.
Got Kids?
The Children's Fountains, open April through October, is a free, enclosed water fountain playspace for kids. Pop in, take a seat, and let them frolic until they are wet and happy. Directly abutting the Fountains is a well-shaded playground with plenty of climbing space. Ample tables give the prime picnic place.
Hungry?
O'Leary's Tiki Bar & Grill and Marina Jack are all on the water but with different vibes, give visitors ample options to satisfy any mood. O'Leary's, with its live outdoor troprock music, sand underfoot, canine friendliness, and casual cuisine (Burgers in Paradise and boat drinks), provides the Margaritaville vibe. The Marina Jack Dining Room is a more upscale dining experience, with a Wine Spectator acknowledged wine list and menu items such as ceviche and bouillabaisse. If O'Leary's and Marina Jacks had a baby, it'd be Blue Sunshine Patio Bar & Grill. The menu features an extensive wine list adjacent to a kid's menu. Live music featuring various genres mixes it up a bit.
Feeling Artsy?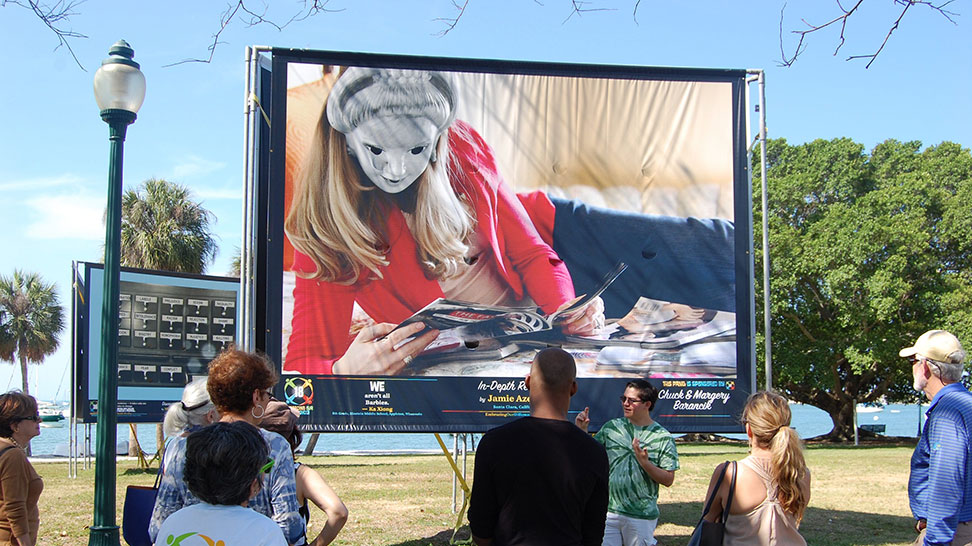 The views at the end of Bayfront Park never cease to amaze all whose eyes fall upon them. Plan on taking a plethora of photos. This is your time to get creative as there is no shortage of subjects between the Ringling Bridge, Sarasota Bay, yachts moored, sailboats gliding, dogs frolicking, and dolphin fountains spouting. Many artists set up their easels and let the views and vibe channel their creativity. During the spring, the annual Embracing our Differences international art exhibit spans the Park. Meander through the massive artworks, breathe in the sea air, and smile.
Gotta Get on the Water?
For an unmatched jaunt on the water, hop aboard Le Barge Tropical Cruises. The boat, complete with live palm tree, ventures Sarasota Bay is true fun Floridian fashion. Choose to watch for manatees and dolphins, nature watch and sightsee, or watch the stunning sunset from the water. Full bar and food available. Bayfront Excursions, next to O'Leary's Bar and Grill, offers boat rentals as well as Peddle Boats and Aqua Cycles to enjoy steps away from the Tiki Bar itself. If you happen to be a member of the country-wide Freedom Boat Club, their Sarasota hub is located in the marina for your vacation boating enjoyment. Marina Jack II merges dining and cruising with their Sightseeing Lunch and Sunset Dinner cruises featuring upscale buffets. It's the perfect opportunity to pretend to be a yacht-dining millionaire.
Feeling Festive?
Growing up in Wisconsin, I had never heard of a boat parade. But in Florida, it's a beloved tradition. The Sarasota Holiday Boat Parade of Lights illuminates the waters and Bayfront Park provides prime viewing. On the 4th of July, fireworks explode from the end of the park near the fountain, creating a stunning mirror of mesmerizing colors on the water's surface. Get into the action by experiencing either event from onboard Le Barge. Parking is rough on these days, so plan on arriving early, walking, or taking an Uber. While not a calendar holiday, to many boat aficionados the Suncoast Boat Show is an event not to be missed. Hop aboard and ogle the craftsmanship and amenities these vessels boast.
Like to Move It, Move It?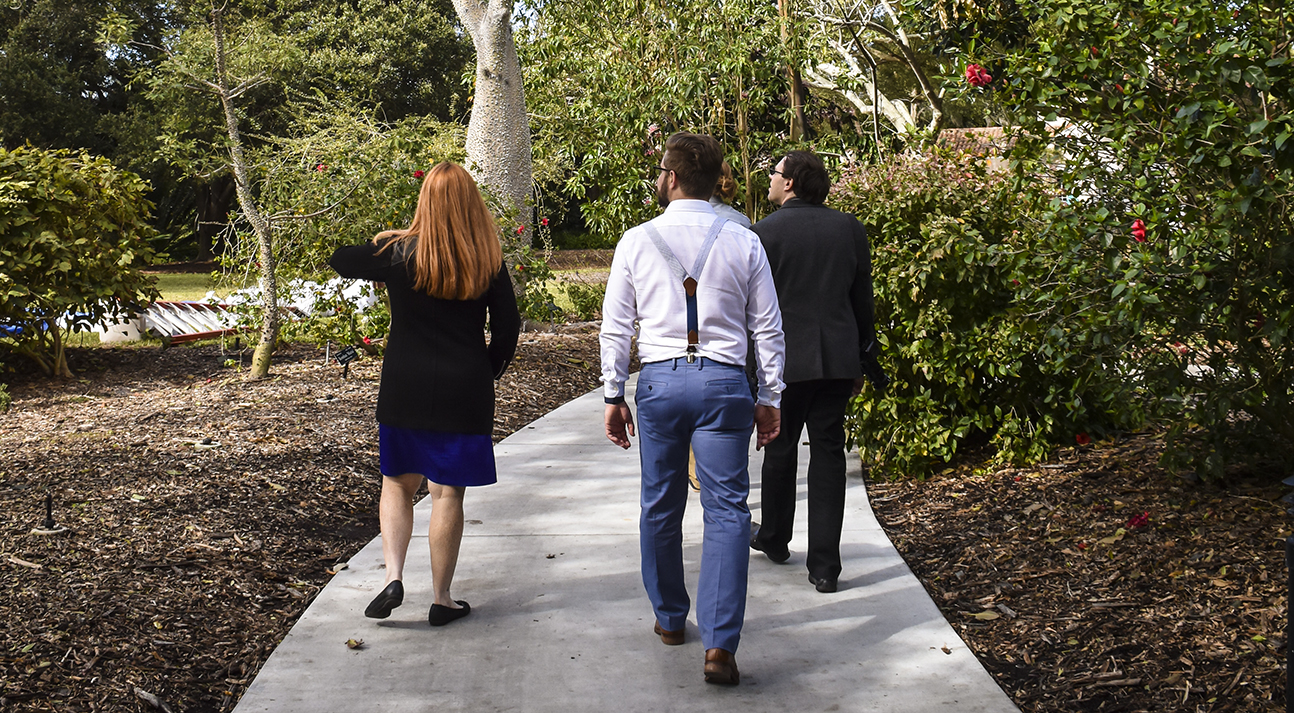 Throughout Bayfront Park, the paved running/walking trail features distance markers so you know how far you've gone when you realize you're too distracted by the view to pay attention. Biking is also popular along the trail as it extends northward towards Ringling Bridge and southward towards Marie Selby Botanical Gardens. Free yoga classes will often pop up as well along the bayfront, along with live music. Remember, dancing can count as cardio too – be it at a tiki bar, lounge, or ship.
Parking lots located between all locations. Enter 2 Marina Plaza, Sarasota, FL 34236 into a GPS for easy directions.