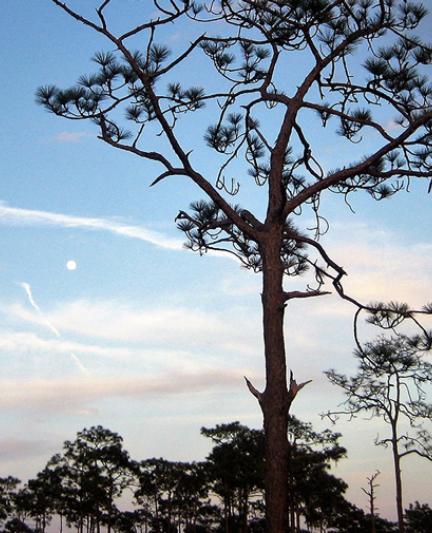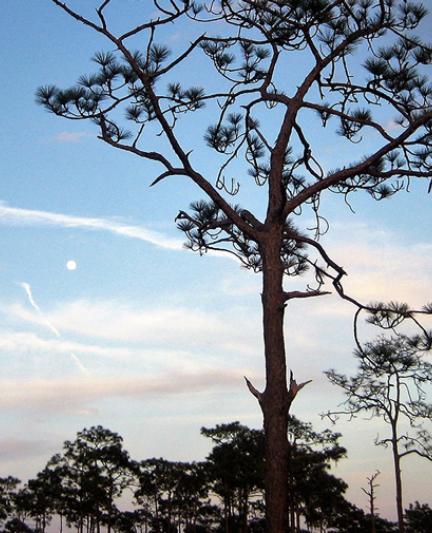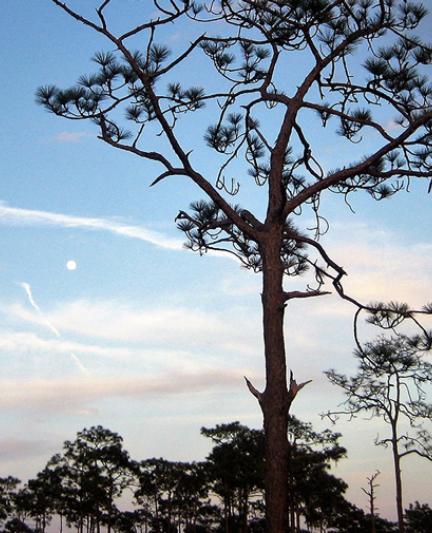 Go Wild at Myakka River State Park
Whether you have only a few hours or a few days, Myakka River State Park offers the perfect adventure.
Myakka River State Park, with its dozens of miles of hiking trails, palm trees and slash pines, wetlands and canopies, seems so unlike Sarasota and a world away. But driving to Myakka only takes 11 minutes from the Clark Road/FL-72 exit of Highway 75, making it an easy adventure for any time frame. Whether you have only a few hours or a few days, Myakka River State Park offers the perfect adventure.
If you have a few hours
Drive on in and pause at Alligator Point to catch a glimpse of the Florida alligators in the Myakka River. Typically a few can be spotted basking on the banks, ready for their photo op. There is no shortage of hiking trails in Myakka, but if only one is on the agenda for the day, make it the Canopy Walkway. Walk the 100 feet length while 25 feet above ground to gain a new perspective on the nature above and below the typical line of vision. The 75-foot-high tower may worry those like me who do not favor heights, but the spectacular views manage to override those fears. If it's a first visit, the Visitor's Center is actually pretty cool. History of the Park as well as an overview of the plants and animals found within help realize what it is running by or hanging overhead. Admittedly, I skipped this the first half dozen or so visits and wish I had done it sooner.
If you have a day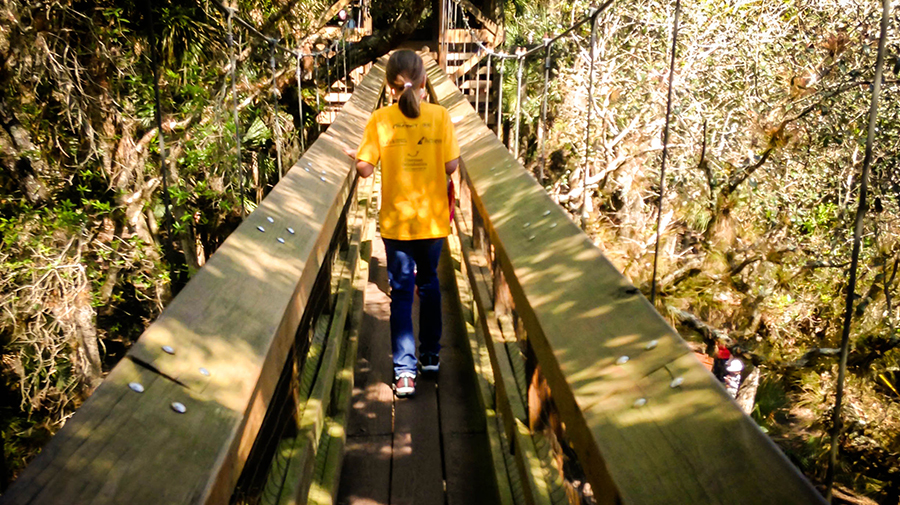 After descending the tower and viewing the park from on high, hop onto one of Myakka's two airboats to get down low. Where typical boats cannot venture, the airboats glide on in. Gators and wading birds await and greet visitors nearly eye-to-eye. The seven miles of paved biking trails, plus bike rentals make Myakka River State Park a rider's dream. Shade from the canopy above and plenty of natural eye candy result in probably the most pleasant ride imaginable. The open roads and minimal traffic create that perfect mix of smooth terrain and safety. Trail rides are also an option for those who prefer a bit more rugged ride. Grab a bite to eat from the Pink Gator Café to reminisce about the day while feasting on alligator stew and local brew.
If you have a few days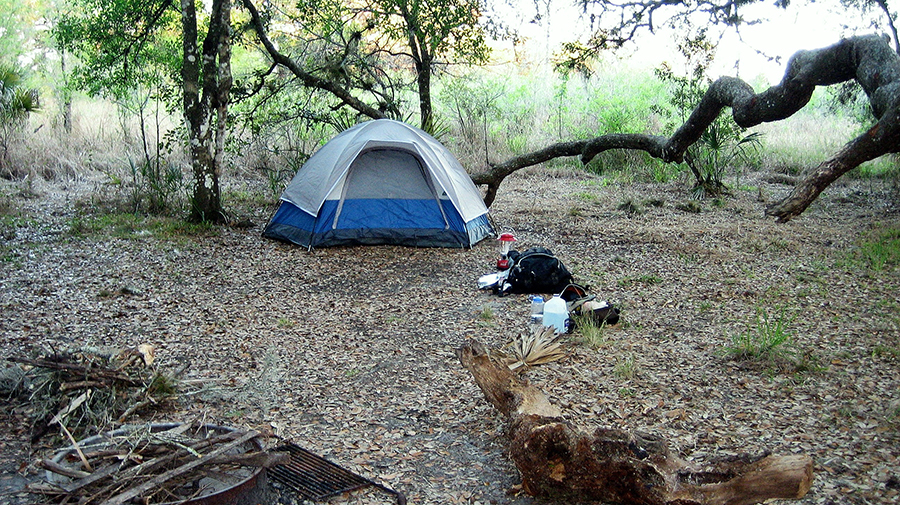 Myakka State Park features three types of sleeping situations – primitive camping, campground camping, and cabins. Hiking a few miles (2.2 to 14.1, depending on campground) into the depths of the Park and spending the night(s) with nothing around but the hooting of owls and rustling of trees gives primitive camping an irresistible appeal. Once you're in, you're in, so pack carefully and prepare for the ultimate nature submersion. Campground camping leads to less planning, more amenities. Restrooms and access to the Camp Store solve the what-if-I-forget-toilet-paper dilemma. Nearby campers are always happy to share their stories of critters and hikes. Cabin lodging gives the 'blast from the past, in the woods but with walls' experience. The log cabins are adorable and come fully equipped with kitchen and restroom facilities. Fully emerge in the experience and catch dinner to cook over the fire. Fishing abounds in The Myakka River or one of the Park's two lakes, Upper Myakka Lake and Lower Myakka Lake.
If you have kids along, for any length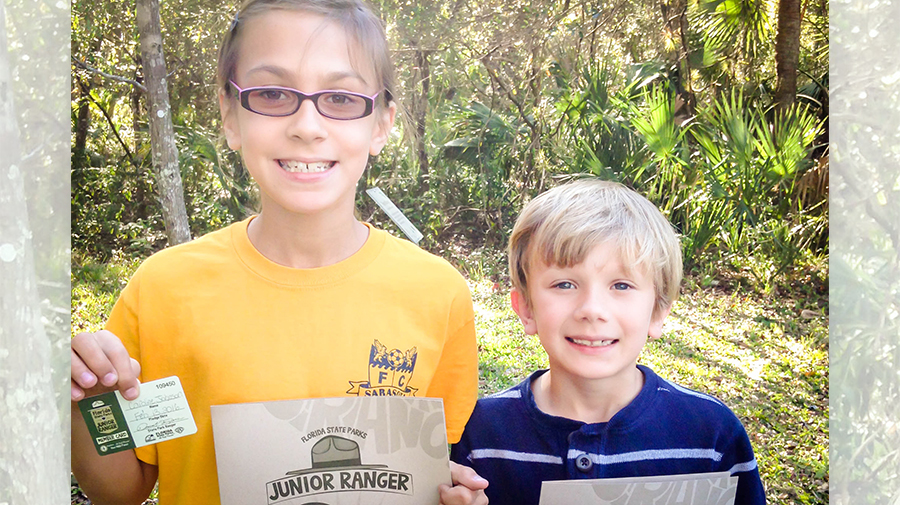 The Junior Ranger Program is a must. Like many State Parks, Myakka River State Park participates in this outstanding program that gets kids hands on and knee deep in the history, preservation, and natural surroundings of the world around them. My kids take this very seriously. And by participating in these Junior Ranger Programs, kids-and their adult companions-learn about an area, its contents, and the responsibility of those who enjoy it while having fun and reaching the goal of their stamp or patch. Plus, it gives kids who may not be into hiking an extra activity to keep them engaged. Materials can be obtained at the Park or printed out in advance to get the ball rolling.
No matter what
While meandering the 38.9 miles of trails at Myakka River State Park, a critter (or twenty) is bound to cross the path. Many are easily identifiable (looking at you, squirrel), but others may seem a bit more exotic. Many of the animals that have been seen at Myakka include: the Roseate Spoonbill, Anhinga, Double-crested Cormorant, Bald Eagle, Deer, Florida Panther, Armadillo, Florida Alligator, Raccoo, Wild Hog, Barred Owl, Sandhill Crane, White Ibis, Great Blue Heron, Turkey Vulture, Wild Turkey, Red-Shouldered Hawk, Red Tailed Hawk, Snowy Egret, Black-Crowned Night Heron, Banana/Golden Orb Spider, Spiny Orb Weaver, Green and Brown Anoles, Osprey, Limpkin, Softshell turtle, Black racer, Tree frogs, and Bobcat.
Looking up, the tall spiky trees are Longleaf Pines and Slash Pines, a favorite home of owls. The Florida state tree, the Sabal Palm abounds. Saw palmetto palms line the paths and, in near mid-June, Myakka's myriad oak trees boast the Florida Butterfly Orchid growing from their branches.
For a visit of any length, be sure to bring cash to pay the entrance fee, which varies from $2 to $6 per vehicle. To easily plan the day or days, or to get a bearing of the park layout, review the park map online prior to the visit.