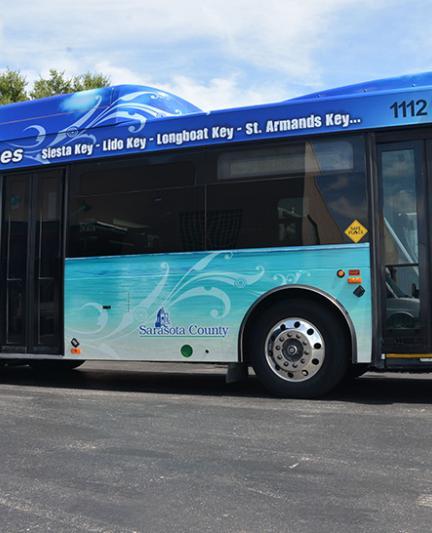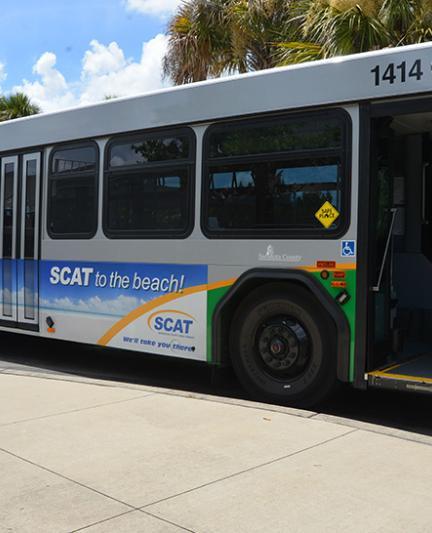 Nine routes to a Sarasota County beach
How to get to Sarasota County beaches--without getting behind the wheel of a car
The good news: Parking is free at Sarasota County beaches. The bad news: Sometimes spaces can be hard to come by.
But don't fret! There are other ways to get to our local beaches for times when parking lots are crowded or you just want an alternative to driving.
Bus Routes
Sarasota County Area Transit (SCAT) offers several bus routes that make stops at a variety of beaches. Route 4 connects downtown Sarasota with Lido Beach, while Route 11 helps folks get from downtown Sarasota to Siesta Beach.
For visitors staying on Siesta Key, Route 10 travels along the barrier island, making stops at Siesta Village and Siesta and Turtle Beaches. Farther south, Route 13 brings riders to Venice Beach.
Shuttles and Other Free Rides
Several area hotels offer free beach shuttles for their guests. The Hyatt Regency Sarasota (941-953-1234), for example, transports guests to Lido Beach, while the Ritz-Carlton, Sarasota (941-309-2000) shuttles lodgers to the resort's private Beach Club on Lido Key.
For travelers staying on Siesta Key, Jonny's Original Free Ride (941-928-9200) can pick up passengers located on the barrier island and take them to Siesta, Crescent, and Turtle Beaches. Customers call when they want to be picked up, and a driver arrives typically within 15 minutes. The service is offered daily between 10 a.m. and 2 a.m. and is free; customers are asked to tip drivers for the ride. Siesta Key Free Ride (941-952-8294) offers similar tips-only service between noon and 2 a.m. daily.
Bicycling
Traveling to the beach on two wheels rates as another good option. Longboat Key tends to be a good spot for pedaling. "If you want to go out to the beach there, there's a great bike lane to use," says Bud Gaunce, president of the Sarasota Manatee Bicycle Club.
Bike riders will find a bike lane or bikeable shoulder running along much of Siesta Key, helping folks pedal to Siesta, Crescent, and Turtle Beaches. There's also a bike lane near Lido Beach on Lido Key.

To get to Sarasota County beaches south of Siesta, cyclists can travel from Sarasota south on the Legacy Trail (941-861-5000), a former rail line that now offers more than 10 miles of paved surface for biking, running, walking, and other recreational activities. Riders can depart the trail in Osprey or Nokomis to head to Nokomis Beach on Casey Key or take it farther into Venice to ride to Venice Beach.
The Legacy Trail also connects with the Venetian Waterway Park (941-861-5000), which straddles both sides of the Intracoastal Waterway in Venice. The west side of the trail brings riders all the way down to Caspersen Beach.
Less experienced cyclists should take caution when riding on highly trafficked roads, especially if they don't have dedicated bike lanes. "We preach safety," says Gaunce. "That means knowing what's going on around you, being predictable, checking traffic, signaling—all the things you would do if you were driving a vehicle." He also advises riders to wear bright colors for visibility.
And when your highly visible self pedals right up to the beach past drivers still searching for a parking space, it will serve as a reminder that a car's not the only way to get to the shore around here.