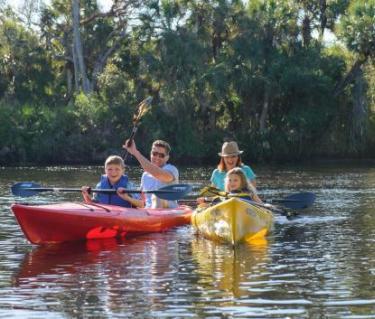 Wild Sarasota: A Guide to Enjoying the Great Outdoors in Sarasota County
Every season is the perfect season to get outside and enjoy the weather in Sarasota, thanks to Florida's year-round sunshine and temperate climates. From sea to shore, the opportunities to explore and appreciate the Great Outdoors are abundant in Sarasota County.
The balmy breezes that waft in from the Sarasota bayside, the pearly-white sands of Siesta Key that sparkle in the sunshine, the untamed wilderness of the Myakka State Park wetlands and pinelands. It's true: the great outdoors of Florida's Gulf Coast are like no other place on Earth. From sport fishing to extraordinary journeys deep into the heart of one of Florida's oldest and largest state parks, wild excitement awaits at every turn. Where will your sense of adventure lead you?
Get on the Water
To anyone who's spent any time on the water in Sarasota, it's no surprise that local beaches like Lido Beach and Siesta Key Beach are frequently ranked among the top beaches in the United States, or that the nation's wealthiest members at the turn of the 20th century, such as circus magnate John Ringling, flocked to the Sarasota bayside to build their elaborate homes. The pristine cerulean and emerald waterways of Sarasota are simply magical, and remain today among the area's top spots for outdoor recreation and leisure.
Man-powered Crafts - Kayaking SRQ
Kayaking SRQ offers both tours and rentals at two locations in Sarasota County. First pick your mode of transportation: kayak or stand-up paddleboard. Then pick your location: mangrove tunnels at Lido Key or hidden beaches at Siesta Key. Either way you'll probably spot some native birds and maybe even a manatee or dolphin.
Powered Crafts - Siesta Key Watersports
Prefer engines to paddles for your on-the-water recreation? Siesta Key Watersports offers boat and Jet Ski rentals on the Gulf, as well as dolphin tours, sunset cruises, fishing charters and parasailing rides. Siesta Key Watersports boat rentals are equipped with GPS and VHF, and Bluetooth-equipped stereos and have full access to Gulf Waterways, from as far north as Bradenton Beach, and south to Englewood in southern Sarasota County. For jet ski rentals, ages 16 and up (with a parent present) can rent jet skis for hourly rates, up to four hours, to ride in a large unrestricted riding area.
Reel in the Big Catch: Charter Fishing in Sarasota
Fishing fanatics flock to Florida's Gulf Coast for the thrill of the catch -- and there's no one more savvy to the local waters than Sarasota's charter fishing boat captains. Whether you seek the thrill of big offshore sport on the salty waters of the Gulf of Mexico, or fishing in the inland mangroves, you'll get hooked on Sarasota's waterways.
Charter Services
CB's Saltwater Outfitters on Siesta Key and Sarasota Bay offer private inshore, spin fishing and fly fishing charters for anglers of all ages and skill levels. Guides on CB's Saltwater Outfitters excursions practice catch-and-release, but are happy to fillet fish for the angler if they would prefer to take their catch home to cook, or to Clayton's Siesta Grill located directly behind CB's Siesta Key, where the cook will prepare the catch.
SiestaKation offers inshore, offshore and nearshore charters along with seasonal charters for specific fish like red snapper and tarpon. They provide a wide array of fishing gear and tackle with the best results for the fish you're seeking. Go out for 4 or 10+ hours depending on the fish you have your eye on. SiestaKation also offers charters for snorkeling, diving, sunsets, dolphin watching, or create your own charter.
Hug a Tree, Spy a Butterfly and Discover Sarasota County
Historic Spanish Point
Once you're back on dry land, there's so much Sarasota to discover! Perhaps you'll want to start from the beginning at Historic Spanish Point, a 30-acre environmental, archaeological, and historical museum on Little Sarasota Bay in Osprey.
Historic Spanish Point details prehistoric regional history in its 'Window to the Past' archaeological exhibition -- the only archaeological exhibition in the United States built inside a Native American shell mound. Sarasota County's pioneer history is preserved in its first packing house, the pioneer cemetery, and a pioneer chapel on the historic property grounds. Historic Spanish Point also features one of the largest butterfly gardens on the Gulf Coast, and a jungle walk and sunken garden.
Marie Selby Botanical Gardens
Fans of butterflies and botanicals will also want to pay a visit to the Marie Selby Botanical Gardens, a 7-acre botanical garden on the bayside of downtown Sarasota, dedicated primarily to the research of orchids, epiphytes, and bromeliads. The Selby Gardens includes some of the world's premier collections of native and tropical plants, trees and mosses. In addition to its stunning botanical collections, Selby features a Children's Rainforest Garden with treetop exploration, an epiphyte canyon, a waterfall that mimics rainforest ecosystems, and research stations to help plant the seed of botanical fascination in budding explorers, researchers and naturalists.
Myakka River State Park
No adventure into the Great Outdoors in Sarasota is complete without a day-trip to Myakka River State Park, a 37,000 acre reserve in east Sarasota County. The sprawling park includes pine forests, scrub and prairies, wetland marshes and cypress domes. Bird and wildlife watching, picnicking, camping and primitive camping, hiking, biking, horseback riding, and canoeing are just a few of the activities to participate in on any given day at the state park. The Friends of Myakka volunteer organization, dedicated to the preservation of the park, publishes an events times and dates for monthly full moon concerts, wilderness adventures, and other park events on their website.
TreeUmph! Climbing Adventures
Change your perspective and experience the world from a bird's eye view while you monkey your way through the treetops at TreeUmph!, an east Bradenton adventure course, just outside of Sarasota County. TreeUmph!'s 14-acre adventure course is like no other in the region -- it's elevated to the tops of Florida's native pine and live oak forests. The course varies in difficulty, with levels for kids and adults that feature rope bridges and ladders, suspended logs, Tarzan swings, climbing walls and more -- all culminating in a thrilling 60 foot-high, 650 foot-long zipline ride! Get your Great Outdoors adrenaline rush here.
Take a Nature Tour
There's no better way to experience nature than to immerse oneself with the help of a knowledgeable guide. Sarasota County is home to scores of seasoned experts who are intimately familiar with the waterways, nature trails, and animal inhabitants of the local wild.
Sarasota Bay Explorers
Hop back on the water with Sarasota Bay Explorers, an ecotour company that offers sea life encounter cruises, guided kayak tours, nature safaris in covered boats, and private charters that allow patrons to choose their own itinerary based on the group's eco-interests. Sarasota Bay Explorers works in conjunction with Mote Marine Laboratory to offer comprehensive, hands-on, fun and educational marine science boat trips for public and private use. Offering some of the most varied marine tours in the area, Sarasota Bay Explorers gives its patrons the opportunity to experience the tremendous diversity of Sarasota's waterways. From the salty Gulf waters to coastal grasslands, wetlands and tidal mangrove forests, there's a vast aquatic universe to explore.
Myakka Outdoors
Hop aboard Myakka Outdoor's tours to experience the most Florida modes of transportation. Take a pontoon boat tour through upper Myakka River and learn about the diverse ecosystem. You're almost certain to see an alligator in the water or along the banks. To explore the Florida Dry Prairie, you'll want to hop aboard the tram where you can spot out native birds like sandhill cranes and burrowing owls. To go off the beaten-path and explore the Myakke River wetlands, it's swamp buggy time. This all-terrain vehicle will take you on a tour to remember through the back country.
Peace River Charters
For the ultimate off-road experience in "extreme" nature touring, catch a ride on the swamp buggy at Peace River Charters. Mucky swamps, uneven terrain, overgrown brush and wetland shallows are no match for the elevated, monster-tire swamp buggies driven by experienced guides along the Peace River. These enormous buggies elevate rider twelve feet above the terrain, the perfect vantage point for viewing the scenic wetland landscape and the more than 400 species of animals that inhabit it. Peace River Charters also offers airboat rides and tours.
The Sunshine Bottom Line: Get Outdoors!
Practically every day is a day in the sun in Sarasota, so take advantage of it -- get outside and explore, experience and discover everything Florida's Gulf Coast has to offer. You've got quite a bit of adventuring to do, so we'll leave you with just one more word of advice:
Don't forget the sunscreen!