Marie Selby Botanical Gardens: Where Nature Meets Art
Come to connect with air plants of the world, native nature and regional history at Selby Gardens' two bayfront campuses
Feel what it's like to be fully immersed in Florida's tropical flora and exotic varieties of blossoming botanicals. At Marie Selby Botanical Gardens, visitors of all kinds can wander a collective 45 acres of bayfront sanctuaries to see native nature firsthand, as well as exotic air plants of the world. Selby Gardens first laid roots at its 15-acre Downtown Sarasota Campus, a lush oasis amongst the urban dwellings of downtown, replete with expansive views of sailboats anchored in the mooring of Sarasota Bay. Today, it remains the only botanical garden in the world dedicated to the study and display of epiphytes—or air plants adapted to live in the tree canopy—including orchids, bromeliads, gesneriads, ferns and other tropical plants. In fact, Selby Gardens features the best scientifically documented collection of orchids and bromeliads anywhere.
At Selby Gardens' companion campus – just 10 miles south at Historic Spanish Point in the Osprey area – stroll the peaceful grounds of the museum site on Little Sarasota Bay to explore ancient peoples, pioneer history, Bertha Palmer's legacy and, of course, plant life. With 30+ acres, Historic Spanish Point remains one of the largest preserves in the state showcasing native Florida plants and active archaeology – a record that encompasses approximately 5,000 years of Florida history – that is interpreted for the public.
But you don't have to be an expert in botany, horticulture or archaeology to appreciate the greenspaces of Selby Gardens. Beyond both campuses' breathtaking backdrops of natural beauty, visitors come from near and far to experience dynamic art displays immersed throughout the grounds. Woven in beautifully with nature's bounty of flourishing flowers and towering trees, an exciting schedule of innovative exhibitions explores the human connection between art and nature as the two merge together to become one.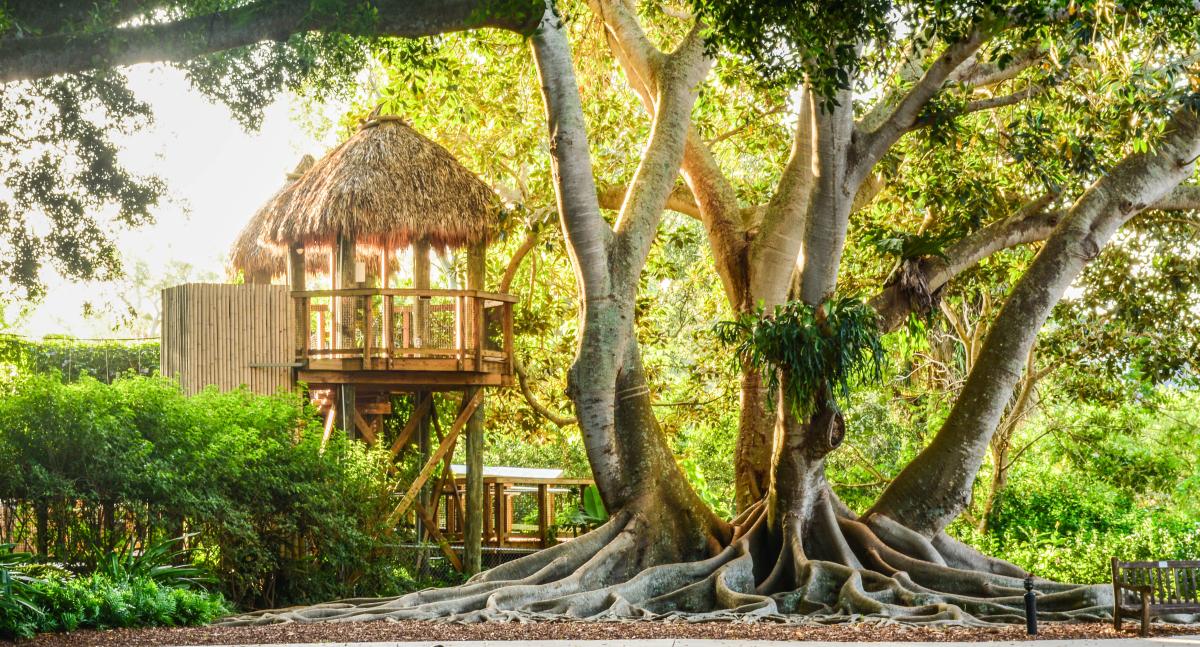 The Jean & Alfred Goldstein Exhibition Series at the Downtown Sarasota campus examines major artists and their relationships to nature in the context of a botanical garden. Seeing masterworks of art – often on loan from major art institutions around the world – in a garden setting awakens new comparisons in viewers' minds. Legendary artists showcased in previous exhibitions have included Salvador Dali, Paul Gauguin, Andy Warhol, Marc Chagall, Roy Lichtenstein and, most recently, punk-poet Patti Smith and famed photographer Robert Mapplethorpe.
Currently on view through September 2023 at the Historic Spanish Point campus, visitors can catch Seeing The Invisible – An Augmented Reality Contemporary Art Exhibition, the most ambitious and expansive exhibition to date of contemporary artworks created with augmented reality technology. Forging new links between botanical gardens located in diverse biomes around the globe, the show features works by more than a dozen international artists.
While there, check out the region's only butterfly house, adjacent to Historic Spanish Point's outdoor Native Butterfly Garden. Visitors will be surrounded by colorful Florida butterflies and their favorite flowers. More than 160 butterfly species breed in Florida, and about 200 species migrate through the state – many of which aren't found anywhere else in North America. After taking in the colors and patterns of all the butterflies, grab lunch and refreshments from the Michael's Food Truck (operated by Michael's On East) onsite.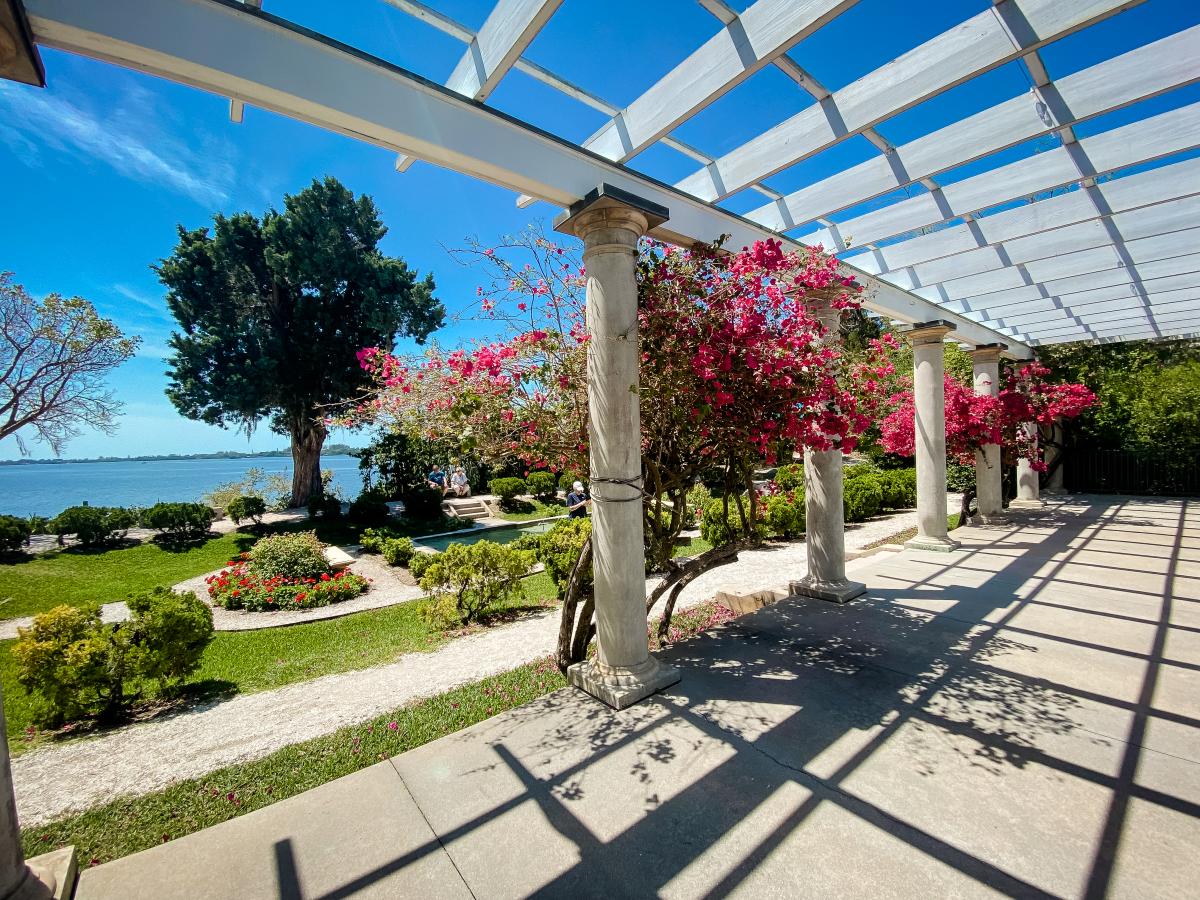 Back at the Downtown Sarasota campus, indulge in freshly prepared snacks and delicious lattés to sip as you stroll the grounds. The Selby House Café offers sandwiches, wraps, salads, soups, pastries and cookies, as well as beverages such as coffee drinks, hot or iced teas and a variety of beer and wine. Stop by The Garden Shop to check out the ever-changing assortment of botanically inspired products. From plants, jewelry and toys, to candles, books and apparel, you're sure to find a gift for any occasion or a keepsake to commemorate your visit.
Both campuses offer self-guided tours as well as group tour programs that provide an immersive experience, highlighting the art installations, the Gardens' botanical research, history and behind-the-scenes explorations. Group tours receive a discounted group rate and supplemental educational materials. Tours are led by trained educators, appropriate for all ages and audiences, and can be tailored to meet the specific needs and requests of the groups.
Looking for something even more special? Opt to Set Sail with Selby Gardens for a campus-to-campus boat tour experience. In tribute to the coastal heritage of the region, Selby Gardens offers visitors an "Old Florida" way to experience both of its bayfront campuses. The full-day cruise and tour excursion takes place on Saturdays and includes roundtrip boat transportation along the Intracoastal Waterway between the two locations, educational narrations of the native nature and regional history, full access to both campuses and lunch.
A visit to one, or both, of Selby Gardens' locations is whatever you make of it! Whether the average picture taker or the professional photographer, an avid art aficionado or just an admirer of all things beautiful, the chances of leaving with a newfound appreciation for the natural wonders of the Gulf Coast and beyond is as high as the billowing banyan trees.