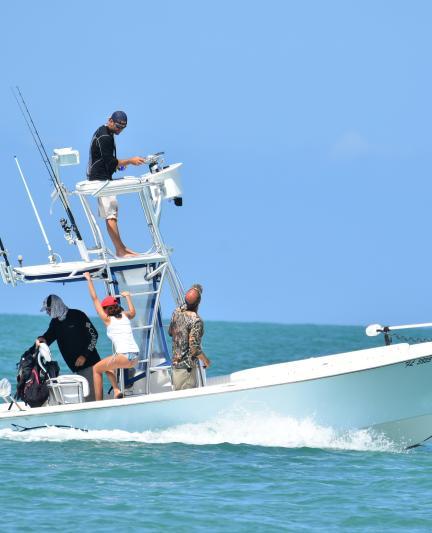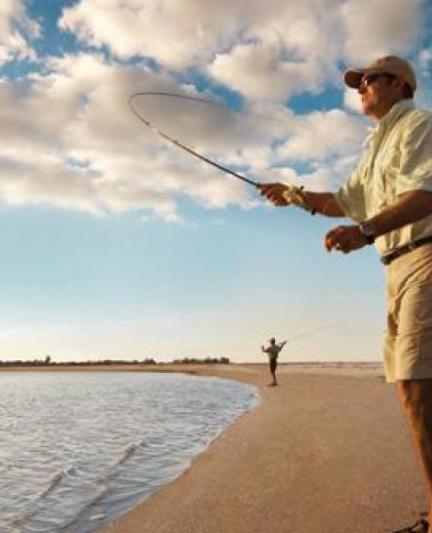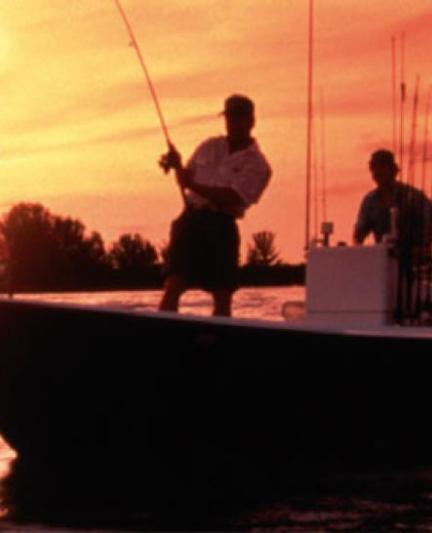 Fishing in Sarasota County
Sarasota County offers some of Florida's best fishing thanks to the healthy estuary supporting a healthy ecosystem. Learn more about fishing in the area below .
The Florida Gulf Coast is a paradise for fish. Freshwater streams and rivers flow from Manatee, Sarasota and Charlotte County into a bay protected by the barrier islands. It's a perfect-sized estuary teeming with a diverse wildlife ecosystem of birds, fish and mammals.
Area freshwater streams, rivers and lakes hold bass, panfish, catfish and more. As freshwater enters the tidal area, species tolerating the brackish water, such as snook, jack, and tarpon can be found. Out into the bay, snapper, mackerel, seatrout, grouper, drum and many other species will be found in the saltwater haven.
With so many options for fishing, where to start can be a difficult choice. Use our fishing guide as a resource to help you catch the next "big one."
Saltwater
Most visiting anglers opt to cast in the bay or offshore as saltwater fishing offers multiple environments with different species of fish favoring different spots. Seagrass beds are home to seatrout, redfish, and bluefish. Elsewhere snapper, jack crevalle, sheepshead and black drum can be found near piers, bridges and other structures. Offshore, reefs and wrecks are popular hangouts for grouper, amberjack, and snapper.
Freshwater
Freshwater fishing in Myakka River State Park or Oscar Scherer State Park is a fun option, and can also appeal to visitors looking to also explore other eco-recreational activities. Anglers targeting panfish can find bluegill, speckled perch, and redear sunfish. Largemouth bass are a popular fish in Florida freshwater. Tilapia, an invasive species, must be removed if caught, but many consider this a tasty fillet.
Fishing Types
Shore
Fishing from the shore is an easy way to get a line in the water and there's several places to go. Depending on the time of year, tide and a few other factors, hitting the right place at the right time can mean a major payload. Visit a local shop such as CB's Saltwater Outfitters on Siesta Key or New Pass Grill and Bait Shop on Lido Key to learn about current hot spots. When out on a beach or pier, look for schools of baitfish and/or birds diving as indicators of fish in the area.
Boat
With a motorized boat you can cover much more ground, but follow boating etiquette and obey vessel speed regulations. Tides, water temperature, depth of water, wind and even moon phases play a role in a day's success. When looking for a spot to fish, keep an eye out for reefs and seabeds, rock and wood structures. Area fishing reports help identify how and where to fish, and several can be found doing an online search. Boats can be rented at outfitters such as CB's or at Cannons Marina.
Kayak
A Kayak can be the best of both worlds — giving anglers the ability to paddle further from shore while sneaking where boats won't fit. Though not able to travel nearly as far or as fast as a motorized boat, fishing by kayak can be a quieter and more eco-friendly experience. Consider renting or even taking a kayak tour from outfitters such as Kayaking SRQ or Ultimate Kayak SRQ.
Charters
Offshore
If you want a trophy deep-sea denizen, go off shore fishing with a charter. Fighting to reel in behemoths such a cobia, king mackerel, black fin tuna, grouper and even sharks can be a battle of a lifetime, and you could need the full day to do it.
Inshore
Inshore fishing means less travelling but no less fun. Popular fish such as snook, Spanish mackerel, and spotted sea trout are not only fun to fight, but delicious to eat. Try charters such as Wolfmouth Charters and charters operating out of CB's Saltwater Outfitters.
*NOTE: Many charters offer both inshore and offshore options.
Wildlife
If not everyone is excited to spend a full or half day fishing, but would still like to get in a boat and see Sarasota County in a unique way, several charters, including Wolfmouth Charters, Magic Fishing Adventures offer a variety of wildlife expeditions providing a fun experience for non-fishers.
A few popular fishing spots
New Pass, Longboat Key
The pass between Lido and Longboat Key is a popular fishing location. Fish the bridge structure or try the shore for a variety of fish.
Bird Key Park
Bird Key Park has grass beds as well as a bridges and seawalls, which means a variety of opportunities for fishing different species.
South Lido County Park
The southernmost end of Lido Key offers a stretch of beach anglers can utilize to fish out to Big Pass. This is a good spot to fish when the tide is right.
North Shell Road
On Siesta Key you can fish the Big Pass from North Shell Road. Once again, this is a good spot thanks to the channel's current.
Siesta Key Bridge
Bay Island Park is next to Siesta Key Bridge. Another place with structure, a seawall, and grass beds, this location has a few different access points for anglers.
Venice Jetties
The Venice Inlet has two jetties with lots of rocks meaning two things: lots of fish and lost tackle. These rocks will attract snook and sheepshead.
Venice Pier and Caspersen Beach
A long pier on Caspersen Beach next to the popular restaurant, Sharky's on the Pier, the Venice Pier extends quite a ways out into the water. Caspersen Beach continues further south and the rocky seawalls or groynes provide for some good fishing opportunities.
Englewood and Manasota Key
Lemon Bay Park in Englewood is good for wading, but be sure to have the proper equipment, or consider renting a kayak. Stump Pass State Park on the south end of Manasota Key is a good fishing spot as the tidal currents from the pass bring in schools of fish.
Rules & Regulations
A fishing license is required for both Florida residents and visitors, though licenses are provided if you take a charter. Licenses can be purchased at an outfitter or by calling 888-347-4356. If you intend to keep fish, be aware of bag limits, size regulations and season restrictions. Check www.myfwc.com for regulation information.
Learn more about fishing in Sarasota County with our fishing guide videos: