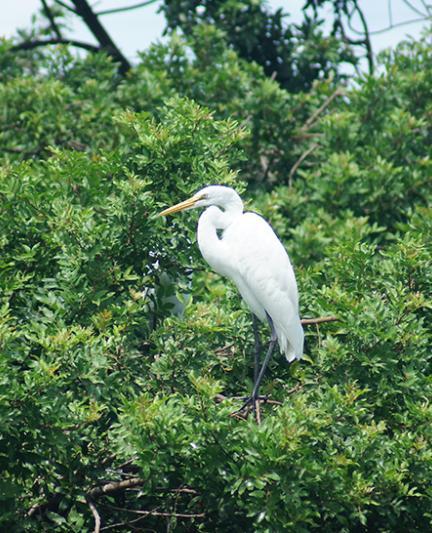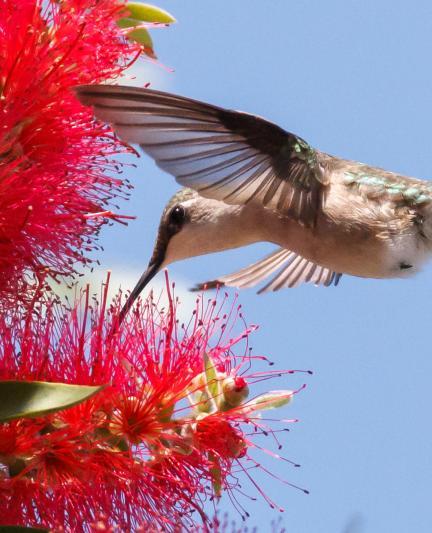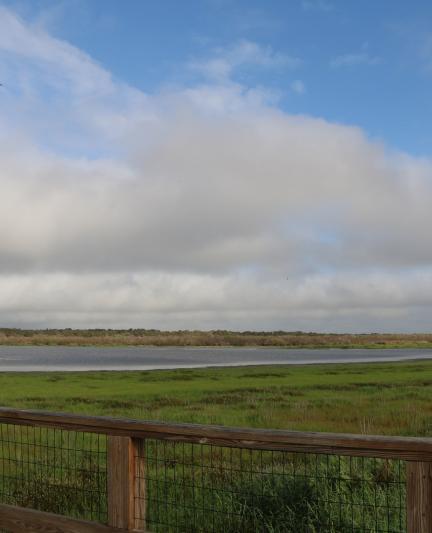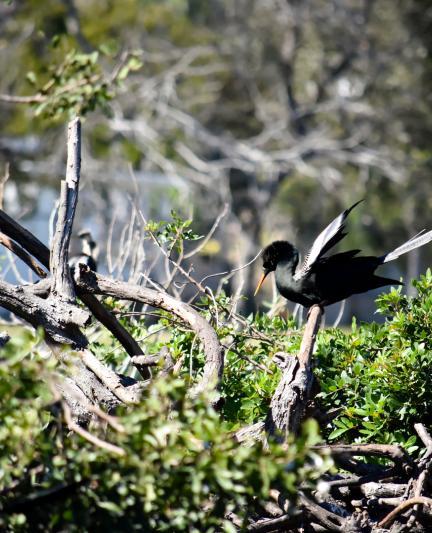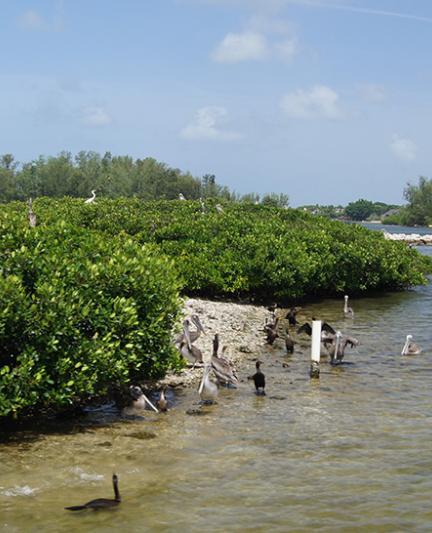 Best Birdwatching Spots in Sarasota County
An avian lover's paradise, spot native Florida birds year-round—from Gulf beach shores to mangrove flatland and brackish estuaries
Birdwatching is among one of the most peaceful, meditative and gratifying activities you can enjoy in Sarasota County. And while winter is largely birding "season"—as thousands of migratory birds make their way south to escape the northern chill—birdwatching is a fantastic year-round hobby to partake in thanks to our year-round sunshine, subtropical climate and ecological diversity. No matter the time of year, you're bound to run into a feathered resident.
Birds typically spotted along the coasts of Sarasota County include waders, such as herons and egrets (long, slender necks, who navigate local shorelines on their graceful stilt legs); pelicans, gulls and terns, and the fierce aquatic raptors, osprey, who roam the seaward skies and plunge talons-first at speeds up to 50 mph to snatch fish from Gulf and inland waterways.
Some advice to beat the bugs, the humidity and the heat (especially in summer) is to make early morning or evening sunset trips out. Check out the numerous natural habitats and spots along the Great Florida Birding & Wildlife Trail. Keep your field guide handy, and don't forget to bring binoculars for your avian adventures. Happy birding!
Explore the Great Florida Birding and Wildlife Trail
The Great Florida Birding & Wildlife Trail is a comprehensive resource for birdwatchers and butterfly chasers in Florida. Explore the site to learn about trails and habitats, the species of birds and butterflies you may encounter throughout Florida, and wildlife viewing tips in this network of over 510 wildlife viewing spots across the state. We've put together a list below of Sarasota County-specific sites featured on the Great Florida Birding and Wildlife Trail.
Arlington Park
You may catch a glimpse of the iridescent purple and blue-green hues of the Purple Gallinule, small waders, and seasonal migratory ducks at this small park that features hardwood hammocks and reclaimed swamp, nestled in an urban downtown Sarasota setting.
Blind Pass Beach Park
You're unlikely to encounter many other humans on this serene, one-mile gulfside stretch of south Sarasota County. Spotted Sandpiper, Willet, Dunlin and Black-bellied Plover are some of the common shore birds birders are likely to encounter combing the beach. Launch a kayak or canoe to explore the mangrove swamps and lagoon off nearby Lemon Bay Aquatic preserve.

Carlton Reserve (T. Mabry Carlton, Jr. Memorial Reserve)
Pack water and sunscreen! One of the largest sites on this list, Carlton Reserve in Venice, is likely worth multiple visits to visit its varied ecologies. Bordering Myakka State Park, Carlton Reserve encompasses 24,500 acres of hardwood hammock, pine flatwood, prairie and oak scrub. Florida Fish and Wildlife Conservation Commission recommends phoning the reserve ahead of time at (941) 861-5000 for trail conditions and to request a backcountry map.
Caspersen Beach Park
Two miles of Gulf beach shoreline and coastal hammock provide chances to spot an array of shorebirds, but keep your ears open, too, for the trill of migratory warblers paying a seasonal visit. The park is also home to two families of the rare Florida Scrub Jay.
The Celery Fields
With over 215 species logged by birders from the Sarasota Audubon Society to date, Celery Fields is known among many as the place to go birdwatching in Sarasota County. The 360+ acre site serves as the region's primary stormwater collection and flood mitigation zone — a space consisting of open marshlands, deep ponds, shallow pools and canals, with over 20,000 aquatic plants and trees in its ecology. Two Celery Fields boardwalks, at Palmer Boulevard and Raymond Road, provide excellent wildlife viewing opportunities. The Audubon Society recommends winter visits to spy migrating sparrows, Marsh and Sedge Wrens, and several species of rails, including Sora and Virginia.
Crowley Museum and Nature Center
Explore pine flatwoods, hardwood hammocks, freshwater marsh and swamp and riverine areas interspersed over two miles of trails at Crowley Museum and Nature Center. Crowley includes a 2,000 foot elevated boardwalk and observation tower. This is a great spot to view birds of prey, including Bald Eagles, Barred Owl, Red-Shouldered Hawk, and Crested Caracara. Smaller, eye-catching species like the White-Eyed Vireo and the Northern Parula, as well as the boisterous Black-Bellied Whistling Duck frequent this biodiverse park.
Indian Mound Park
This tiny Englewood park sits on just seven acres overlooking Lemon Bay, but what it lacks in size it makes up for in exciting birdwatching. Catch a glimpse of an American Oystercatcher using its formidable beak to hammer open oyster shells, or Osprey and Bald Eagles dive-bombing the bay for a fresh fish meal. Ruddy Turnstones, Western Sandpipers, and numerous shorebirds also frequent Indian Mound Park.
Jelks Preserve
The Myakka River borders this 600-acre site in Venice. Pine flatwoods, moss-draped mesic hammock, and epiphytic hardwoods provide shady environments to view various species of warblers, woodpeckers, and the occasional Barred Owl. The preserve's wet prairie and freshwater swamp habitats are home to a number of spindly-legged wader species, Osprey, and the occasional Wood Stork. In the less shaded scrubs, visitors might spot Eastern Towhee and Eastern Bluebirds pecking around for insect snacks.
Lemon Bay Park and Environmental Center
Find coastal trails speckled with scenic beach overlooks and more than two miles of pine flatwood trails tracing through the Lemon Bay Park. This site hosts birds of prey, woodpeckers, nesting Wood Duck families, scores of migrating warblers, and the occasional Magnificent Frigate, aka "Man 'O' War" -- a large species whose males inflate a striking red balloon on their throat to attract females during mating season. Call the Environmental Center at 941- 861-5000 to learn about guided bird walks and other educational nature programs at the Environmental Center.
Myakka River State Park
Myakka River State Park ranges more than 58 square miles of wetlands, prairies, pinelands and hammocks housing migratory species, ducks, raptors, songbirds, wading birds, and more. During the peak birdwatching months of November through April, there is a bird naturalist available at the park's Bird Walk from 9:00 a.m. until 1:00 in the afternoon most days of the week. Guests can call the ranger station ahead of time at 941- 361-6511 to find out if the bird naturalist will be on duty during their visit
Oscar Scherer State Park
Birders hoping to catch a glimpse of the threatened Florida Scrub Jay should pack up their binoculars for a trip to Oscar Scherer State Park. There are very few spaces, scattered solely throughout central and southwest Florida, that can claim an "abundance" of Scrub Jays—and Oscar Scherer is among the rare habitats where this elusive homebirdy can be found, along with over 200 other species of birds. The Friends of Oscar Scherer offers a neat Checklist of Birds at Oscar Scherer State Park in collaboration with the Sarasota Audubon Society

Pinecraft Park
The Florida Wildlife Conservation Commission describes Pinecraft Park as a mesic hammock environment that is more resembling of northern Florida than most locations on this list. This is thanks to the 15-acre park's high, dense canopy of elm, hickory and oak trees where petite hawks like the Sharp-Shinned Hawks and the Cooper's Hawk, make their home along, with warbler and thrush species. The areas of the park bordering Phillippi Creek are home to aquatic species, including types of heron, moorhen (marsh hen) and ibis.

Quick Point Nature Preserve
Boardwalk overlooks and modest trail systems along Sarasota Bay offer birdwatching opportunities among a mix of beachy ecologies, including mangrove estuaries and tidal swamps where waders reign supreme. Look up to spot Osprey, Terns, and gulls riding the thermals in hunt of a seafood snack.

Red Bug Slough Preserve
Although Red Bug Slough Preserve borders a suburban neighborhood, it's easy to feel secluded from the outside world while traversing the quiet, moss-draped trails that connect the hammock and swampy slough. Here, you may spot Green Heron, Wood Ducks and Mottled Ducks, Belted Kingfisher, Limpkins, and more.

Shamrock Park and Nature Center
This park serves as a trail connector between Caspersen Beach and the Venetian Waterway Trail. In addition to Caspersen and Oscar Scherer State Park, Shamrock Park is one of the best spots to view the Florida scrub jay — and its ADA-accessible paved walkway makes it among the most accessible. The local Audubon Society chapter has recorded more than 115 species of bird, here, including the pterodactyl-like Magnificent Frigatebird and, during the summertime, impressive Swallow-Tailed Kites who hunt the shorelines.

Siesta Beach
Serious bird aficionados know the early morning hours are the best time to spot feathered friends, but in the case of Siesta Beach, arriving early is a must. Consistently rated one of the top beaches in the US, humans flock to this beach by midmorning in droves, and often stay for the sunsets — but misty early morning hours offer a quieter opportunity to view migratory shorebirds, Roseate Spoonbill, Reddish Egret, and rarer species like Red-Necked Phalarope, Razorbill, and Elegant Tern.
Venice Area Audubon Rookery
Wildlife photographers from across the globe flock to the Venice Area Audubon Rookery to capture shots of Great Blue Heron and Egrets, Anhingas, Night Herons, and other gorgeous wading birds who populate the rookery island's deep lake. The Venice Rookery features a shaded pavilion that offers an intimate view of birds' activities on the lake, where they build nests, court and mate, hatch eggs and raise chicks.
Sarasota and Venice Audubon Societies
Spend some time with the Sarasota Audubon Society to learn about upcoming birding field trips and overnight excursions, conservation efforts, birding hotspots, Nature Center workshops and educational programs. The Sarasota Audubon Society also offers a handy and extensive local bird checklist, as well as an opportunity to sign up for a rare bird-sighting alert email service, SRQ Bird Alerts.
The Venice Area Audubon Society operates through the Venice Area Audubon Rookery. Check in with the Venice Audubon Center for free environmental programs from September through May, and keep an eye on the events calendar for field trips and other group activities for bird enthusiasts.
Visit Save Our Seabirds (SOS) and the Wild Bird Learning Center - a 3-acre living museum offering educational displays and featuring nearly 120 live birds that have been injured, rescued, treated, but unable to return to the wild due to the severity of their injuries. Take a stroll along the "Birdwalk" and compare the various types of diversification and adaptations that make each species unique. Also learn about the various environmental risks birds face and ways we can help minimize them. The walk takes the visitor through a beautifully landscaped sanctuary where many species of wild birds can be seen feeding in oaks, bathing in the pond, or soaring overhead. SOS is located on City Island at 1708 Ken Thompson Parkway, Sarasota, across the parking lot from Mote Marine Aquarium. Open every day from 10AM to 4PM and admission is free, however donations are greatly appreciated.