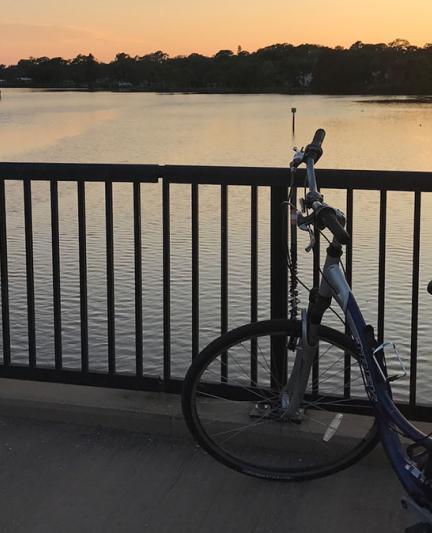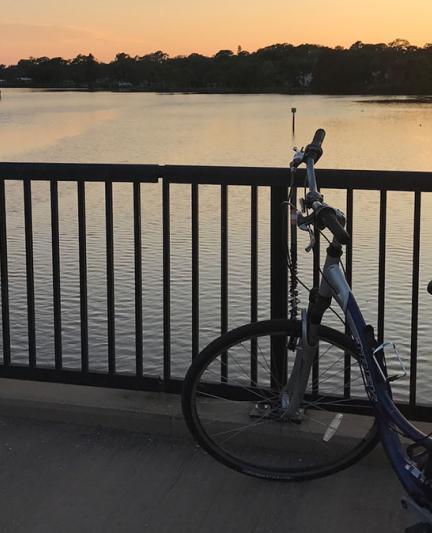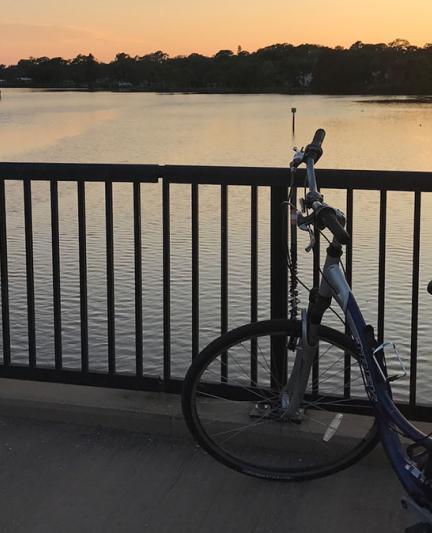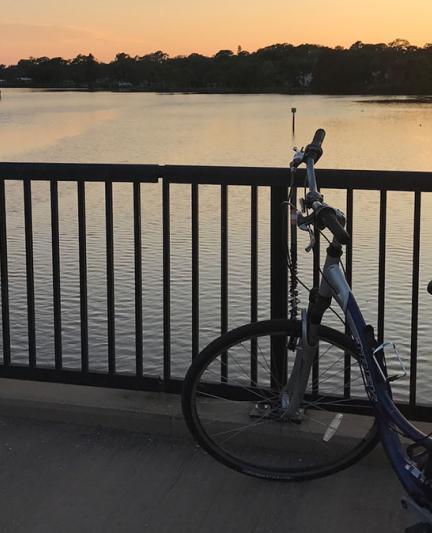 Experience The Legacy Trail
The renowned 12-mile bicycle trail from Venice to Sarasota is a great place to connect with nature, get exercise and enjoy all that Florida has to offer
In November, 1911, the Seaboard Air Line Railway started carrying passengers from Sarasota to Venice via an extension. In 1927, the Venice Train Depot was built, drawing even more folks who were anxious to live in the Venice area, establish businesses, and simply enjoy the coastal community. The Depot also drew families and staff traveling to Venice for the Kentucky Military Institute, as well as, the Army Air Base during WWII. And from 1960 to 1992, those railroad lines even transported the Ringling Bros. and Barnum & Bailey Circus performers, animals and equipment to their winter home in Venice.
These tracks hold much history in our community, and they continue to serve us, even without the trains.
That's because Sarasota County purchased the railroad corridor from CSX (Seaboard's successor) in 2004 as a partnership with The Trust for Public Land, calling it "The Legacy Trail". It opened in 2008 with a 12.5 mile stretch from south of Clark Road in Sarasota to Center Road in Venice, a beautiful path for bikers, walkers and runners to enjoy. The Trail is managed by Sarasota County Parks, Recreation and Natural Resources, but it's supported by Friends of The Legacy Trail, an all-volunteer, non-profit organization. Both are focused on continuous improvement of the Trail including projects like building bridges across busy roads so folks can enjoy the Trail without concern for traffic, installation of bike repair stations, updating informational kiosks that supply maps, informational resources about flora/fauna along the Trail, and more. The Trail celebrates its 10-year anniversary in 2018, and plans are actively underway to expand the Trail. If all goes as planned, the Trail will grow by about 7.5 miles in 2018, extending from Palmer Ranch to Payne Park in downtown Sarasota. Plans are also being considered to extend from Nokomis to North Port.
So now that you know a little bit about its history, let's review how to enjoy it!
The north end of the Trail starts south of Palmer Ranch and heads south to Venice, passing through Oscar Scherer State Park in Osprey, crossing over Route 41 in Venice, passing the historic Train Depot and connecting to Venetian Waterway Park, which follows the Intercoastal Waterway. You'll see mile markers along the way that correspond with the railroad's original mile numbering system, which makes you feel the history as you go along. There are also Trailheads, many offering amenities like parking, picnic tables, shelter from the sun, water fountains, and recreational facilities.
One of the many great things about the Trail is that you can start at any point - simply park your car and head north or south for a short distance, or get the full experience by traveling round trip, about 20 miles. Another is that it connects to some of Sarasota County's beautiful parks, beaches, waterways and community gardens (Culverhouse and Laurel Park Trailheads). It's also dog-friendly, so bring your pooch (on a leash, of course). If you're into wildlife, you'll be thrilled to see bald eagles, ospreys, bobcats, song birds, butterflies, and an occasional otter. It's also a great way to connect with neighbors of all skill levels and ages, including professional-looking cyclists who zoom past you, leisurely walkers/bikers, power walkers, roller bladers, folks on Segways, and kids on bikes.
There are hardcopy and electronic maps of the Trail, so be sure to review them before you go. And check out the rules of use — they're easy to follow, all designed to ensure a positive experience for everyone.
If you don't have a bike, don't let that stop you, because there are several rental spots to get you set up. If you have mechanical trouble, simply tap into one of the new bike repair stations the County installed Fall of 2016 that provide repair tools and pumps to accommodate both Schrader and Presta valve connectors (they're located at the following Trailheads: Osprey Junction, Venice Train Depot, Laurel Park, and Central Sarasota Parkway). And if you want to try something fun, on Wednesdays/Thursdays from January to April, you can ride a surrey! It's a free, 45-minute ride provided by a volunteer pedaler who picks up in Laurel Park.
When you go, be sure to bring snacks and water, and tuck it all into your backpack, pocket or basket. Here are some of my favorite spots to take a break:
Oscar Scherer State Park Trailhead — a lovely place to take in beautiful vistas by foot or bike (note: if you decide to go through the park, cyclists are asked to give a small fee to support the park). When you get back on the Trail, just south of the Park, you'll even see a section of the original railroad trestle that runs parallel to the new Trail. It's a great reminder of how this all came to be, and you can even imagine a train going by, filled with passengers, giraffes and elephants.
Bridges over Dona and Roberts Bays in Nokomis - the new bridges allow for traffic-free rides/walks through Nokomis and into Venice. They're also great places to check out two lovely bodies of water in our coastal community. While there, you'll surely see a Mullet jump, an egret foraging for a snack, and a kid in aboat with a line in the water. It's a slice of what makes our area special.
Laurel Park Trailhead - it's fun to meander through the Park, sit in a shady spot, and check out the Laurel Community Garden to see what everyone in the neighborhood is growing.
There are so many benefits to converting unused rails to vibrant, public use trails, including enjoyment of our natural environment, physical and mental health, alternative means of transportation, economic impact, historic preservation, and shared community identity. Our Legacy Trail provides all of these benefits, so I hope you get out there to enjoy it!
###
Nicole Coudal is a home chef and food writer based in southwest Florida, where she fishes and cooks using local ingredients. When not on the water, she visits farms, farmer's markets, and other food-related venues to highlight what's in-season and to create tasty recipes. Read more at www.MyDeliciousBlog.com.