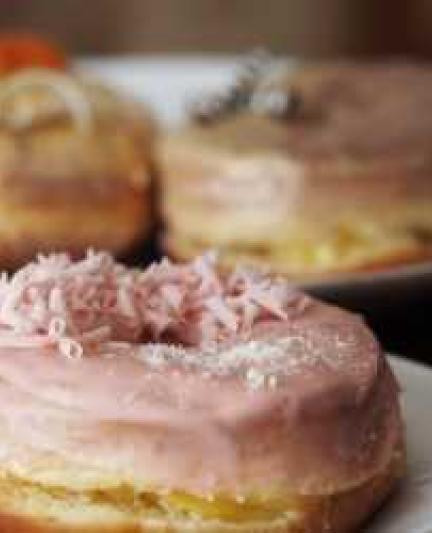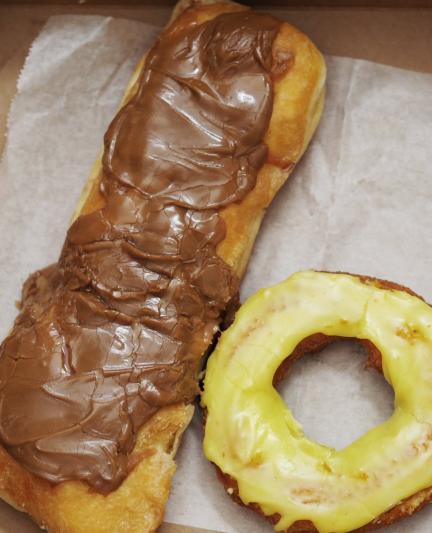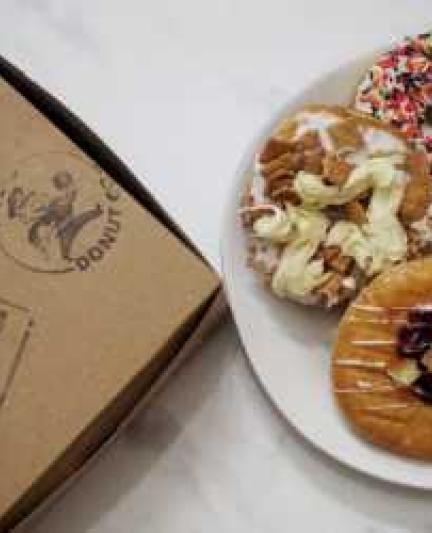 Where to Find Delectable Donuts in Sarasota County
Several local joints are serving up a unique spin on the sweet treat, while others have taken the classic to a whole new level.
One of life's greatest indulgences is dessert for breakfast, and few menu items are more fulfilling – or more simple – than the donut. From cake donuts to yeast donuts, bear claws to long Johns, we've sampled donuts from all over town and compiled a list of our very favorites.
Der Dutchman
Known for its hearty and traditional Amish family meals, Der Dutchman is home to one of the biggest buffets in town. In addition to their staggering buffet options, the restaurant also features a sizable bakery complete with cakes, pies, and our favorite, donuts! Their donut assortment features cake and yeast donuts as well as apple fritters and long Johns the length of your forearm. While each of their selections is stellar, we are particularly in love with their caramel long John with its cool and surprisingly light filling. Head over to the historic Pinecraft neighborhood to secure yours.
Five-O Donut Co.
Freeze! You have the right to remain silent and enjoy the creative selections at this cop-themed donut shop in downtown Sarasota. Playing off the age-old cliché of cops and donuts, this bakery opened its doors walking distance from the county courthouse and police station, and has been consistently enjoyed by civilians and law enforcement alike. They are cranking out the classics like glazed, sprinkle and chocolate-dipped, but truly shine with their specialty flavors. You'll find cinnamon toast crunch, cherry cheesecake, cookie dough and cronuts, and that's just the beginning of their crazy flavor combinations. These donuts are as photogenic as they are delicious, so head over for a social media share that will surely make your friends jealous.
Peachey's Baking Company
Peachey's Baking Company is known for their jaw-dropping, amazing, warm, sweet (and sometimes savory) Amish donuts. The Peachey's donut truck can be found at the Phillipi Creek Farmer's market on Wednesdays, but eep an eye on their social media channels because throughout the rest of the year, this cult favorite can be found spreading its recipe around the country at festivals like the Florida State Fair, Florida Strawberry Festival and Bonnaroo. They've even been celebrated in Rolling Stone Magazine. The secret may already be out on this quaint, hometown company so be sure to head over to the Phillippi Estate for your chance to sample these sweet treats.
OfKors Bakery
A newcomer to the Sarasota market, OfKors Bakery opened its doors in 2019 in The Landings shopping plaza. While they offer standard yeast donuts with typical toppings, it's their brioche donuts that truly stand out. Made with rich and buttery brioche dough, each donut is piped with Bavarian cream and fruit fillings inside. They also feature atypical flavors like guava, peach, kiwi, and tiramisu. In addition to the fabulous fillings each donut is decorated with simple and dainty flourishes one would expect to find in a European bakery.
Grab a bag, box or basket of your favorite treat and hit the beach for a day of rest, relaxation and, of course, unadulterated indulgence!