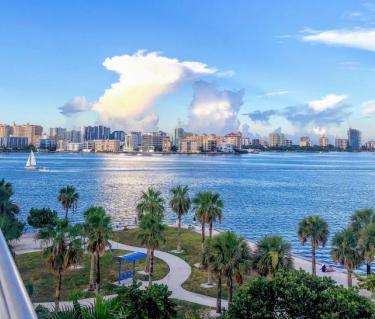 Top Professional Industries in Sarasota County
These top industries keep the Sarasota area job market competitive for employees and budding businesses
Sarasota County is known for several burgeoning industries, creating a diverse and desirable job market. We are leaders in the state for life science, cleantech and infotech. We house one of the state's best hospitals, creating a need for life science jobs. We also employ thousands of financial and professional services employees. Finally, you can't forget about tourism and hospitality, Florida's top industry.
Here's some data on each of these industries so you can learn more about why you, and maybe even your company, should consider Sarasota County!
The intersection of creativity and technology, infotech carves itself a niche in Sarasota County. Several factors contribute to its potential for growth, namely Sarasota being recognized as a top 10 city in America for millennial population growth, with an 11.1% growth rate annually. Additionally, Ringling College of Art and Design contributes new graduates to the industry helping to push innovation. Top local performers in infotech include AdRizer, Dealers United, RevContent and FloorForce. Jobs range from computer support to software developers with salaries ranging from $46,000 to $107,000 respectively.
Approximately 25,000 people are employed in professional services in Sarasota County. Major players include top-ranking law firms and award-winning marketing firms, high asset investment funds, and insurance companies. A large concentration of wealth in the community contributes to the success of these branches of the professional services industry. Jobs range from business operations specialists to financial specialists with a broad range of salaries.
As Florida is positioned at the forefront of Life Sciences with a burgeoning R&D industry, and the second largest in terms of device and pharmaceuticals manufacturing. With its cost-competitive and business-friendly offerings, Sarasota County is an ideal location for qualified workers. Key players in the area include Sarasota Memorial Hospital, Aso, and Enzymedica. There are vast job opportunities for an array of interests within Life Science.
Florida's number one industry has a $2.2 billion total economic impact on Sarasota County with over 19,000 jobs and 680 million dollars in wages. We see over 2.2 million visitors annually, to ensure that the industry will continue to show strong performance year over year.
Focusing on the environmental implications of industry, CleanTech is on a steadily increasing path in Sarasota County. We house over 320 companies who specialize in this important field, in fields like Engineering, Environmental Consulting, Water Systems and Construction. Jobs are widely varied and focus on the importance of preserving our environment today for the promise of tomorrow.
Perhaps you are considering a move for your entire company. You'll find both state and local incentives to come to our beautiful destination. First, we have a competitive business climate with low costs, and excellent corporate taxes. Don't forget about the state-wide 0% income tax rate. We also possess an eager and active workforce, as well as an ideal geographic location with proximity to major airports and seaports. Perhaps one of the most important value adds to a Sarasota location includes quality of life. Sarasota County is, most simply, a beautiful place to live and a sure fit for your existing and future employees.