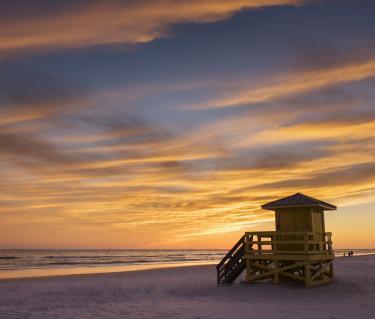 Sarasota County Loves Tourists
Visit Sarasota County is the not for profit corporation that promotes tourism for all of Sarasota County. Learn more about who we are and what we do.
Tourism: A Big Business
Sarasota County is a tourism destination. Visitors are attracted to our beaches, arts and culture, family attractions, eco adventures and vast dining options. These tourists generate a huge amount of economic impact, spending billions of dollars in our region and paying taxes on lodging in the area. We like to call this "heads in beds."
An estimated 19,000 jobs are in the Sarasota County tourism sector. These people are small business owners, chefs, waiters, hospitality staff and many others. Sarasota County collects a 5% Tourist Development Tax (TDT) on lodging stays under six months. Here are a few of our most recent stats:
In FY2020 (October 2019-September 2020):
2,257,200 visitors to Sarasota County. A decrease of 19.3% over last year.

More than $1.35 billion in direct expenditures from visitors. This includes accommodations, restaurants, shopping, attractions, entertainment, groceries, transportation and other expenses.

$2.24 billion in total economic impact. This also includes increased spending from households and businesses as a result of tourism dollars.

More than 2.2 million room nights generated.

Visitors spend an estimated $515 in Sarasota County for every dollar Visit Sarasota County spends on marketing.
Check out some highlights from Fiscal Year 2023.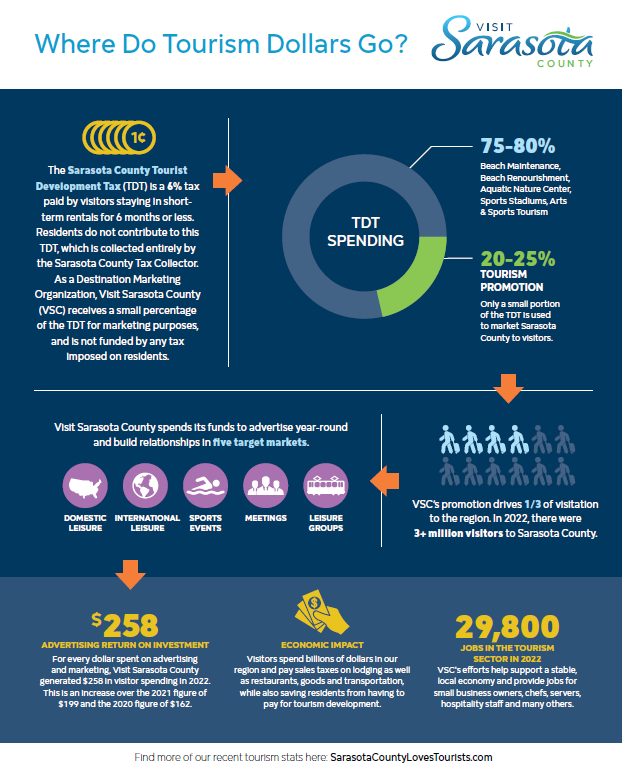 What is the Tourism Development Tax?
The Tourist Development Tax (TDT) is a tax paid on room nights. Residents of Sarasota County do not contribute to the TDT and Visit Sarasota County is not funded by any other tax imposed on residents.
Only a portion of the TDT is designated to marketing and promotion of Sarasota County. In fact, it is only just under a third. The remaining amount is used for beach maintenance, beach renourishment, capital projects and events, and other drivers of tourism.
Here is a full breakdown:
· 30% Promotion and marketing
· 24% Beach maintenance
· 16% Sports Stadium
· 10% Beach Renourishment
· 10% Aquatic Nature Center
· 10% Arts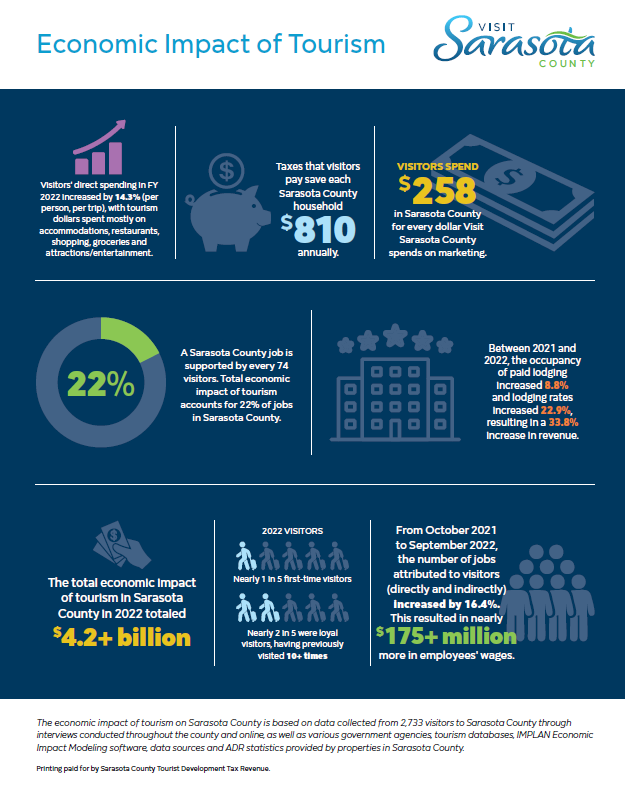 Who is Visit Sarasota County?
Visit Sarasota County is the not for profit corporation that promotes tourism for all of Sarasota County. Sarasota County contracts with Visit Sarasota County to provide tourism marketing. Its mission is to make Sarasota County the must experience destination on Florida's Gulf Coast.
What's That Mean?
We work with an annual budget of just over $6 million (Tourism Development Tax and private sector funds) to promote and attract visitors to the destination. We target markets across the world using a combination of advertising, public relations, website content and social media.
These markets include Atlanta, Baltimore, Chicago, Columbus, Toronto, United Kingdom, Germany and many more. We are constantly using the latest research to tell us when and where to target and with what message. For example, our efforts in January might be more focused to our UK market looking to escape the winter winds, whereas our summer message might be more family-oriented and targeted to our Floridian drive-market.
To extend our money further, we often partner with other local destination marketing organizations, such as the Bradenton Area Convention and Visitor's Bureau and VISIT FLORIDA.
And you may have seen some of our content on social media sites like Facebook or Instagram before. It looks like this:
We also weekly update our blog with all kinds of creative and seasonal information. Read the latest entry here.

Visit Sarasota County also strives to be an advocate for responsible tourism. We recognize that while tourism is vital and the largest economic factor in our destination, creating thousands of jobs, it also puts a strain on our traffic and beaches. We strive to educate visitors on keeping our beaches clean and utilizing alternative forms of transportation, and also to be a source of information for visitors and locals alike in the event of an environmental episode, such as red tide or a hurricane. Check out our "Leveraging Google" webinar.
Beyond Marketing
Visit Sarasota County also has a sales and partnership team that works with meeting planners and event organizers 365 days a year. The sales team books millions of dollars in group business. This includes motorcoach, business, international and leisure groups. Additionally, Visit Sarasota County is a partnership-based organization and is required to raise 10% of our budget from community partners, such as hotels, restaurants and tourism-based businesses. We actively work within the community to establish and maintain these relationships.

The Sarasota County Sports Commission is another division of Visit Sarasota County, which solely focuses on generating visitation through sporting events. We attract everything from youth baseball tournaments to world championships. Some of our biggest upcoming events include the 2020 U.S. Olympic and Paralympic Team Trials – Rowing, and the 2021 U18 Baseball World Cup. Several tournaments hold their events year over year in our destination due to excellent hospitality and services.

Finally, Visit Sarasota County has a robust network of touch points for in-destination visitors. We have visitor centers located at the Sarasota Chamber of Commerce (1945 Fruitville Rd., Sarasota, FL 34236), at Sarasota Bradenton International Airport - located at baggage claim (6000 Airport Crl., Sarasota, FL 34243), and at the Venice Chamber of Commerce (597 S Tamiami Trl., Venice, FL 34285) that are staffed by volunteers and part-time staff. You can find our Visitor Information Vehicle at events in the area and popular visitor locations throughout the county. Finally, our brochures and visitor guides are stocked at local chambers of commerce throughout the county and volunteers at those locations are often onsite to assist visitors as needed.
Industry footnotes
Visit Sarasota County earned its accreditation in 2010 from the Destination Marketing Accreditation Program of the Destination Marketing Association International and received its re-accreditation with distinction in 2019.
VSC stays competitive with other destinations that have three to four times the budget by delivering more outreach and promotion with less money than our competition. Nationally, 38.8% of a tourism agency budget is allocated to overhead costs. VSC allocates 20%. Tourism agencies with a similar budget size to VSC have an average of 27.5 personnel while VSC employs 18 full-time and 6 part-time personnel.
Visit Sarasota County maintains a strong partnership with the Sarasota-Bradenton International Airport. Find more about the latest flights to SRQ here.
Visit Sarasota County is a VISIT FLORIDA Certified Tourism Information Center.
Current Business Plan
View our current FY 2023 Scope of Services and Annual Plan which is guided by our 2020-2025 Destination Strategic Plan.