Take a (Family) Hike in Sarasota County
You're never too young to explore the great outdoors—and we've got plenty of short trails to help little ones enjoy nature.
"Are we there yet?" "How much longer?" "I'm tired; can you carry me?"
If you're a parent, you've probably heard these kinds of questions and complaints what feels like a million times. They're never fun to hear, especially when you're trying to enjoy the beauty of nature by taking a family hike.
With kiddos in tow, a Wild-style trek is definitely out. But there are lots of short hikes in Sarasota County that immerse you in the area's natural side but aren't too challenging for little legs to handle. Here are four good places to bring the family for some foot-powered wildlife viewing and outdoor fun.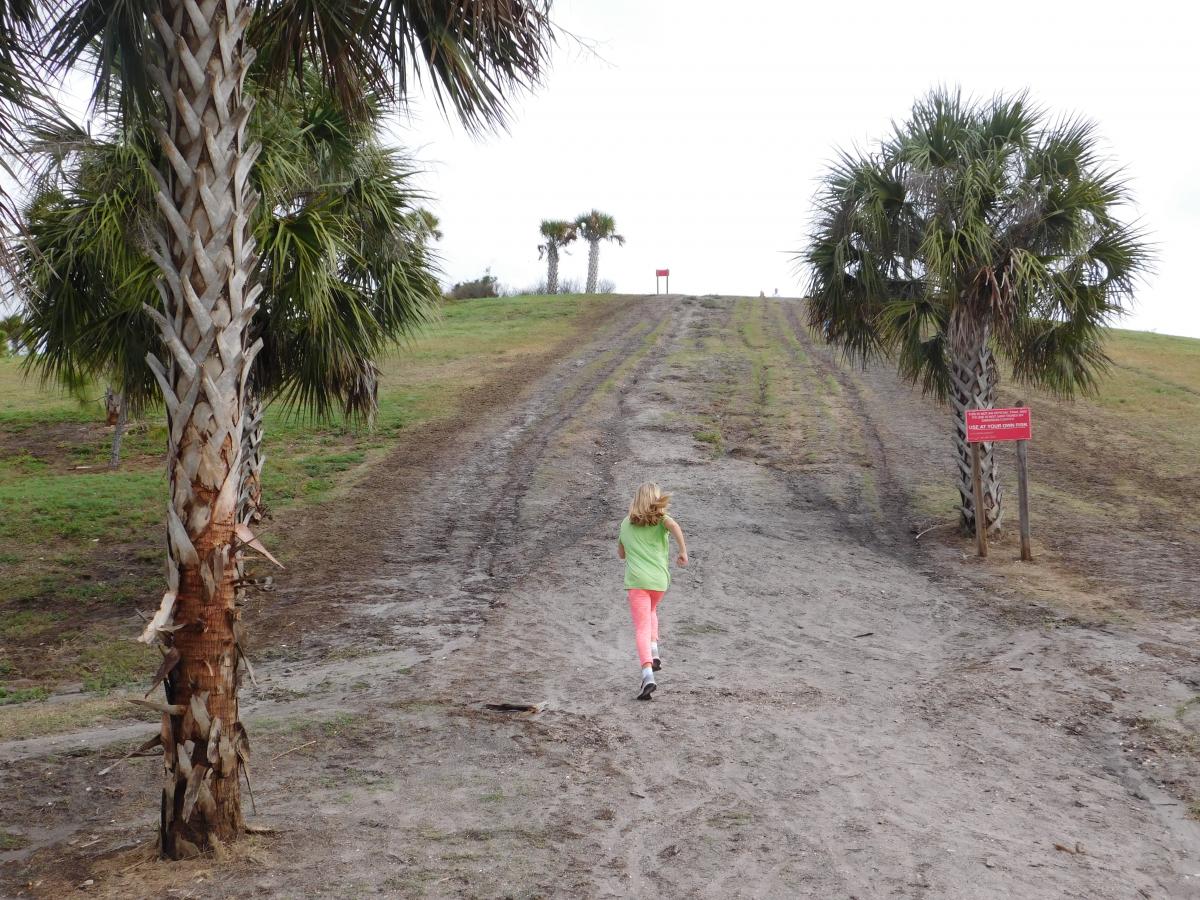 The Celery Fields
For years this more than 300-acre site in Sarasota was used for growing its namesake vegetable. Today the Celery Fields function as a stormwater collection zone and county-owned park that's home to more than 200 species of birds. It's also got something not found too often in Florida—a big hill to climb.
The 85-foot-tall, manmade peak is the result of the restoration of the site's wetlands and drainage patterns that help prevent flooding during heavy rains. It's become a hotspot for local runners and walkers looking for something other than the area's typically flat terrain.
You can sprint straight up to the top of the hill, which my 10-year-old insisted on doing (while having her dad take a video of her trip up and down). Somehow kids always have the energy for athletic feats like that.
You can also hike along a trail that meanders up one side of the hill, around the top, and then back down the other side. This offers a (pun intended) bird's-eye view of the park and the surrounding area that you don't usually get in Sarasota County.
While at the top of the hill we kept our eyes out for winged creatures, seeing several we couldn't identify and hearing lots more. (Also cool: hearing the animals roaring at the nearby Big Cat Habitat.) A quick stop in the Sarasota Audubon Nature Center once we got back to the bottom provided further info on what we might have seen and heard, which could have been anything from a blue-winged teal to a boat-tailed grackle.
If the kids still have stamina, it's just a mile walk from the nature center to the Raymond Road gazebo. That overlooks one of the site's large ponds where you could see herons, egrets, ducks, and other water birds in action.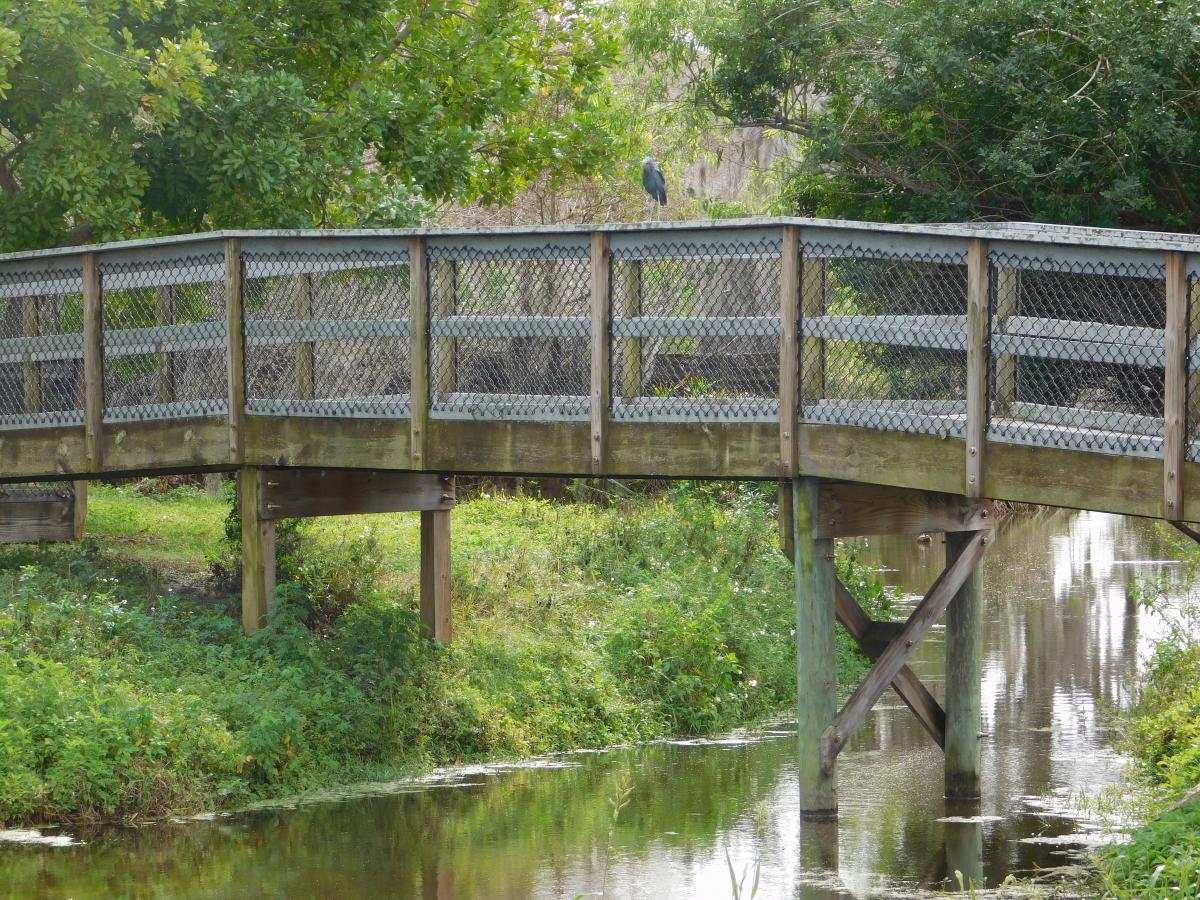 Red Bug Slough Preserve
This 72-acre preserve tucked amid Sarasota housing developments is named after the natural waterway that runs through it. Red Bug Slough is a shallow channel filled with water that flows to Phillippi Creek more than a mile downstream. Its name may have come from the red mite, a tiny creature known locally as a red bug and common in dry, open, sunny areas.
For a totally manageable, super-short hike, stick to the pine flatwoods and hammocks near the parking area, where you can walk amidst slash pines and Spanish moss–draped oaks and hear all kinds of hidden creatures rustling in the undergrowth.
But it's worth it to emerge from the woods and stroll along the slough itself. Possible animal sightings include marsh rabbits, river otters, and alligators. We didn't see any of those, but we did spy on herons tiptoeing through the water to sneak up on bugs and fish they were hoping to turn into a meal. You can also head back into the trees from the slough-side trail for a little shade and change of natural setting.
Reward the kids for a hike well done with some time on the swings near the parking area. There are also restrooms here for any necessary pit stops.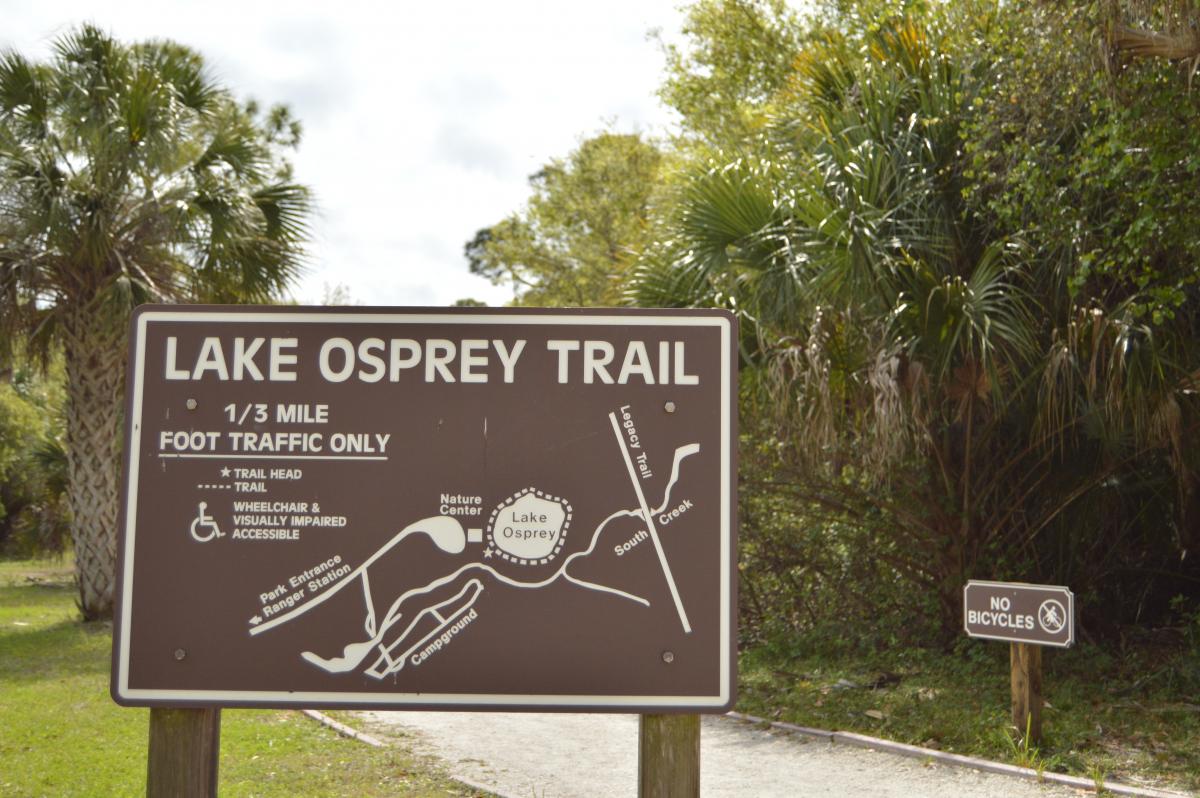 Oscar Scherer State Park
While hardcore bikers and hikers often take to the 15 miles of trails at Oscar Scherer State Park, there are lots of options for short hikes here as well to help families explore the 1,381-acre site in Osprey.
Start small with the Lester Finley Trail, which meanders along a blackwater stream. The half-mile, barrier-free trail allows visitors of all ages and abilities to explore the park. Along the way you'll find a handicapped-accessible fishing pier, butterfly gardens, and fun-to-use audioboxes that explain the different habitats you encounter.
To extend that hike, head from the Lester Finley Trail to the South Creek Nature Trail. A tree canopy offers shade during the half-mile trip to Oscar Scherer's nature center, where dioramas, videos, and other displays teach kids about the park's scrubby flatwoods and the tortoises, snakes, bobcats, and other animals that call the park home.
Those flatwoods make Oscar Scherer one of the best places in Southwest Florida to see the threatened Florida scrub-jay, the only species of bird unique to Florida. The park's Blue Trail is a mile-and-a-half trek through scrub-jay habitat, passing through mesic pine and scrubby flatwoods.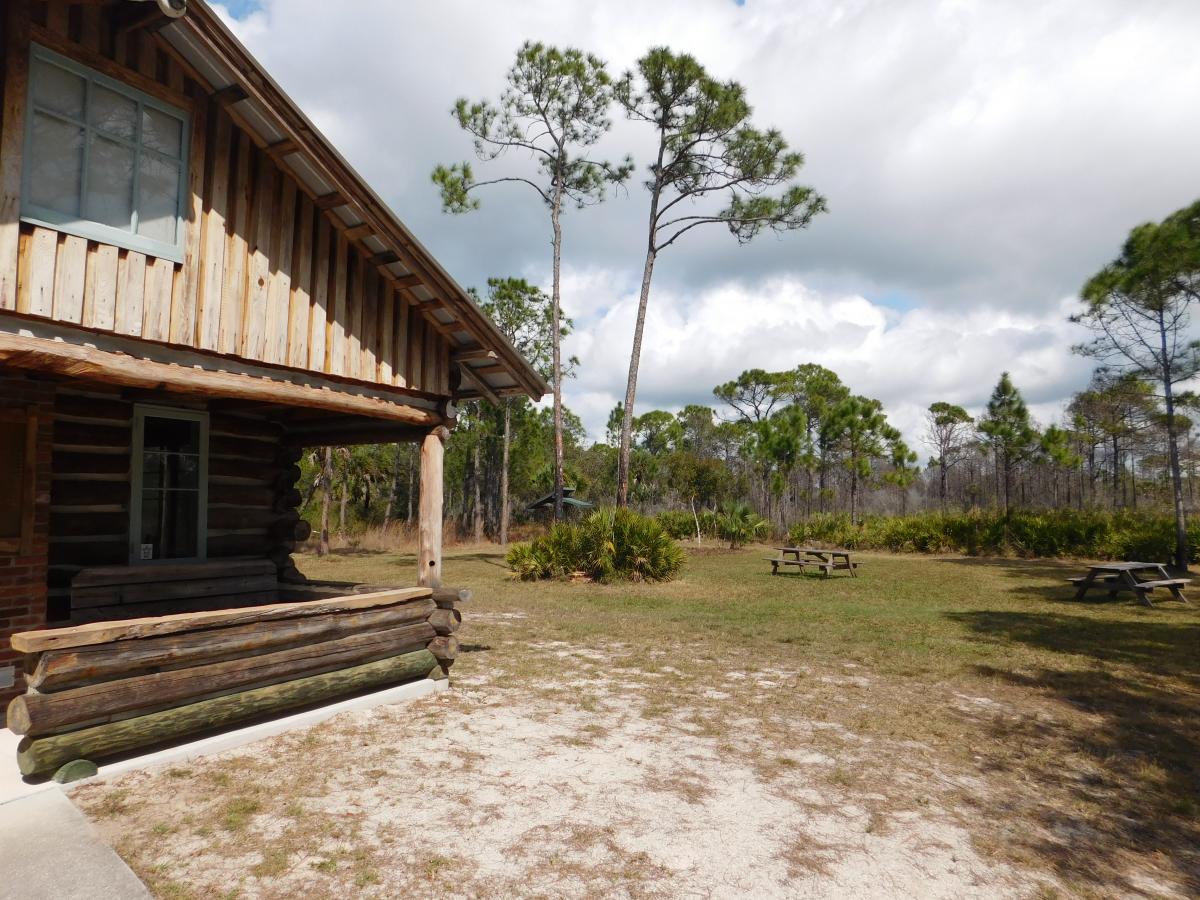 T. Mabry Carlton, Jr. Memorial Reserve
T. Mabry Carlton, Jr. Memorial Reserve in Venice serves a dual purpose. Its 24,565 acres were purchased in 1982 to develop a wellfield for drinking water for Sarasota County. But the reserve is also open to the public for hiking, biking, and horseback riding, with more than 80 miles of trails.
From the public parking area, a paved pathway leads to an unpaved loop around a wet prairie that fills with water during the rainy season. During our walk my family learned (with the help of interpretive signs along the trail) about how the more than 1,000 wet prairies at the reserve filter stormwater runoff and play an important part in the local ecosystem, providing food and habitat for alligators, otters, and various fish and birds.
The reserve's large size gives this trail a pleasant sense of remoteness. Instead of the sounds of suburban life, all we heard was the breeze blowing through the trees and tweeting of a non-digital kind. We saw evidence of recent fires and learned more from the trail's signs about how these controlled burns actually help the site's plants, grasses, and trees to thrive.
A 1930s-era log cabin located on the trail sometimes hosts special events. If the kids still have energy for more walking, another loop juts off the prairie trail and circles around a forested swamp. Hand the little ones some binoculars and an animal guide, and maybe they'll be too focused on nature to notice if their legs are getting tired.