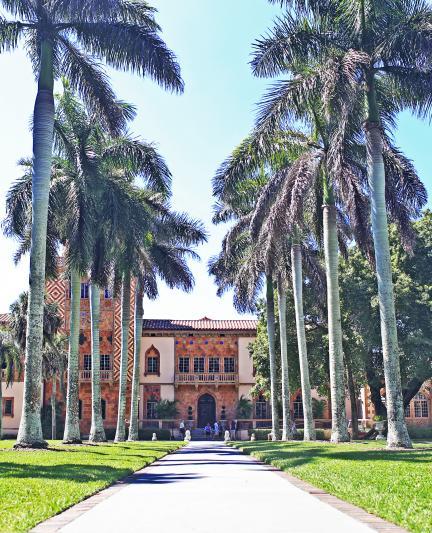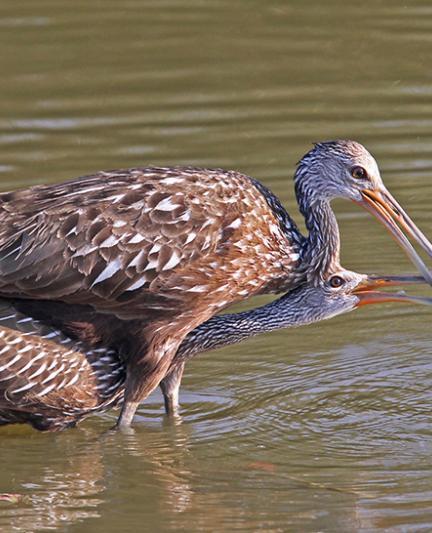 Animal Magnetism: Where to Go to See Some of Sarasota County's Coolest Creatures
There are unique animals everywhere in Sarasota County. How many sightings can you cross off your list?
Do you dream of seeing a dolphin? Are you amazed by alligators? Florida is home to a lot of animal species that have become somewhat iconic to our state. And Sarasota County has plenty of places where travelers can check some of those creatures off their wish lists. Here's where to go to spot several of those well-known wild wonders—plus a few ways to see some animals you may not expect in these parts.
Flamingoes at Sarasota Jungle Gardens
Flamingoes have long been associated with Florida. Which is kind of funny, since many scientists thought the state's wild flamingo population was wiped out in the late 1800s. New evidence has emerged recently showing that Florida does, in fact, have wild flamingoes, so you might get lucky and locate one in its natural habitat.
But until then, you can head to Sarasota Jungle Gardens for an only-in-Florida kind of experience: the opportunity to hand-feed an American flamingo. The birds—which get their signature pink color from eating shrimp and other crustaceans—roam freely at the site and star in lots of Facebook and Instagram photos.
Buy some food from the dispenser and put it in the palm of your hand. The birds will poke their beaks in to eat it up, sometimes squawking with each other as they make their way over to you on their long, skinny legs. This is definitely something that should be on your Sarasota bucket list and makes for a memorable part of any trip here.
Alligators at Myakka River State Park
If your trip to Florida won't be complete without seeing an alligator in the wild, head to Myakka River State Park in Sarasota. At 58 square miles, it's one of the largest state parks in Florida, and one of the oldest. And there are lots of alligators to be found within its boundaries.
You might see some gators before you even get out of the car; there are usually some near the bridge about two miles into the park on Park Drive. Getting out on the water ups your odds of encountering the creatures. You can rent a canoe or kayak from Myakka Outpost or get a guided kayaking tour of the river from outfitters like Kayaking SRQ. Or let someone else captain the excursion and take a tour of Upper Myakka Lake on covered airboats. You'll likely see at least one gator swim by (and probably more) as you're learning about the park and its animal residents.
Hikers can head to the park's Deep Hole, a two-and-a-half-mile walk on a sandy road. "We have seen as many as 100 alligators on a given day down there," says Miles Millwee, president of the Friends of Myakka River. But before you set out, you need to check in at the ranger station, as Deep Hole is in the "wilderness area" of the park and requires a permit for access.
No matter how you're viewing the reptiles, safety is important. "A gator can outrun a human for 30 yards on land, so stay a safe distance back," says Millwee. "They're most visible on sunny days. If the air temperature is cooler than the water, they will be less visible."
Dolphins on LeBarge Tropical Cruises
It's not uncommon to see a dolphin pop out of the water at any of our area beaches. But LeBarge Tropical Cruises' Dolphin and Manatee Watch Cruise adds something interesting to the equation. The company offers a guarantee that tourgoers will see a dolphin or manatee when out with LeBarge. If not, they get free passes for their entire party on any of the company's other regularly scheduled cruises. (LeBarge says they see dolphins about 85% of the time.)
The Dolphin and Manatee Watch Cruise departs from Sarasota's Bayfront Marina at 11 a.m. Tuesdays through Sundays during high season. (The tour is offered Tuesdays, Thursdays, and Saturdays during the summer months.) During the two-hour cruise into Sarasota Bay, a Mote Marine–trained biologist tells tourgoers about the hunting techniques, physical adaptations, and social hierarchy of our local population of 120 bottlenose dolphins. Tickets are $27 for adults, $22 for children ages four to 12.
Otters at Mote Aquarium
If you see a river otter in the wild in Sarasota County, it's best to keep your distance. They have a reputation for being meaner than their cute appearance would suggest.
But it's pretty much all cute, all the time at the "Otters and Their Waters" exhibit at Sarasota's Mote Aquarium. Three orphaned North American river otters—Huck, Pippi, and Jane—call the exhibit home and entertain visitors with their playful swimming, splashing, and sliding. You might catch them backflipping into the water, then twisting and rolling as they swim from one spot to another.
Pippi has darker coloring around her face and is more shy than Jane, who likes to play in the exhibit's sandbox. And Huck was friendly with people from the moment he was found, suggesting he might have been hand-raised by humans from a young age.
The otters were all orphaned when they were too young to survive on their own. Now they help Mote and its animal-care specialists teach visitors about their watershed habitats (a watershed is land that drains water toward rivers, estuaries, and the ocean). Narrated training sessions take place every day at 1:30 p.m.
Manatees at Ted Sperling Park
Manatees are often high on the must-see animal list for many Florida travelers. Hugh and Buffett, two manatees born at the Miami Seaquarium, have been star residents of Mote Aquarium since 1996 and draw a steady stream of visitors to their tank each day.
But to spy a manatee in the wild, a good place to go is Ted Sperling Park, located at the southern end of Lido Key in Sarasota. Manatees can often be found here because the park offers access to both the Intracoastal Waterway and Gulf of Mexico via Big Sarasota Pass. Outfitters like Kayaking SRQ and Bay and Gulf Adventures rent gear and lead kayak tours that help get you into the park and the picturesque Lido Mangrove Tunnels.
Ryan Murphy, operations coordinator for parks, recreation, and natural resources for Sarasota County, says a good time to see the gentle giants is during the late fall when they're making their way in to warmer waters and during the spring when they head back to the Gulf. And while they seem easy-going, that's not an invitation to invade their space, especially since their search for warm water during the colder months of the year can literally be a life-or-death matter.
"It's important for people to remember that these are wild animals," says Murphy. "They should be left alone; no one should be going up and approaching them and trying to go pet or feed them. It's best just to observe."
Limpkins at the Celery Fields
Yes, we've got pelicans, herons, and egrets here in Sarasota County, and they're fun to see during a Florida vacation. But those birds also spread their wings in lots of other parts of the country. To check off a bird on your life list that you won't find in other U.S. states (except maybe southern Georgia), head to the Celery Fields in Sarasota and be on the lookout for limpkins.
This large swamp bird—which can also be found in the Caribbean and South America—hangs out here to hunt for apple snails, which are abundant at the Celery Fields. The more than 300-acre site was once used for growing its namesake vegetable. Now it's a storm-water collection zone and a county-owned park that's home to more than 200 species of birds, including the limpkin.
You can spot limpkins year-round here, but your odds are better during the early morning or the hours just before dusk. "It doesn't mean you won't see them at other times of the day," says Jeanne Dubi, a board member of the Sarasota Audubon Society, which runs the nature center at the Celery Fields. "But the birds have to come out for morning feedings and have an afternoon feeding before they go into their roosting spots, so they're most active at those times of day."
Can't tell the difference between a limpkin and a lark? Head to the park's boardwalks and look for the Audubon Society docents who set up shop there with telescopes and bird lists every morning from November through April. "We're not bird snobs," says Dubi. "We like showing birds to everybody. And even if you're not a birder, when you get people out on the boardwalks and someone is there pointing out the birds, everybody's interested in them."
Lions and Tigers at Big Cat Habitat
If you're at the Celery Fields, you'll probably hear some roaring off in the distance at some point. Don't worry; you won't run into a lion or tiger in the wild here in Sarasota County. But you can see almost 50 of the felines at the nearby Big Cat Habitat and Gulf Coast Sanctuary.
The Sarasota sanctuary was founded in 1987 by Kay Rosaire, who comes from a long line of animal trainers, and is now home to some 150 exotic animals that were born in captivity and needed a forever home. You can also see bears, primates, macaws, llamas, and emus here in addition to its namesake creatures.
The site is open Wednesdays through Sundays, and visitors can observe the animals in three indoor/outdoor housing complexes complete with exercise habitats, swimming pools, and toys for the animals' enrichment and physical health. Two demonstration shows take place each day. They're subject to change but generally feature the sanctuary's parrots at 1 p.m. and its big cats at 2 p.m. During the shows, visitors can learn about the animals' characteristics and watch training sessions in action.
"We exhibit the animals and show their agility," says Danielle Rosaire, who's married to Kay's son Clayton, who runs the animal demonstrations. "It's stimulating for our animals to see the public. So that is a big part of our mission, to make sure there is this ongoing human-animal connection."
Florida Scrub-Jays at Oscar Scherer State Park
The Florida scrub-jay is an imperiled species found only in Florida. And Oscar Scherer State Park in Osprey is one of the best places in Southwest Florida to see the bird. That's because the 1,381-acre park has a lot of scrubby flatwoods, the scrub-jay's preferred habitat.
For your best chances of finding the bird, head out on the park's Green Trail, a route that can be either two or three miles long. It begins behind the nature center, crosses South Creek, and then enters scrub-jay habitat. It's also considered the park's best biking trail if you prefer riding over hiking. The one-and-a-half-mile Blue Trail passes through scrub-jay habitat as well.
The birds are most active around sunrise and sunset. Look toward the tops of the tallest trees, where you'll often find a scrub-jay that's on lookout, says park manager Tony Clements. "It will typically give out a call once people or predators are seen to make itself known," he says.
During spring mating season, the scrub-jays will be busy building nests, and during October they're often spotted caching acorns. And while the birds are friendly and curious, Clements advises park visitors to observe, not interact. "People can sometimes be tempted to entice them over," he says. "But because they're a threatened species and there aren't very many left, we want to do everything we can to make sure they persist. The best way to do that is to admire them from a distance. We want them to focus on what they need to do to survive; we don't want to draw their attention away from that."
Bats at the Venice Area Audubon Rookery
The Venice Area Audubon Rookery is a hot spot for herons, egrets, ibises, and anhingas, especially during the nesting months of December through May. But it's also become a place to go to encounter winged creatures of another kind—bats.
Four bat houses stand on the south side of the site. The tall structures were installed by Sarasota County and are known to house two kinds of bats, the Brazilian or Mexican free-tailed bat and the evening bat.
Stand near the houses just before sunset, and you can hear the bats squeaking at each other, perhaps communicating about their nighttime plans. Just after the sun goes down, the bats start emerging from the houses in droves, flying off in search of bugs to eat.
It's a little bit creepy but also very cool to watch them burst out of the houses and swoop overhead (sometimes a little close overhead, depending on where you're standing). You might find yourself covering your head or neck at the sight, but they're not coming for you. The flying mammals are actually doing all of us a favor as they head off to dine on hundreds of mosquitoes and other pesky bugs every night.