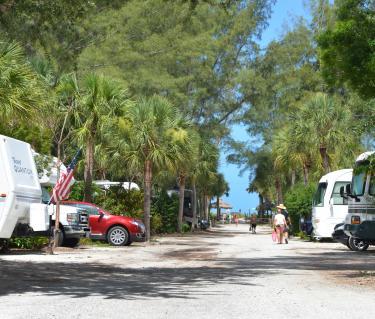 RV Parks and Campgrounds in Sarasota, FL
RV parks provide an ideal gateway to explore the county's natural wonders and immerse yourself in its outdoor culture.
Nestled along Florida's breathtaking Gulf Coast, Sarasota offers a perfect blend of natural beauty, cultural richness and outdoor adventures. For avid travelers seeking a glamping experience in their home on wheels, the area boasts a range of exceptional state parks and RV parks that cater to travelers' on the move.
Whether you're searching for tranquility amidst nature, family-fun amenities and entertainment, or convenient access to downtown and beaches, these parks in Sarasota promise an unforgettable stay for every type of RV camper.
Sun Outdoors RV Resort
8862 Midnight Pass Rd, Sarasota, FL 34242; (941) 371-2505
A luxury, all-age RV resort located on the outskirts of downtown Sarasota, Sun Outdoors (formerly Sun N Fun Resort) offers over 150 recreational activities for family fun. With beautifully landscaped grounds and a welcoming community atmosphere, this park is perfect for families and travelers seeking an enjoyable, social getaway. Enjoy outdoor heated swimming pools, a water slide and splash pad, pickle courts, a fitness center, various organized events and themed weekends.
Sun Outdoors RV Resort offers over 250 spacious sites, including both standard and premium options. All sites provide full hookups (water, sewer, and electric) with 30- or 50-amp electric service for your convenience. Premium back-in RV sites include grassy pads that can accommodate up to 30-45 feet with room for slide-outs, a concrete patio area with a picnic table, plus cable and WiFi service to keep you connected.
Myakka River State Park
13208 State Road 72, Sarasota, FL 34241; (941) 361-6511
Located just a short drive east of Sarasota, Myakka River State Park is a haven for nature enthusiasts. Set amidst an expansive landscape of wetlands, prairies and forests, this park offers RV camping with a touch of wilderness. With well-maintained campsites, modern facilities and picturesque surroundings, Myakka River State Park is ideal for adventurers who crave outdoor activities like hiking, biking, fishing and wildlife spotting. Don't miss the opportunity to take an airboat tour or climb the Canopy Walkway for breathtaking views.
Myakka River State Park offers 76 RV campsites with electric and water hookups. Additionally, five sites provide sewer connections for RVs requiring full hookups.
Turtle Beach Campground
8862 Midnight Pass Rd, Sarasota, FL 34242; (941) 861-2267
Situated on the stunning Siesta Key barrier island, Turtle Beach Campground is a paradise for beach lovers. This waterfront RV park offers direct access to the white sands and azure waters of the Gulf of Mexico. Relax under swaying palm trees, indulge in beachcombing or engage in water sports like kayaking and paddleboarding. The campground features spacious RV sites, modern amenities and a laid-back atmosphere, making it an ideal spot to unwind and soak up the sun.
Turtle Beach Campground offers 39 RV sites, including both back-in and pull-through options. Each site is equipped with water and electric hookups.
Oscar Scherer State Park
1843 S. Tamiami Trail, Osprey, FL 34229; (941) 483-5956
Escape the energy of downtown and the keys by heading south to Osprey's Oscar Scherer State Park, a serene oasis nestled between Sarasota and Venice. This picturesque park is renowned for its diverse ecosystems, including pine flatwoods, scrubby flatwoods and swamps. Immerse yourself in nature with birdwatching, hiking through the trails, jumping on The Legacy Trail for a bike ride or canoeing along South Creek. The park offers RV camping sites with access to modern amenities, picnic areas and a refreshing swimming lake.
Oscar Scherer State Park offers 104 RV campsites with electric and water hookups. However, none of the sites have sewer connections. The park does provide a dump station for guests.
Booking your RV Stay
Please note that the number of RV sites may vary or change over time. It is always recommended to contact the RV parks directly or visit their official websites for the most up-to-date information on availability and amenities. And it is highly advised to book your reservation in advance by reserving online or by phone.
Once you're booked, pack your camping gear, hit the road and embark on journey to Sarasota, where unforgettable memories await amidst the beauty of Florida's Gulf Coast.