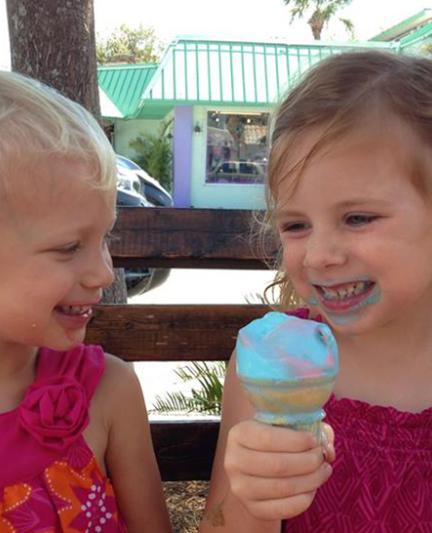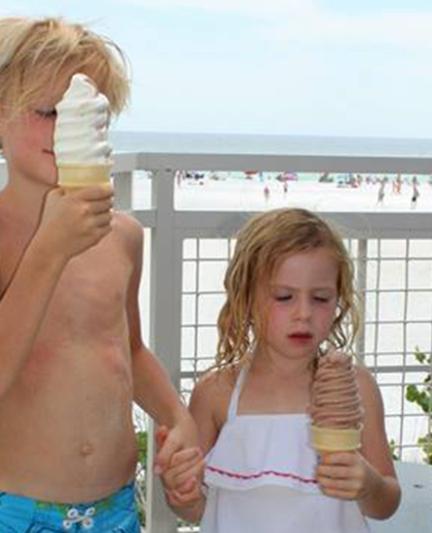 National Ice Cream Month: Scope Out Your Favorite Scoop
I scream, you scream, we all scream for ice cream! As if there was ever a need to justify grabbing a cone, July is National Ice Cream Month, the perfect excuse to scope out your favorite scoop.
One of the many great joys of summertime is indulging at the ice cream shop, that ice conditioned haven full of cool treats destined to refresh you from the inside out. It's always a fun challenge, walking the length of the freezers to review each and every flavor before making that ever-important decision of which taste to choose. And then the silly race of trying to catch the drips before they reach your sticky hand, trading licks with a friend, and inevitably growing an ice cream goatee. It's not just a dessert, it's an experience. So grab a friend and a shirt you don't mind having covered in chocolate drips and find yourself a cone - be it a waffle, cake, or sugar.
For a uniquely Florida ice cream experience, pop into Mixon's Fruit Farms for a towering cone full of their orange ice cream. Made from their own Florida oranges grown on site, it doesn't get more tangy and fresh than this. Balance out the soft serve by buying some of their local produce to bring home – their citrus is so good it's (almost) better than dessert.
Few things awaken childhood nostalgia like the sounds of the ice cream truck. As its jingle enters the sound waves, you know it's time to jump into action. Find those coins, maybe some shoes, and get on over to that beacon of happiness slowly approaching. Purple Belle, aptly referred to as "Sweetness on Wheels" posts their whereabouts on Facebook or you can call them and know exactly where to go for some of that sweet, sweet soft serve.
Ice cream's smooth European cousin can be found downtown at Gelato-Go. Say Buongiorno to small-batch flavors for the whole family. My son likes anything with marshmallows – the more candy the better – while my daughter prefers their pineapple sorbet. My husband likes his with a side of cappuccino while I opt for the ever-popular pistachio. With their sleek European décor and outdoor seating, you'll feel whisked away to the boot of Europe. If you're hosting a crowd or prefer to indulge in your sweets by your pool, Gelato-Go delivers their cartons of culinary creations. Just place the order online and – presto!
Evie's Ice Cream Parlor on Bee Ridge dishes up scoop after scoop of delicious Big Olaf ice cream in a plethora of flavors from Superman to Mint Chocolate Chip, Gator Tracks to classic vanilla. Enjoy your cone-o-joy while challenging your family to air hockey in their arcade or setting up your shot at their adjacent mini golf course. Out back you'll find a sandbox (because nothing mixes with sticky fingers better than sand!), a driving range, and screens playing more sports than your eyes can process. Good thing you've got a sugar high to jet set your brain!
Experience the ultimate wholesome family day in Pinecraft, the Amish Village in Sarasota. Here you'll indulge in made-from-scratch (the only way the Amish do it!) ice cream and goodies galore. But because the ingredients are real, the batches hand-mixed and churned directly in Pinecraft, it's more of an experience and a taste (literally) of a slow, bygone era before mass production and Instagram were a thing. But go ahead and still share a Snap with your friends – this is too good not to share. #mysarasota
A stroll around St. Armand's Circle means shopping, people watching, dog petting, and ice cream. Shop after shop appear as you stroll and there's just something about a slow meandering walk that begs to have a cool cone in hand. Window shop as you start at the tip of that cone and ramble on as you catch each delicious drip. Our family is at an impasse – we cannot agree on the best ice cream on the Circle. So, you'll just have to try them all.
From Village to Beach, North Bridge to South Bridge, Siesta Key knows that when you're by the sand, you need ice cream. Take a break from the beach and cool off from stomach to soul with soft serve, gelato, popsicles, milkshakes, frozen yogurt - there's even ice cream for your pup. Sit back and enjoy each lick with those you love as the salty air breezes off the Gulf and into your hair, the sun warms your skin, and the world calms down. Don't rush this – you'll get an ice cream headache.