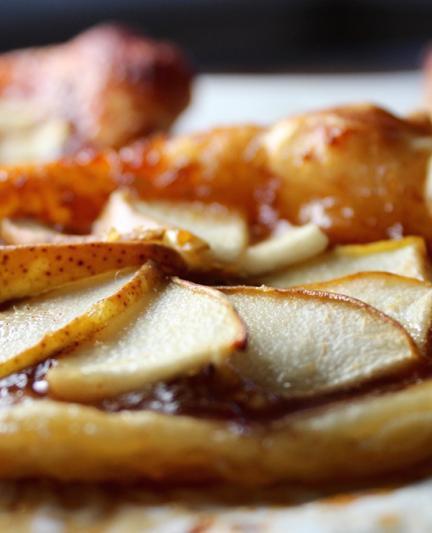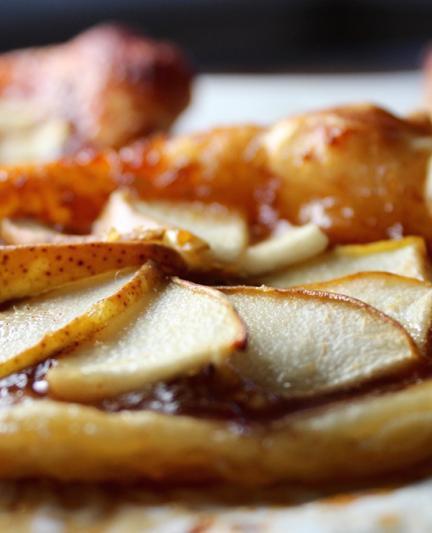 Mini Pear & Fig Galettes - A Perfect Holiday Dessert
Pears and figs make a good team, so this easy recipe is a great way to incorporate the two!
This is the time of year when many of us are baking family favorite desserts. But when I've had my fill of pumpkin pie, apple pie and bread pudding, I'm usually ready for something a little different — something easy, delicious, and even offers a few shortcuts along the way. That may sound like a tall order, but this recipe achieves all three, because we're talking about only 3 primary ingredients - pears, fig jam and puff pastry.
I usually like to bake from scratch, but sometimes just don't have the time or patience to make everything myself. That's why I used store-bought jam and puff pastry, but I definitely used fresh pears since they're at their peak of flavor now, and readily available at places like the Sarasota Farmers Market, Detwiler's Farm Market, Sprouts and Englewood Farmers Market. Fig jam is not only yummy, it's also versatile, so I picked up a jar at Lucky's Market in Sarasota — you can spoon this delicious stuff into gravy or sauce to thicken and lend an unexpected flavor layer, or glaze a fruit tart, or mix it into cream cheese and serve with fruit, or even baste a roast with a thinned down version to give the meat a sweet and savory component. As for the puff pastry, it's easy to find in the frozen section at just about any supermarket — I like to keep a box in the freezer for last minute dessert ideas.
So there you have it — an easy, delicious recipe that even makes your house smell divine!
Mini Pear & Fig Galettes
1/4 c. fig jam
1 tsp. lemon juice
1/4 tsp. ground cinnamon
Dash pure vanilla extract
Pinch kosher salt
1 sheet puff pastry, thawed
1-2 ripe pears, thinly sliced
1 egg, beaten
Instructions
Heat oven to 375 degrees.
Line a baking sheet with parchment paper.
In a small bowl, combine jam, lemon juice, cinnamon, vanilla, salt; set aside.
On a lightly floured surface, roll out pastry with a rolling pin, making it about 2" bigger than original size.
With a cookie cutter, cut out 4 rounds (about 6"); place on parchment paper.
Place a spoonful of fig mixture in the middle of each round; spread out but leave about 1" uncovered around the edges.
Place pear slices atop fig mixture then fold edges toward the pears.
Brush edges of the pastry with egg wash (mix egg with 1 tsp. water).
Bake about 25 minutes, until pastry is nicely browned.
Remove and cool at least 30 minutes before serving (Note: they taste best at room temperature).
(Recipe courtesy of Nicole Coudal)
###
Nicole Coudal is a home chef and food writer based in southwest Florida, where she fishes and cooks using local ingredients. When not on the water, she visits farms, farmer's markets, and other food-related venues to highlight what's in-season and to create tasty recipes. Read more at www.MyDeliciousBlog.com.