7 Sarasota Restaurants for Outdoor Dining on the Water
In Florida, the best table is usually the one by the water, and these views will have you feasting your eyes as you fill your stomachs
Maybe your ideal beach vacation includes parasailing and jet skis, or maybe you like to relax and unwind with a great book by the water's edge. Either way, one thing is clear: you are here to maximize your time near the water, and we are here to help.
Stopping for nourishment doesn't have to cut into your coastal fun, which is why we've compiled a list of top waterfront restaurants in the Sarasota area. Enjoy a drink and some seafood without ever taking your eyes off the saltwater.
Fin's at Sharky's
Located at the south end of Venice Island, Fin's at Sharky's (and neighboring Sharky's on the Pier) is the only restaurant in Sarasota County located directly on the Gulf of Mexico. Take in panoramic views of the Gulf while sipping a perfectly-crafted cocktail. Fin's specializes in elevated coastal cuisine with highlights including the Tuna Tacos, anything from the raw bar and stone crab claws. Make time to walk the Venice Fishing Pier after lunch or dinner for a spectacular ocean picture, sure to make all your friends back home jealous.
Old Salty Dog - City Island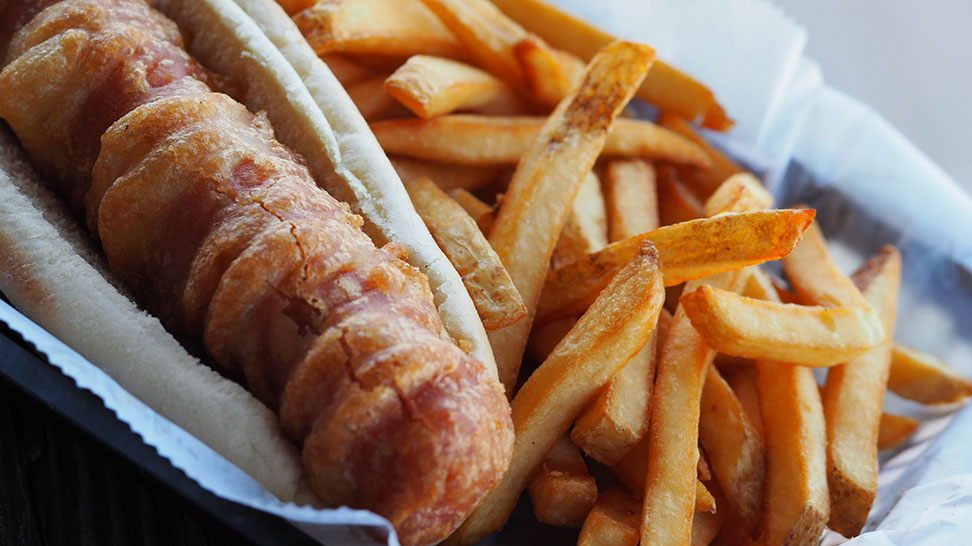 No trip to Sarasota County would be complete without a trip to the Old Salty Dog. It's no local secret that they serve up one of the best bloody marys in town, complete with a variety of peppers, olives and a big cube of Monterey Jack Cheese. If you aren't sensitive to spice, be sure to spring for the "Spicy Mary." The menu is rife with classics like peel-and-eat-shrimp, fish and chips, and conch fritters; but they are nationally-known for their "Salty Dog" - a quarter pound hot dog deep fried to golden brown and served on a bun. It may sound wild, but it's not famous for nothing.
More of a burger fan? Check out New Pass Grill & Bait Shop right next door—a local landmark since 1929—and the award-winning New Pass Burger, along with several other savory meals from the land and sea.
Ophelia's on the Bay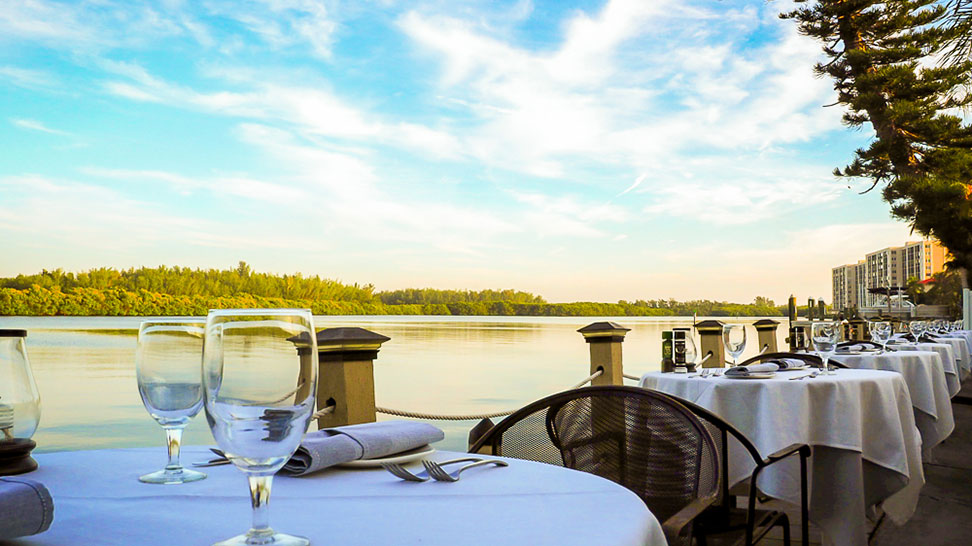 If you're searching for some waterfront sophistication on your trip, look no further than Ophelia's on the Bay. Fresh-caught, local seafood is artfully curated into palate-pleasing entrees, and their extensive wine list is second-to-none. Reservations are a must, especially for an outdoor table so you can take in the sea breeze and be one with the water.
The Crow's Nest
Down at the South Jetty on the Island of Venice lies one of the area's best boating destinations. With plenty of room to dock your boat, The Crow's Nest is a maritime favorite. Downstairs dining in the Tavern boasts a casual atmosphere and a killer cheeseburger, while upstairs dining reflects a more buttoned-up approach to coastal cuisine. The crab cake is loaded with crab meat and minimal filler, and the clam's casino harken to a simpler time when clams and bacon truly made everything better.
Dry Dock Waterfront Grill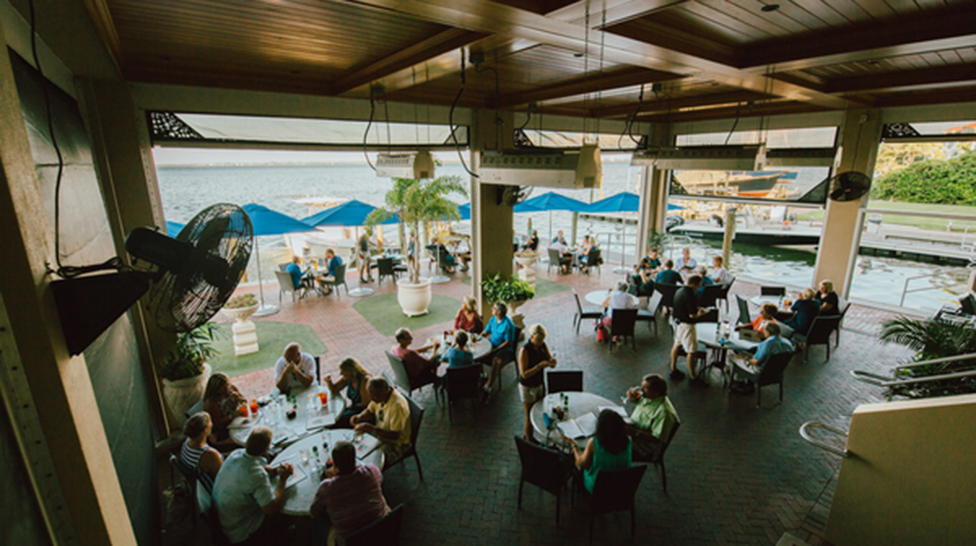 Dry Dock Waterfront Grill on Longboat Key has Sarasota County's very best lobster roll. Served on a classic split roll and grilled to perfection, the Lobster Roll will make any New Englander homesick. Guests can order two rolls with fries and coleslaw for a classic combination, one roll with lobster bisque for a lobster extravaganza, or one simple roll to satisfy a mild crustacean craving. Aside from their lobster rolls, Dry Dock has a variety of sandwiches to suit everyone's preferences, and wonderful pasta dishes chock-full of fresh seafood.
O'Leary's Tiki Bar & Grill
When you imagine grabbing some fried seafood, a frozen drink and priceless views on your tropical vacation, the ambiance at O'Leary's Tiki Bar & Grill is exactly what comes to mind. This casual, pet-friendly hangout is a fixture in Bayfront Park near downtown Sarasota, making it the perfect stop for lunch or dinner during a day exploring near the city. Though it's not on a beach, O'Leary's outdoor picnic and high-top tables are still set in a cool layer of sand, so feel free to ditch those flip flops anyways. Simple Seafood classics like fried shrimp or grilled Mahi Mahi are easy to grab and graze alone or with a group. The full-service tiki bar makes this a popular hangout for locals and visitors alike, and the endless view of sails, mangroves and, if you're lucky, wildlife in Sarasota Bay make for the perfect backdrop.
Pop's Sunset Grill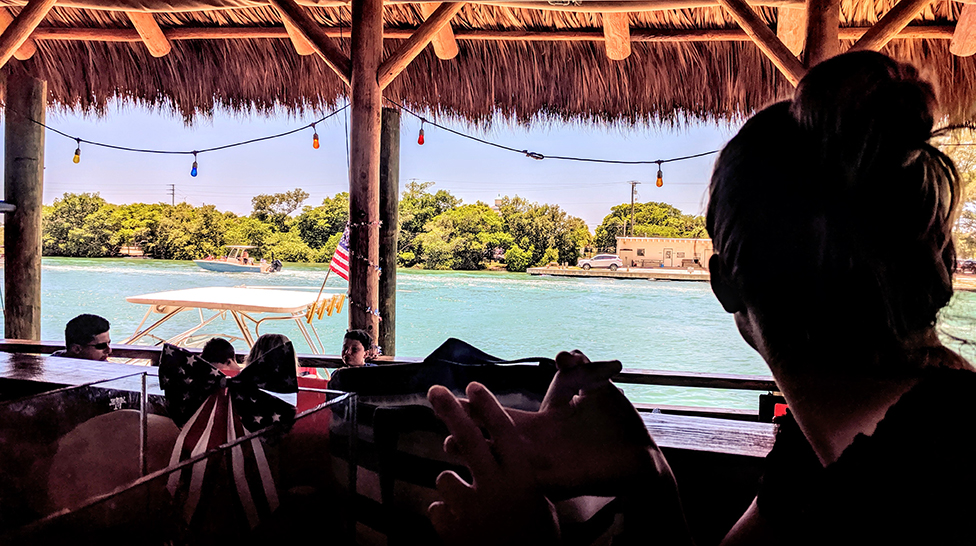 Pop's Sunset Grill is hard to miss if you're boating your way down Sarasota Bay past Casey Key. Right as you come under the south bridge to the key, you'll spot the massive Tiki hut and probably a line of boats parked and waiting for their captains to return from a delicious meal. Almost all seating is outdoor seating with an open-air concept that allows guests to watch manatees and dolphins swim in the turquoise water, or hangout around fire pits scattered on the opposite side of the restaurant.
When it's time to leave the restaurant and go back to the beach, keep in mind that waiting 30 minutes after eating is just a myth. So get out there, enjoy that sunshine, and swim to your heart's desire.