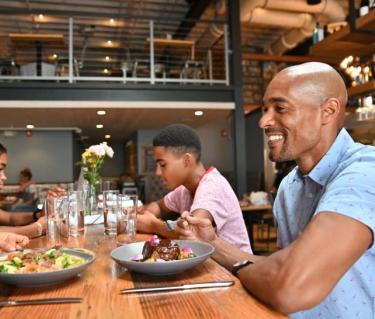 A Culinary Journey Down Tamiami Trail
What's for Breakfast, Lunch, Dinner and Dessert? Local eateries off U.S. Highway 41:
If you find yourself in the sunny paradise of Sarasota, road-tripping up and down Tamiami Trail (US 41), embark on a delightful foodie adventure for each meal of the day. Beyond the keys and downtowns, there are a number of great local spots to dine hidden in strip malls or right off the main drag.
From charming breakfast nooks and savory lunch havens to delectable restaurants for dinner and delicious dessert spots, this city has it all. Check out some of the most casual and inviting eateries to satisfy your taste buds at any time of day.
Breakfast: The Toasted Yolk Cafe
A breakfast haven that promises eggs, bacon and so much more to brighten your morning in Sarasota. This charming cafe newly opened on N Tamiami Trail – offering a cozy and inviting atmosphere, perfect for starting your day on a positive note. The menu has an array of early morning and brunch delights, from fluffy omelets and hearty breakfast burritos to fluffy pancakes and decadent French toast. Whether you're a health-conscious eater or craving a hearty indulgence, The Toasted Yolk Cafe has something for everyone. With friendly staff and a warm ambiance, this is an ideal spot to savor a delicious breakfast while soaking in the vibrant energy of Sarasota and starting your day on the right foot!
3750 S Tamiami Trl, Sarasota.
Lunch: Mellow Mushroom Pizza Bakers
A bit further south on route 41, stop in for some funky vibes, artwork and fantastic pizza at Mellow Mushroom Pizza Bakers. For lunch, step inside to a colorful and vibrant atmosphere that exudes a laid-back vibe, perfect for sharing a meal with friends and family to break up the day's activities. The star of the show is their artisanal pizza, crafted with love and creativity. From classic favorites like Margherita and Pepperoni to imaginative combinations featuring locally sourced ingredients, every bite is a burst of flavor. But Mellow Mushroom is not just about pizza; they also serve up mouthwatering calzones, hearty salads and appetizers. With an extensive craft beer selection and friendly staff, Mellow Mushroom Pizza Bakers is the ultimate destination for a relaxed and memorable lunch in Sarasota.
6727 S Tamiami Trl, Sarasota.
Dinner: Tripletail Seafood & Spirits
Get dressed for dinner and stop into Tripletail Seafood & Spirits for a few fresh catches and great conversation. Conveniently located and tucked away in The Landings, this locally owned restaurant offers the freshest local seafood, exceptional hospitality, local craft beer, an extensive wine list and a full bar with a large bourbon selection. From lobster rolls and raw oysters to Gulf shrimp and grilled fish entrees, there are plenty of options to get your taste and fill of Florida-caught seafood. Open for dinner daily, you can even try to catch happy hour from 3pm-6pm and enjoy delectable small plate offerings along with happy hour-priced cocktails, beer and wine.
4870 S Tamiami Trl, At the Landings, Sarasota.
Drinks: Grillsmith Sarasota
Top off your night in a cozy indoor setting with either a craft cocktail, nice glass of wine or pour of whiskey. Grillsmith Sarasota is a polished yet casual restaurant celebrating classic American cuisine and hand-crafted cocktails. From the Rosemary Paloma and Mango Habanero Margarita to the Strawberry Bourbon Smash and Smith's Sangria, you'll want to cheers a few rounds to these delicious mixed drinks. The Late Night Grind espresso martini may even keep the party going long enough so that it's almost breakfast time again!
6240 S Tamiami Trl, Sarasota.
Dessert: Yummies Donuts & BBQ
If you'd prefer your guilty pleasure to be more of a sweet treat than an adult beverage, then you're in luck. As you walk into Yummies Donuts & BBQ off Tamiami Trail, the aroma of freshly glazed donuts and smoky BBQ will instantly captivate your senses. Indulge in a delectable assortment of scratch-made donuts, from classic glazed to inventive flavors that change daily. The cozy and welcoming ambiance makes it a perfect spot for catching up with friends or enjoying dessert with the family – really any time of the day.
2001 S Tamiami Trl, Venice.