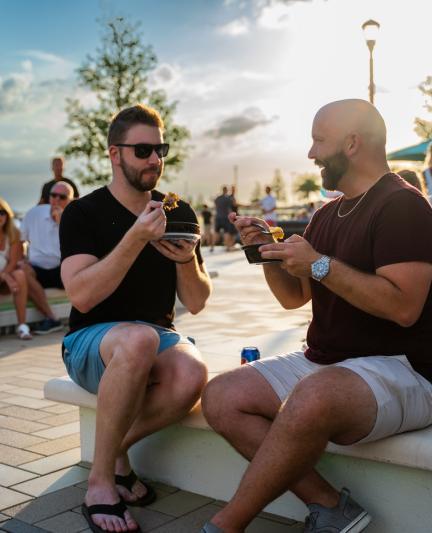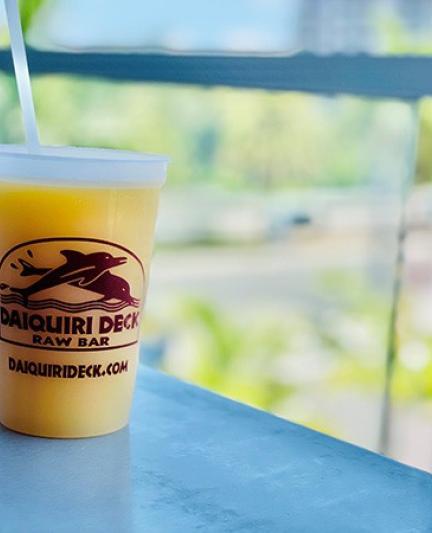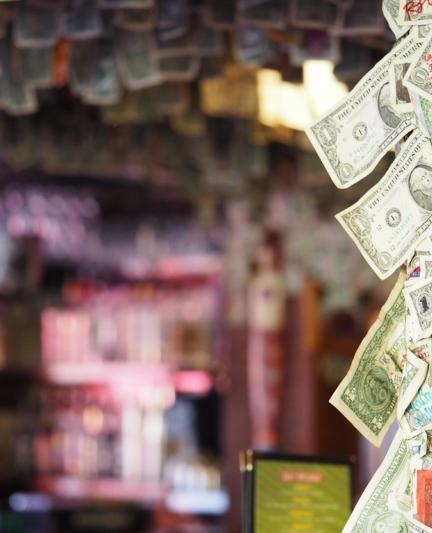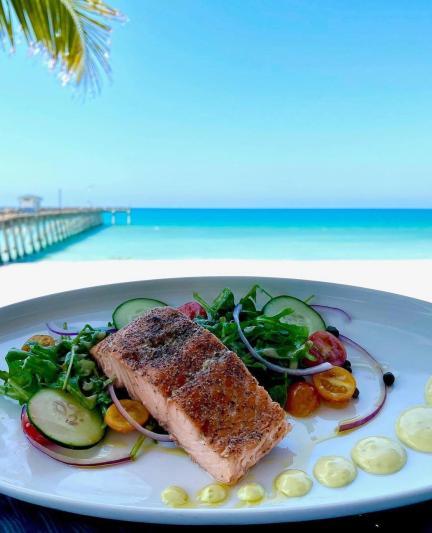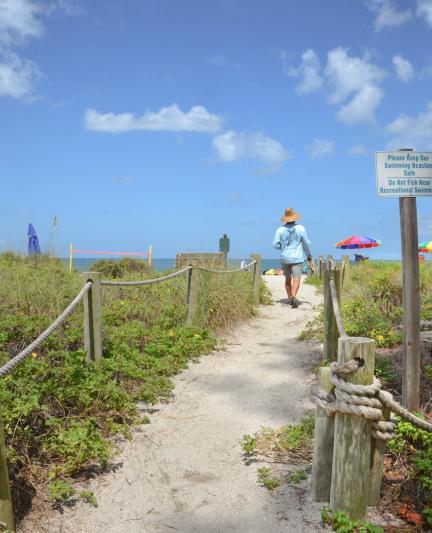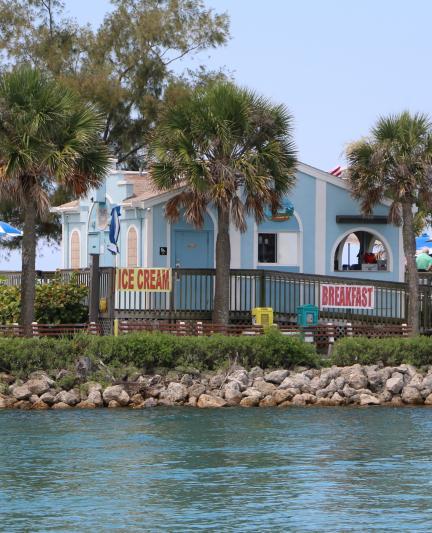 Casual Beachside Bites & Beverages
Dine-in at these beachside bars and waterfront eateries, or, don't miss a beat of the beach—take it to-go and hurry back to picnic under your umbrella
Hungry and hankering for a refuel on a long beach day? Take a quick break from the saltwater to quench your thirst and seek some shade from the sun—these casual beachfront jaunts offer a mid-day reprieve just steps from the sand. Or if you can't stand to be away from your beach chair long and just need a quick refreshment, opt for takeout and enjoy a refreshment with your toes in the tides.
The Lido Island Grill, Lido Beach Pavilion
Recently revamped and updated, the new concession stand at Lido Beach Pavilion, named The Lido Island Grill, it doesn't get much more convenient than this. Without even having to throw your sandals on or worry about leaving your belongings on the beach, the pavilion is the perfect refresher should you get a bit peckish or thirsty from sunbathing or splashing around all morning/afternoon. A menu favorite is the lobster roll, but patrons will also find paninis, salads, burgers and more. The walk-up window will also serve beer, wine and frozen drinks to make your walk off the beach worthwhile. The stand is open daily, 10:30am-8:30pm.
On the south end of the island of Venice, Fins at Sharky's remains a sought-after landmark, which isn't hard to see why. Located on the Venice Fishing Pier, Sharky's lures beachgoers off the sands and out to pier to grab great food, fruity drinks from the tiki bar, and arguably the best gulfside view imaginable. The casual seafood restaurant allows you to stay super close-by to your beach set-up and still soak in the sunshine while sipping a refreshing cool beverage and chowing down on some Caribbean conch fritters, calamari or lobster artichoke dip. And who knows, you may spot a dolphin or manatee in between bites.
A tropical-themed indoor-outdoor American restaurant and bar serving steak, seafood and sandwiches, as well as frozen cocktails and refreshing mixers featuring one of Siesta Key's best Happy Hours (daily from 3pm - 6pm). As the name suggests, this spot is just steps from the less-touristed Turtle Beach, located further south of Siesta Key Public Beach. And after a long day of sun, seek shelter for some live music every Thursday - Sunday, 5pm - 9pm on the patio deck overlooking the water.
An absolutely favorite amongst locals and tourists as the hot spot of Siesta Village, SKOB's casual dive-beach bar setting attracts crowds pretty much all day, every day. With live music on the porch often, great draft beer, unbeatable oyster deals at happy hour, and other great Florida seafood options, this one might actually keep you from getting back to the beach. And there's no shame in not wanting to leave the fresh shellfish and laidback island vibes behind too quickly.
Just south of Nokomis Public Beach, near the famous Venice Jetties, find a waterfront fixture with its own marina and an amazing surf n' turf menu. Beachgoers have the option to head to the upstairs dining room for an extra good view with finer dining, or a more casual, cozier experience in the downstairs tavern. With spectacular views of the inlet, there's no rush to get back to the beach, for there's a feast of local, fresh-off-the-boat cuisine right at The Crow's Nest.
Jetty Jacks Refreshment Deck, Venice Beach
The beloved "Refreshment Deck" at Jetty Jacks is the perfect little blue beach shack to run up to from South Jetty Beach and order some food supplies and refreshers from the walk-up window. Grab a quick breaky before setting up shop for the day, run up and grab snacks or sit and indulge in some handscooped ice cream while watching the surfers catching some waves in from the jetty break.
The Lido Key Tiki Bar, Lido Beach
Experience relaxed al fresco dining with unsurpassed Gulf-front views. The Lido Key Tiki Bar is located directly on the beach behind The Ritz-Carlton Beach Club. A Sarasota landmark, the rustic, open-air tropical beach bar features beer, wine and mixed drinks with a tropical flair, right off the sand and still at the edge of the Gulf of Mexico. Though this is a Ritz-Carlton Beach Club property, customers are invited to walk down the beach and visit at the Tiki Bar at their leisure. Hours vary seasonally.
Head to the Old Salty Dog for a beachy British pub with friendly vibes. Offering the iconic beer-battered hot dogs, as well as peel-and-eat shrimp and other seafood bar fare, ice-cold beer, daily happy hour from 4pm-6pm, plus great merch featuring its mascot bulldog and live music. Just a short walk from Siesta Key Public Beach Access 2 and down Ocean Boulevard.
Located in its own Captain Curt's Village, this longtime favorite seafood house features an outdoor tiki bar (dubbed the Sniki Tiki), its famous clam chowder, lively yet casual family atmosphere. Stepping off Crescent Beach in South Siesta, throw your beach things in the car and walk across the street to experience an "Old Florida" restaurant and oyster bar with great live music and sporting event watching.
The Daiquiri Deck is the perfect place to grab a quick bite and share a meal with the family or friends. Enjoy tasty treats, outdoor seating and a wall of all different frozen daiquiri flavors (alcohol included if you're in vacation mode). Every Daiquiri Deck location is walkable distance to a close-by public beach access, and features two floors with a top deck overlooking the street below with a fun, coastal setting, plus great souvenir shirts to throw over your bathing suit.
MVP - My Village Pub, Siesta Key
A fairly new, rebranded sports bar in the heart of Siesta Village, MVP has 20 draft beers and over 44+ TVs to take a beach break and catch a spor0ting game over a bite. From mahi tacos, hot wings and buffalo chicken wraps, the beach-loving staff are fast-paced and friendly throughout the indoor and covered outdoor sections, as well as the open-air patio deck by the street—great for people watching.