Sarasota Sips: A Guide to Craft Cocktails
Feeling thirsty? Sarasota's craft cocktail scene packs a flavorful, potent punch. Check out our guide to craft spirits—where there's an apéritif for every appetite!
Sarasota's Downtown Mixologists

Martinis in The Lounge, courtesy of Element restaurant
A walk down the restaurant's downtown terrace brings you to the entrance of The Lounge at Element: Steak. Seafood. Pasta. A completely different vibe from its fine dining area, get cozy on the couches with Lounge-specific cocktails for an intimate nightcap, happy hour or dinner (serving the full food menu from the restaurant).
Selva Grill features a modern and cosmopolitan Peruvian fusion menu complemented by exemplary cocktails. For the full Peruvian experience, try the Pisco Chicha Morada, a South American classic made from with purple corn, lemon and lime juice, pineapple and a cinnamon stick.
Over at Circo: A Taco & Bourbon Joint, try an offbeat mix of artisan tacos with bourbon-based cocktails or the classic tequila margaritas. The selection of fine spirits for both varieties are impressive and range from great house options to finer, top-shelf labels. There is also an option if you're with a group to opt for the margarita pitcher, which saves some time and money if you're expecting to order a few rounds!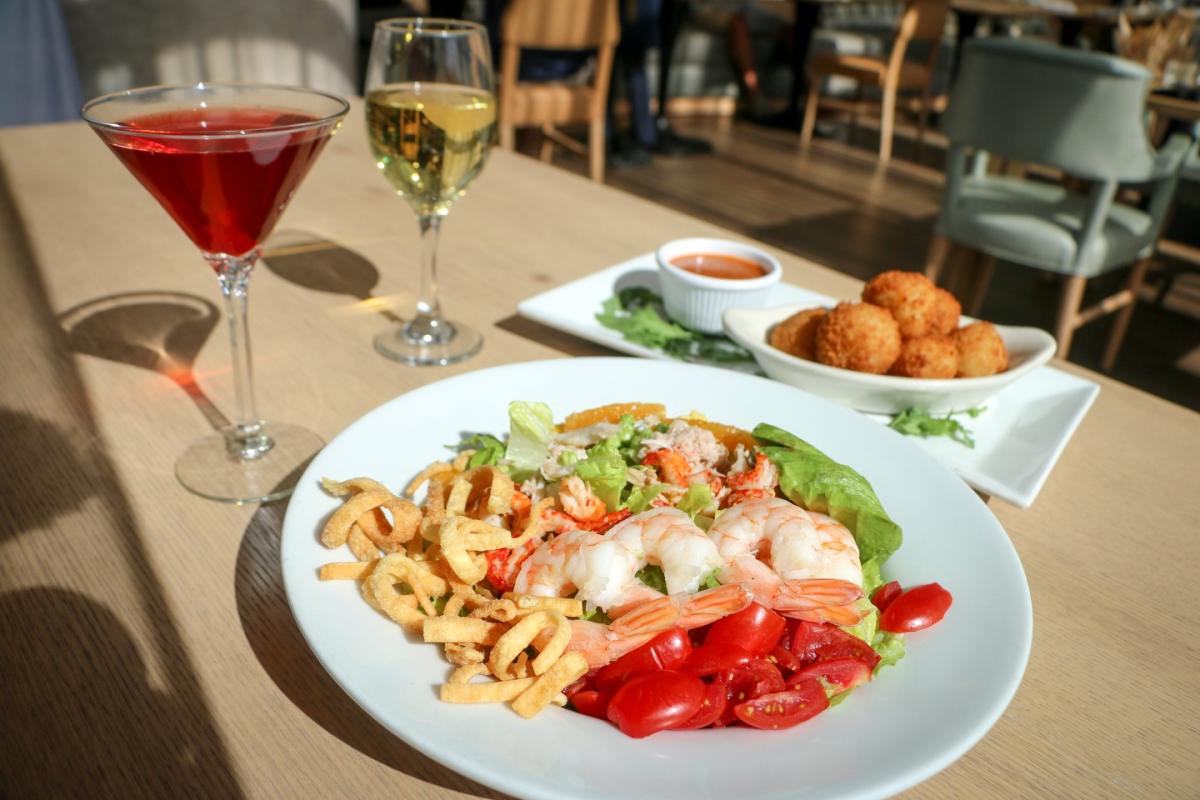 A longtime landmark of Main Street is Mattison's City Grille, a lively alfresco restaurant and bar right on the corner of downtown where live music and happy hour happens daily The specialty drink menu includes seasonal cocktails, and traditional cocktails with a house twist like the City Grille Cosmo and Mattison's Espresso Martini.
Boca Kitchen Bar & Market, a locally-sourced eatery and cocktail joint with Tampa roots, has a few popular cocktail highlights including Boca's classic Bramble, as well as signature hits like the Fine and Shandy (Old Forester bourbon, Cherry Heering liqueur, lemon, orange, Tampa-brewed Big Storm Arcus IPA, and sugar) and the Garden Grove (El Jimador reposado, Yellow Chartreuse liqueur, lime, sugar, Peychaud's bitters, cucumber, and basil).
No ode to cocktails is complete without a hat tip to The Gator Club, a historic landmark in downtown Sarasota rumored to have served as a speakeasy during the Prohibition era. The upstairs billiards hall and lounge retains a 1920s vibe: excellent vintage ambiance, with a variety of classic cocktails to match.
Hotel Bar Hangs (Guest or Not)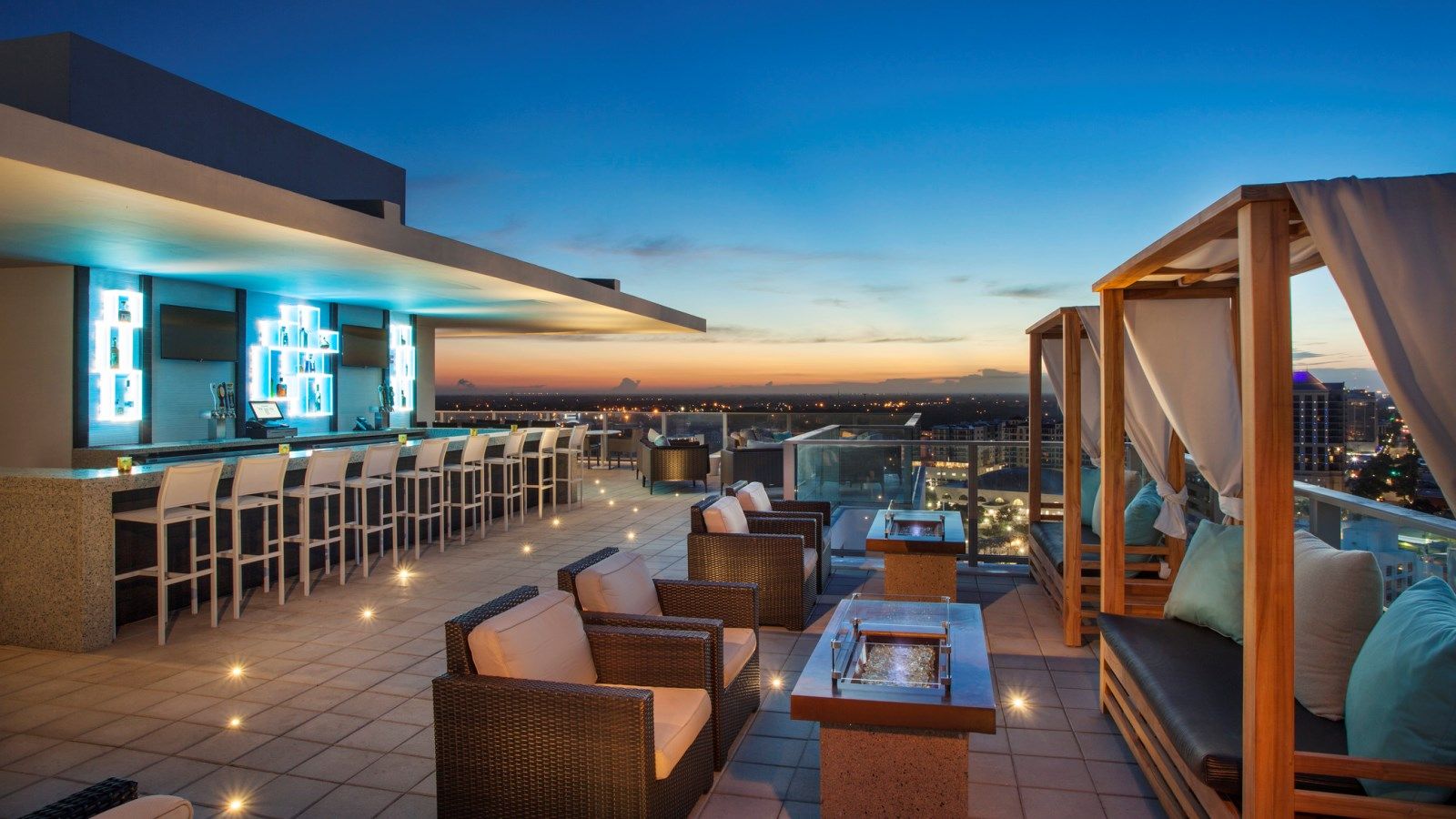 The Roof Bar & Eats at the Westin Sarasota offers airy rooftop sips in a casual, elegant atmosphere overlooking all of downtown Sarasota, the bay, and beyond. Try a signature Rosemary Pineapple Margarita at Sarasota's freshest rooftop bar while admiring breathtaking views of downtown Sarasota's booming Rosemary District to the immediate northeast. Perspective Rooftop Bar is another great option at Art Ovation Hotel which makes a great Lemon Drop martini and Aperol spritz to enjoy while snapping some pics of one of the best views of downtown and the bayfront.
WXYZ Bar at Aloft Sarasota is another chic cocktail spot conveniently located right inside a downtown hotel. Fans of things fruity and fizzy should taste the Year of the Dragon, a combination of Ciroc Peach, lemon, muddled strawberry, simple syrup, and club soda. Meanwhile at The Sarasota Modern hotel, step back in time to the mid-century modern decor and theme, including its swanky newly branded bar Wink Wink Lounge and Pool Bar. There, find elevated, retro cocktails under the hanging alligator on the ceiling in its darkly-lit lounge area, or sit poolside among the hanging lights of the patio.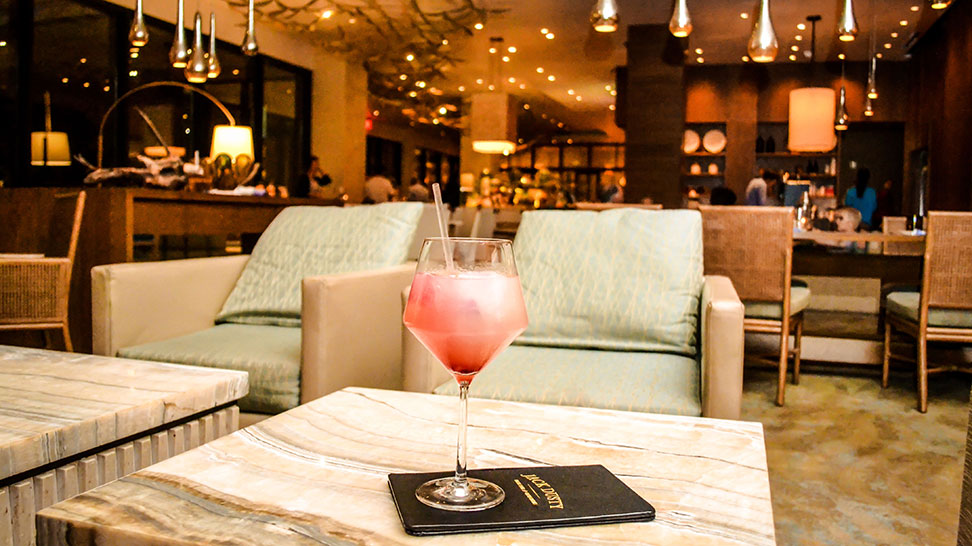 Located in Sarasota's Ritz Carlton, Jack Dusty boasts hearty craft cocktail chops with a seasonal menu so extensive it sometimes needs a table of contents (seriously). Their experts are constantly pushing the envelope with new creations that will dazzle your tastebuds and social media followers when you share a pic. But the favorite by far is The Siren—a whopping and refreshing blend of Reyka vodka or Hendricks gin, elderflower liqueur, lemon, simple, prosecco and a combination of grapefruit, cranberry and orchid ices! This is a drink meant to be sipped for an entire evening because there's even a limit of two per guest.
The Mai Tai at Bahi Hut Tiki Bar (a landmark since 1956 located within Golden Host Resort) holds multi-generational 'local legend' status. Even popular Florida fiction writer, Tim Dorsey, claims his iconic 'Florida Man' character, Serge Storms, would knock one back at Bahi Hut—or maybe two, but certainly no more: the bar enforces a strict two-drink maximum limit on its potent Mai Tai. Is knocking back that second Mai Tai an important Sarasota 'rite of passage' or a truly regrettable decision? All we can say is that this cocktail packs one powerful punch, so be sure to scout your designated driver early in the night.
St Armands Circle Cocktails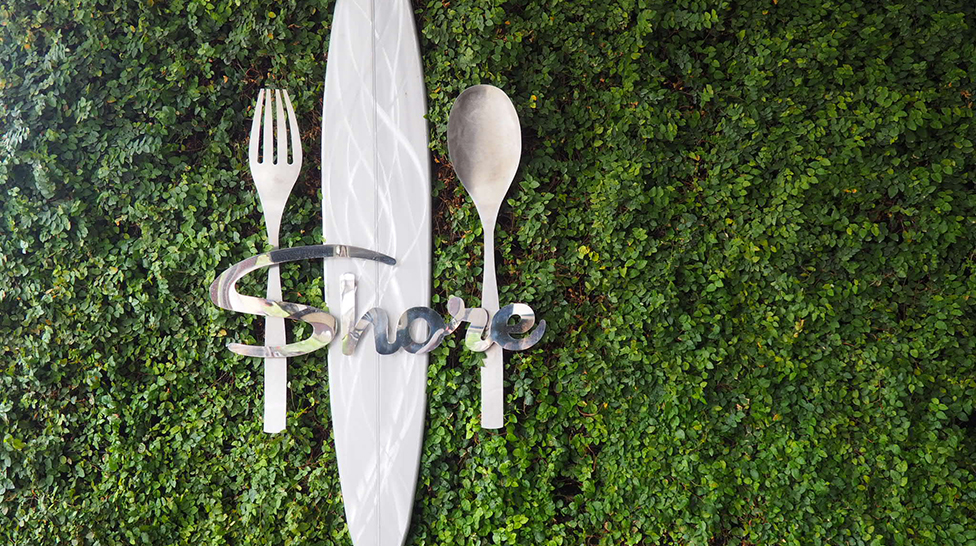 Shore Restaurant, located on St. Armands Circle and North Longboat Key, consistently ranks among the best boozy brunches in Sarasota thanks to its cocktail selection that sips like a good morning wakeup call—even in the early afternoon! Wake up with a refreshing pomegranate mimosa—or start your Sunday with a spicy kick from the bird's eye-chili, lemongrass and cilantro-infused Thai One gin cocktail.
Tommy Bahama Restaurant & Bar is another great option to sit out on the sidewalk for cocktails and happy hour close by to the beach with a relaxed yet elegant island ambiance. The craft cocktail menu always has a creative island twist, and changes according to the season.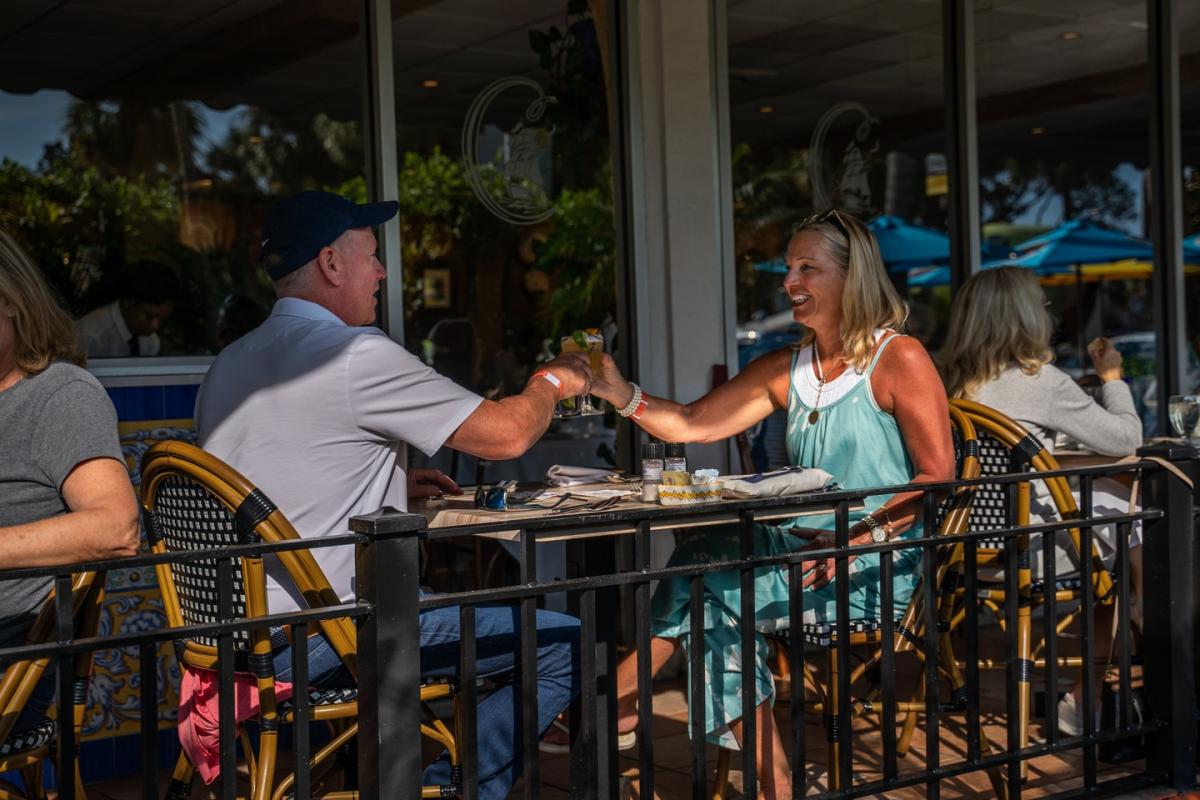 Conveniently right next to each other and under the same restaurant group, both Cha Cha Coconuts and Columbia Restaurant provide outstanding mixed drink options with their own unique twists. Cha Cha Coconuts is the perfect vacation destination to get your tropical cocktail fix in a fun, colorful atmosphere while people-watching all the St Armands Circle walkers. Meanwhile, at Columbia, don't miss the opportunity to indulge in the housemade mojitos, mixed tableside in giant glass pitchers for the whole table to cheers and enjoy while taking in the iconic, Spanish/Cuban-themed decor and cuisine.
Siesta Rum-Based Serenades
Grab a couple of friends and head to Siesta Key Village to indulge in Siesta Key Oyster Bar's famous Village Idiot bucket. This powerful, fruity secret-recipe rum elixir is made for sharing: SKOB requires a three-person minimum just to order its famous drink!
Just a few doors down, head to Daiquiri Deck Raw Bar for a myriad of blended frozen flavors that line the wall of the bar. The tropical, island theme is the perfect spot to hit after a sunny day at Siesta Beach and cool off with a refreshing piña colada or frozen Banana Slider.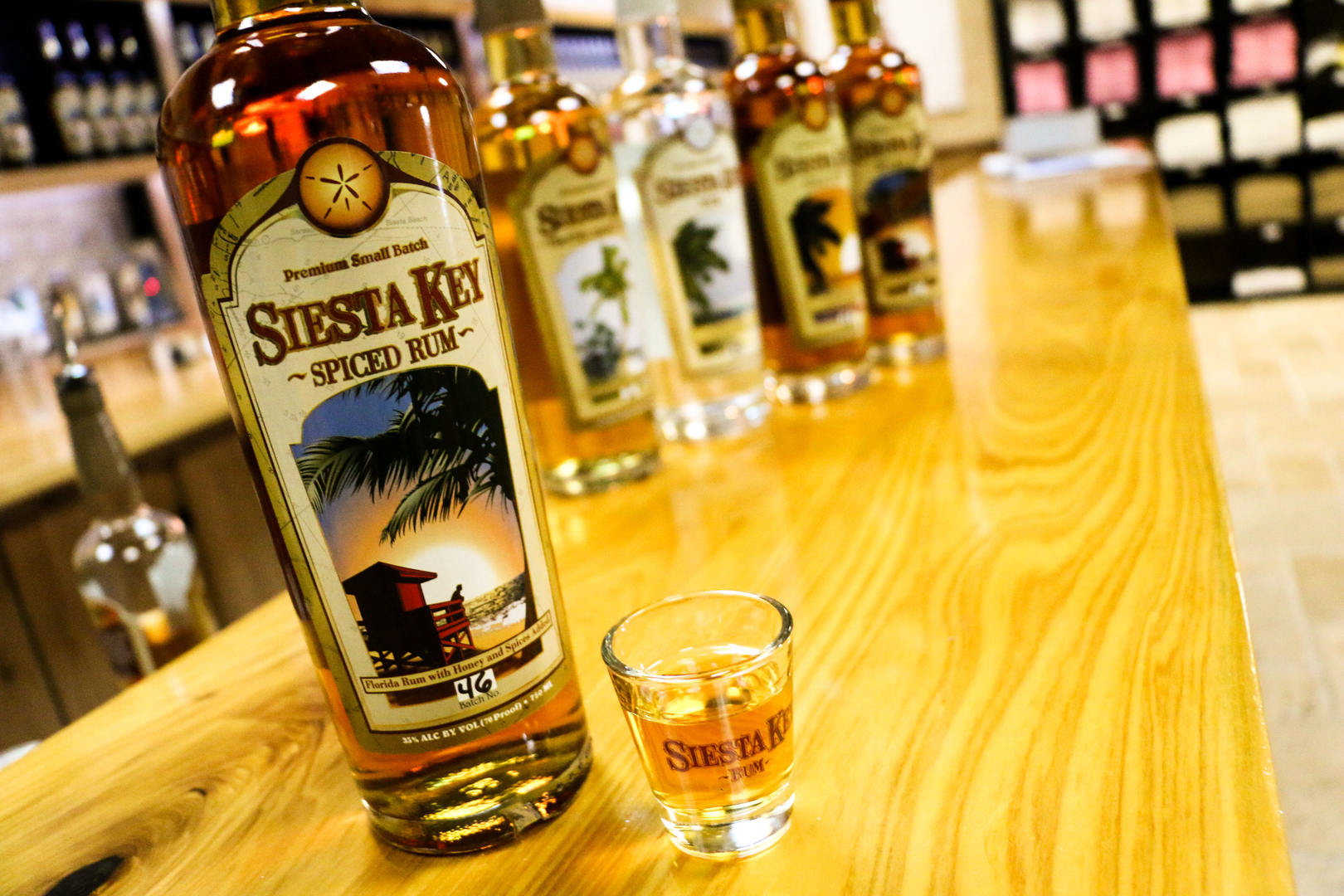 Believe it or not, Siesta Key also has its very own rum distillery, dubbed none other than Siesta Key Rum. The hand-crafted spirit is made in small batches in a hands-on distillation process involving a copper pot still. You can check out the local tasting room and grab a bottle of Toasted Coconut Rum, Coffee Rum or Spiced Rum while there to make your own cocktails back home.
Sips Down South: Venice & Englewood Cocktails
Englewood's Farlow's on the Water leans into the flavors of the Caribbean in its robust cocktail menu, featuring a wide selection of fruity frozen drinks, colorful martinis, tropical dessert cocktails, and popular island favorites like Bahama Mamas, Mojitos, Dark 'N' Stormys, and Rum Runners.
Although better known for its wines, Café Venice Restaurant & Bar also knows its way around a refreshing cocktail. Try the Lemon Basil Vodka Martini, made with Deep Eddy's Lemon Vodka and housemade basil syrup and garnished with a twist of lemon, fresh basil leaf, and a dry basil-sugar rim.
Crow's Nest, a Venice landmark since 1976, has more than 40 years experience in offering up some of the finest Rum Runners in town—as well as an ever-changing cocktail menu that features hits like the Ginberry Martini—Hendrick's Gin, cucumber-infused vodka, St. Germain elderberry liqueur and muddled strawberries.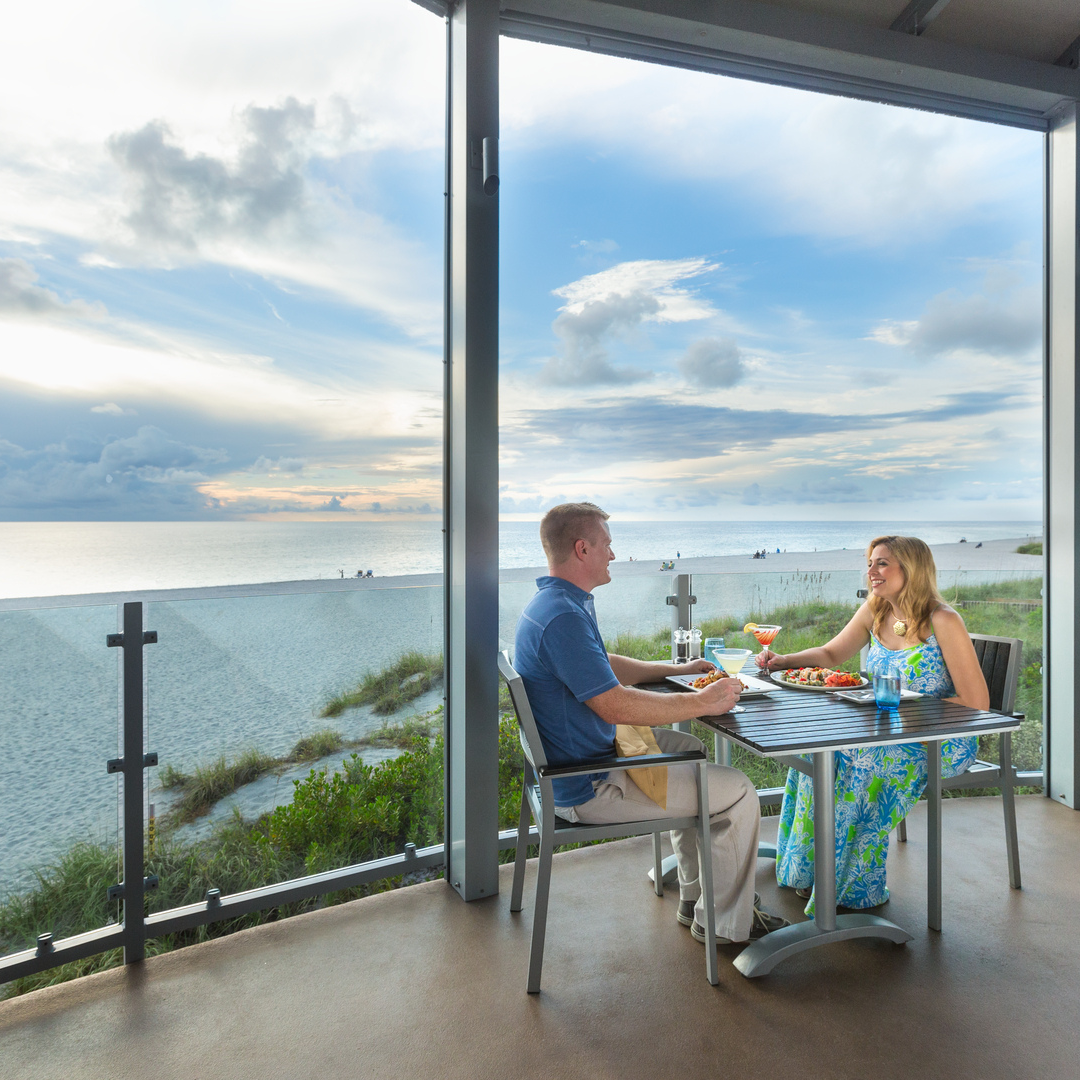 On the first take, Fins at Sharky's on the Pier may sound like a casual beach dive—until you take a closer look at the cocktail menu. Located next door to its longstanding local, tiki-style sister restaurant, Sharky's On the Pier, Fins offers elegant, locally sourced cuisine and drinks in a contemporary coastal chic atmosphere. The seaside sipping options are aplenty—ranging from sophisticated sippers like 15-Year Glen Scotia, to beachy boozers like the Seafoam Margarita—a colorful tequila cocktail topped with lime foam.
Ever stared deep into the questionable bowl on the refreshments table at a high school dance and wondered what "punch" really is? The signature Pub Punch at Venice's British Open Pub is a modern spin on a beverage invented by the 17th-century sailors of Britain's East India Company. The British Open Pub makes its signature punch from a proprietary mix of fruit juices and spices, rums, vodka and a modern-day splash of Sprite.
"Old Fashioned" Favorites: Sarasota's Craft Standards
Michael's on East is best known for its award-winning wine cellar, but don't miss out on the masterful cocktails in Michael's Piano Bar and Lounge. Check in with Michael's Facebook page to learn the word of the week, and speakeasy to lounge mixologists for access to happy hour specials during Michael's "Secret Word Mondays."
At Mélange, sparkling cocktails complement Chef Lan's culinary creations. Read more below to learn about Pangea Alchemy Lab, where Mélange's cocktails are crafted—but in the meantime, check out the sparkling wine-centric cocktails designed to accompany the uniquely delightful Mélange menu.
Pangea Alchemy Lab is a local leader in Sarasota's craft cocktail scene. Try the Sir Sazerac for Pangea's twist on the time-honored, absinthe-washed New Orleans classic, or ask Pangea's masterclass mixologists to whip up a one-of-a-kind tonic from the bar's extensive drink menu.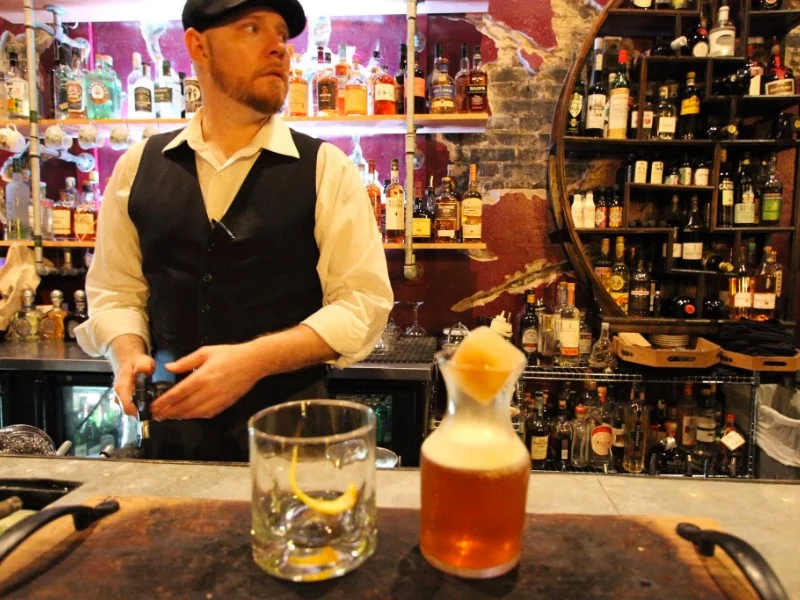 Like Pangea, State Street Eating House + Cocktails ranks among the most notable cornerstones of Sarasota's craft cocktail community. State Street's extensive award-winning craft cocktail menu features an array of expertly executed classics by some of the best bartenders in the area.
Cocktail critics will love Libby's Cafe and Bar's Barista (St. George NOLA coffee liqueur, creme de cacao, espresso, and Absolut Vodka, topped with ground cinnamon "dust")—one of its most popular signature drinks. Meanwhile, the LCB Signature Old Fashioned puts a vanilla, apricot and chocolate bitters-y twist on the classic cocktail—featuring brown butter-infused Larceny Bourbon.
The partnership between Gecko's Grill & Pub and Mote Marine Laboratory & Aquarium goes back to 2018 when the region experienced an unusually persistent red tide bloom. To show its appreciation and support for Mote's globally-significant marine science research, the team at Gecko's created a specialty philanthropic cocktail, dubbed The Shark Lady. Both aesthetically and palate-pleasing, the aqua-blue cocktail is named after Mote's Founding Director Dr. Eugenie "Genie" Clark, who is popularly and affectionately known as 'The Shark Lady' because of her extensive research on sharks.
Drink Responsibly in Sarasota
With dozens of restaurants, bars and tasting room options from which to choose, Sarasota's craft cocktail scene provides plenty of opportunities to treat your taste buds—and it packs a powerful punch.
Remember to always plan ahead on boozy outings in Sarasota and have an idea for transportation back to your landing pad! Choose a designated sober friend to drive before everyone starts sipping, arrange for an Uber or Lyft, or don't be shy about asking your bartender to call a taxi!
There are also plenty of downtown hotels to stay at if you plan on going out a few nights to imbibe, which makes it quite easy and convenient just to walk back to your room since Sarasota has a remarkably walkable downtown!