Late Night Drinks at Sarasota Gems
Thirsty to find a nightcap around Sarasota in a fun and unique atmosphere? Look no further!
The Sarasota area might be known for its white-beaches, arts and culture, luxury condos and delicious dining. But for the locals, we raise our glasses to the wonderfully unique nightspots and watering holes. We revel in the contrasting atmospheres and the all-around hospitality that makes any stranger feel like they've found their people. To make the most of a night out, consider stopping by these Sarasota favorites:
1) Perspective Rooftop Bar at Art Ovation Hotel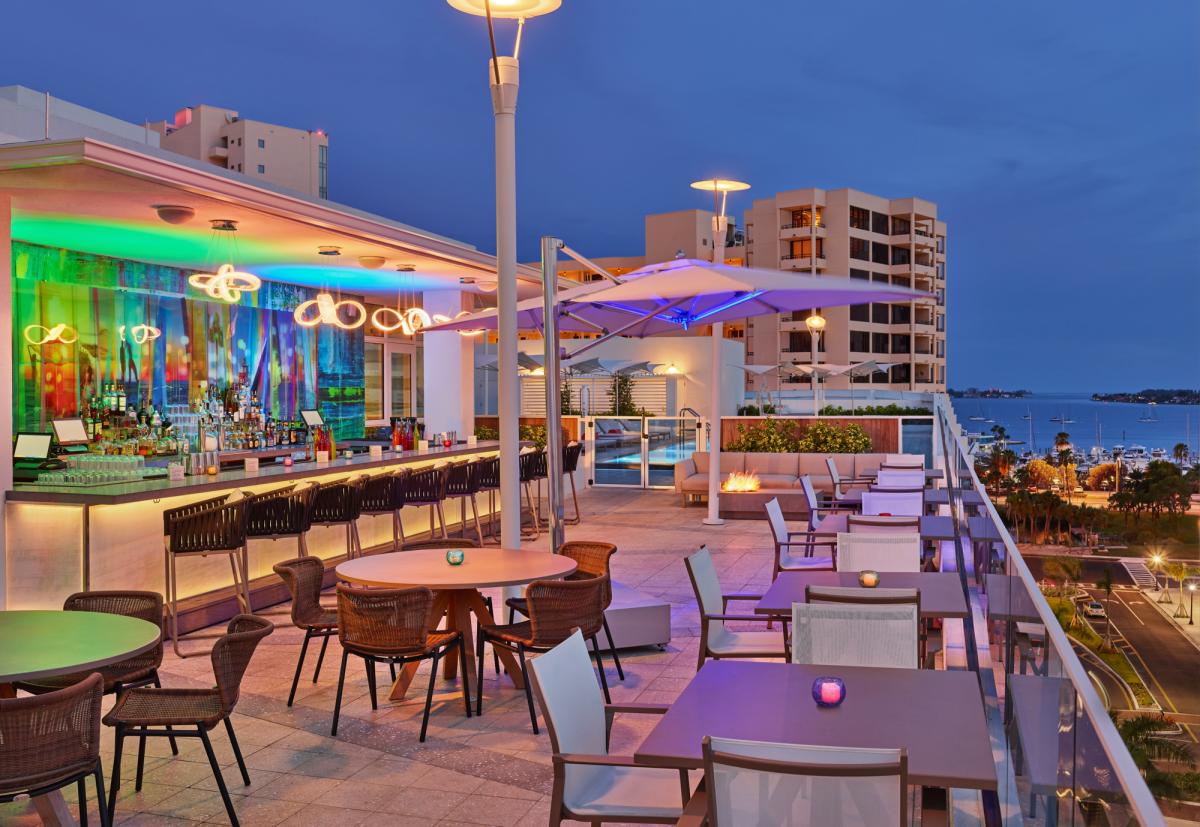 Rather than looking around, try looking up! Perspective Rooftop Bar is a perfect place to kick off the night. Trust us, it's hard to beat a sunset when you have a bird's eye view. And if you like to lounge and chill while indulging in artistically crafted cocktails, you can rent a cabana and sip in style. Featuring DJ's and musical soundscapes, Perspective is a top contender on the list of social hot spots.
2) Selva Lounge
In the urban core of Sarasota is the upstairs lair of Selva Grill and its ultra-cushy Selva Lounge. Known for being a local favorite, Selva Grill offers Latin fusion cuisine packed with exotic flavors. But the innovation doesn't stop there. Their signature cocktails and Sarasota-meets-South Beach kind of beat keeps the mood lively and exciting. It's a great spot for a midnight snack as well – their late-night menu is steeping with delicious items.
3) Bombon Restaurant Bar & Lounge
Another Latin lounge worth checking out is Bombon, just north of downtown. On the weekends they feature entertainment and a wide variety of Latin and American music. It's a low-key spot and more of a "locals only" feel, but once you enter, the energy abounds! Whether practicing your salsa or simply grooving to your own beat, you can dance the night away and have fun doing so.
4) JDub's Brewing Company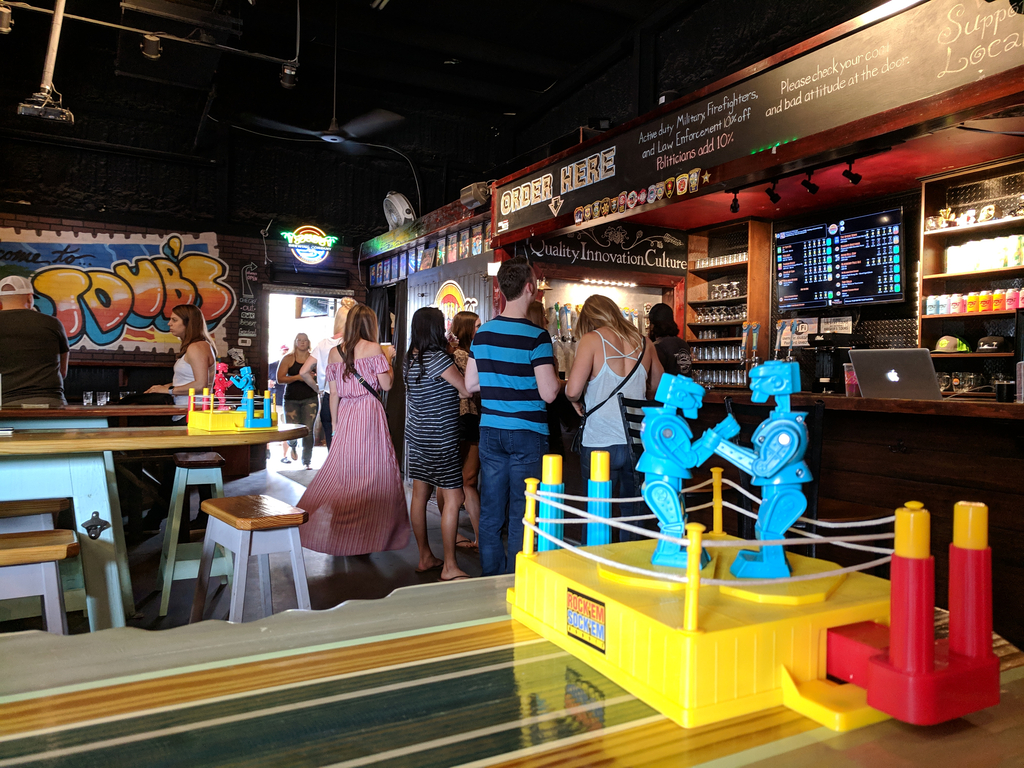 If quality craft beers, live music and outdoor venues are more your speed, stop by JDub's Brewing Co. in the Limelight District. It's funky, artsy, game-room-esque environment features graffiti'd walls and vats featuring larger than life images of Samuel L Jackson and Mad Max. The owner is a veteran and since day one, JDub's has had a welcoming, comfortable feel that adds to its charm. Most nights you can find food trucks outside and a great band on stage.
5) Oasis Restaurant & Bar
As Sarasota's premier LGBTQ venue in the dive-y Gulf Gate strip, be prepared to dance the night away and have way too much fun. After some bar hopping nearby, stop in Oasis and enjoy great beats, drinks, and the occasional drag show. There might also be a few dancers finding their footing on the bar tops. Their event calendar is robust so be sure to check it out as well!
6) Bahi Hut Lounge
A true "hidden gem" that every local refers to as the "Bye Bye Hut." It's a total dive – and we're here for it! Giant spoon door handle, seriously stiff drinks — as in, the Mai Tai and Sneaky Tiki, which you are forbidden to order more than TWO, tops. Bahi Hut has a super smoky haze and some kitschy music here and there so go ahead, get your weird on.
7) Jack Dusty's at The Ritz-Carlton, Sarasota
When you have a Siren in hand, you are truly living up to Sarasota vacay expectations! Expertly crafted and changing flavors as you sip, this cocktail is just one of a variety of custom (and scrumptious) concoctions. Situated on the marina, Jack Dusty is open to the public and is known for freshly prepared seafood and its laid-back ambiance. Super insider's tip – if you'd rather spend your night on the sand, visit The Ritz's Lido Key Tiki Bar.
8) Pangea Alchemy Lab
A legit speakeasy right on Main Street in downtown Sarasota. But don't feel silly if you can't find it on your first try. While we don't recommend a total liquid diet, you'll want to meet Pangea's liquid chefs! They are creative, imaginative, and award-winner masters of the craft. Offering traditional and modern mixes, their libations are to be rivaled! If you want to take your knowledge of cocktails to the next level, be sure to ask about the cocktail sessions where "drinking to learn" is common practice.
9) The Gator Club
This nighttime spot is hidden in plain sight and certainly unique. And, let's be honest, no night out is complete without live entertainment and wearing out your dancing shoes. That's where Gator Club comes in. In the epicenter of downtown Sarasota, this two-story live music joint can be heard down the street. But this modern-day hotspot is no stranger to a good time. Gator Club has been a prime watering hole since 1913.
10) Sage SRQ
The word on the street is that Sage SRQ's bartenders arrive to their shift at 12 pm so they can prepare several their fresh, custom ingredients – including their delectable and differentiating simple syrups – for the evening shift. Located in a historic and recently renovated space, this culinary delight is all about the experience. With three levels, including a rooftop lounge, and seasonal menus, Sage is a can't-miss stop on the Sarasota night train!
Bonus: Captain Curt's Sniki Tiki
The Siesta Key Village is lively and abundant with nightlife, bars and Caribbean vibes, but be sure to sneak away to Captain Curt's Sniki Tiki for an ice cold beer and relaxed atmosphere. You'll sway with the music and forget all your worries, rest assured.
Note: Due to COVID-19, please check with each business before visiting. Hours and operations are subject to change. Please visit responsibly.