Dining out with kids: An adult-friendly guide
Going out to eat with little ones, even on vacation, can be a dreaded experience. But it does not necessarily need to be all hot dogs and French fries. Sarasota offers plenty of dining establishments that have something wonderful to offer for both parents and children so everyone gets the best of both worlds.
Trying to find a place in Sarasota that works for both your kids and your appetite? Check out these adult- and kid-friendly establishments that will make vacation dining fun and easy.
Phillippi Creek Oyster Bar
For You
Slurp a dozen and feast on local seafood at Phillippi Creek Oyster Bar. Wahoo cones and fish tacos are always a hit. Full bar with specials such as Sunday Bloody Mary's. Combo pots and benched picnic-style tables embrace the laid-back attitude. Enjoy views of Phillippi Creek as mullet jump, pelicans dive, and manatees surface.
For Them
Hands down, my kids' favorite restaurant. While waiting for fish, hot dogs, pasta, shrimp, and most anything else imaginable, they gawk at the mounted fish and maritime décor. It's an infinite I-Spy game. Meander to the dock and watch the fish and boats as they arrive.
Insider Tip
Any wait time is pacified with photo ops out front of the restaurant; climb right on that tortoise and alligator and say cheese! Check out the water's edge and inquire about the gondola rides.
O'Leary's Tiki Bar and Grill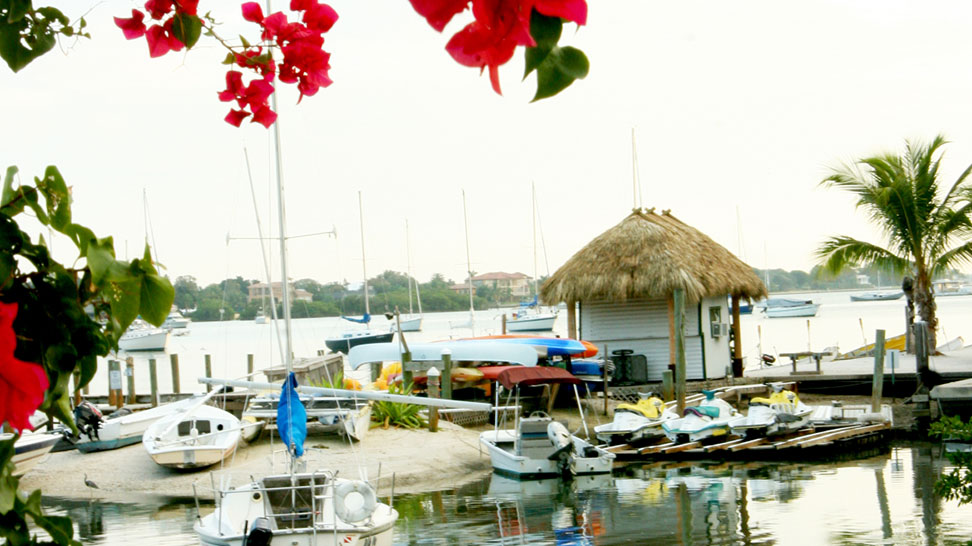 For You
O'Leary's Tiki Bar and Grill gives the quintessential Florida tiki experience with live music, boat drinks, and sand underfoot. Breakfast, lunch, and dinner served on their outdoor tables offering exquisite views of the marina, Sarasota Bay, and iconic Ringling Bridge. Days with live music epitomize the ParrotHead experience.
For Them
No need to sit down here. Dancing, puppy-petting, and wading in the water are the norm at this most laid-back establishment. And they have popsicles.
Insider Tip
The adjacent Bayfront Park features a playground and walking trail with amazing views of the water and sunset; take a meander after eating.
Old Salty Dog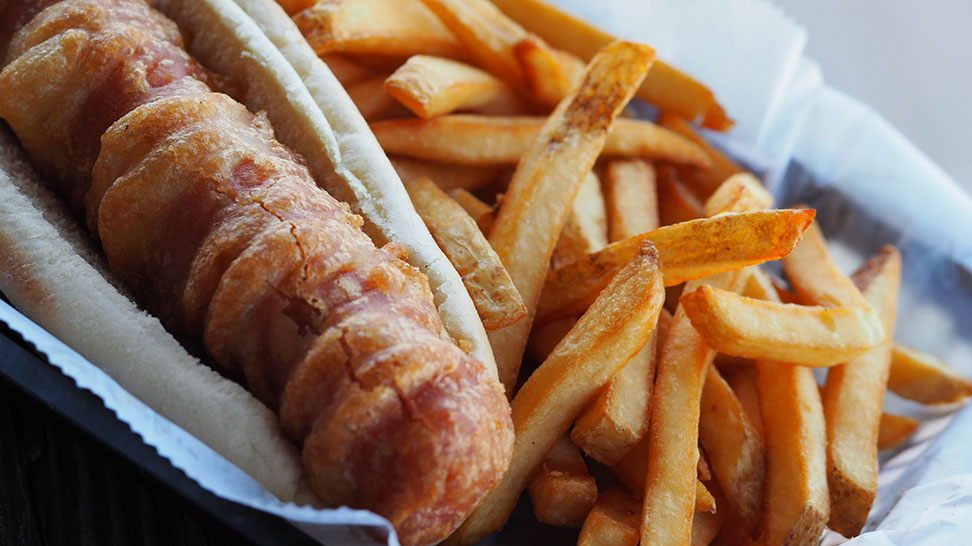 For You
Sitting al fresco with the salty air breezing by, it's a challenge to not take a deep breath and relax at the Old Salty Dog. Located directly on Sarasota Bay, it's a prime spot for a cool drink and fresh fish. The grouper sandwich is the go-to menu item, but don't discredit the rest of the menu. And if stone crabs are in season, stifle any hesitation – just go for it. Breakfast will also be offered soon.
For Them
Food served to children is in a Frisbee. Enough said. That disc will keep the little ones entertained for the duration of the meal and onto the beach afterwards. Watch the pelicans dive, search the waves for dolphins and manatees, and giggle at the schools of fish congregating on the pilings. Marine Max next door docks boats; watching them maneuver the fork lifts never fails to distract hangry toddlers. For hot dog lovers, the "Salty Dog" gives a twist to an old classic. Kids meals also come with Oreos.
Insider Tip
Old Salty Dog has two locations: one in the Siesta Key Village and one on Lido Key across the street from Mote Marine Aquarium. If time allows, make a day of the two. Ken Thompson Park, about a quarter of a mile further down, offers a playground, nature trails, and stunning views.
Columbia Restaurant
For You
Columbia Restaurant, a St. Armand's staple, serves outstanding paella, sangria, and their signature 1905 Salad. Tapas, seafood, and fun facts abound on the fourteen-page menu of Cuban deliciousnesses. It's the perfect break from the strolling and shopping around the Circle. Great people watching and décor to admire.
For Them
Within moments of sitting, each guest receives his/her own loaf of Cuban bread with an abundance of butter. It's so quick and so delicious, any hangry diner is immediately pacified. The chatter of customers at Columbia is loud enough to stifle the sounds of any tantrums, silly voices, or whines, which makes for happy kids and happy parents.
Insider Tip
Ask the hostess to purchase the bread, even if you aren't a Columbia diner. For under $5, you can take home your own loaf of the good stuff, heated up by them or by you later. Salad dressing, cigars, and more are sold, as well.
Mandeville Beer Garden
For You
Over 180 options of craft beer from which to select. Don't be intimidated; the kind and knowledgeable staff is helpful as can be with your selections. Watch the game or admire the amazing modern-industrial décor. Indoor and outdoor options make it a win-win. Extensive menu spans from kale and quinoa salad to burgers and sausages. Ping pong, baggo (aka cornhole), and speakers with game updates make the outdoor garden feel like your coolest backyard hangout.
For Them
Sandbox and great climbing tree to enjoy with new friends while noshing on a spiral hotdog (always better than a basic straight one) and root beer float. Alphabet soup warms on those cool (-ish) Florida winter evenings. Show the grownups how to play ping pong or cornhole.
Insider Tip
Be sure to check their Facebook page for updates on food trucks and other fun visitors throughout each week.
Fins at Sharky's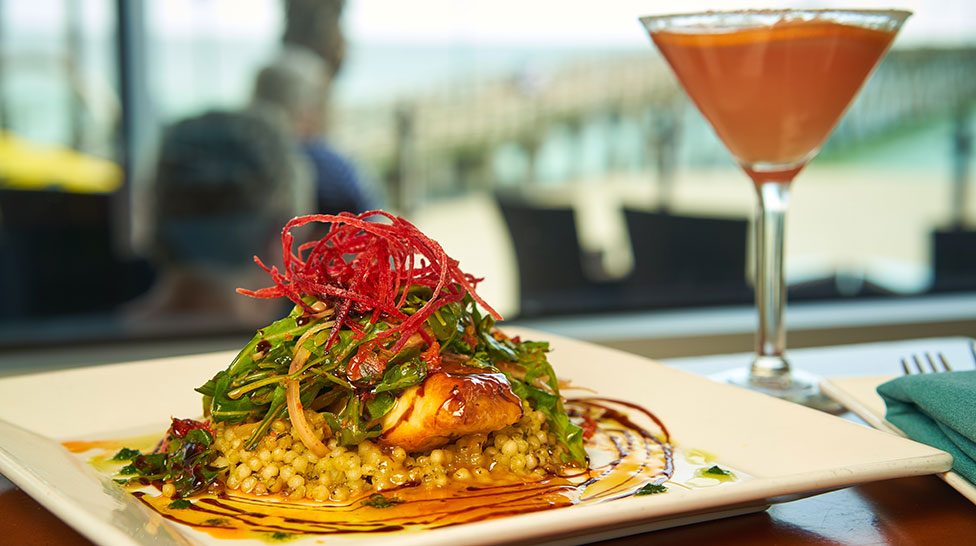 For You
Sun, sand and water. Fins at Sharky's is located smack dab on the Gulf of Mexico where you can enjoy gorgeous views. Pair an evening sunset with a tropical frozen drink and live music. The extensive menu provides award-winning seafood however you like from sandwiches, bowls, pastas and more!
For Them
Sand! The beach and famous Venice Fishing Pier is just steps away and the kids can build sandcastles safely within eyesight while you finish up dinner.
Insider Tip
Some of the delicious ingredients at Fins are locally sourced from nearby stores like Venice Olive Oil Company and Ciao Gelato.