Sarasota County's Botanical Gardens
Discover the wonderful, colorful botanical gardens of Sarasota County.
Lush, tropical and awe-inspiring, Sarasota's botanical and succulent gardens have been drawing spectators for decades.
The Sarasota Botanical Gardens
The Sarasota Botanical Gardens (a passion project of the Sarasota Garden Club) comprises more than an acre of land and 14 individual gardens. Visitors are encouraged to follow a connecting path through the property during self-guided walking tours.

An example of Florida-Friendly Landscaping (designated by the University of Florida's Institute of Food and Agricultural Sciences), the site features a garden design that supports environmentally healthy practices.

A kinetic wind sculpture greets incomers. Bordering the pond on the east side of the property is a stunning Japanese lantern, which was donated to the club in 1939 by Sarasota philanthropists Ralph and Ellen Caples. After being partially lost to the elements, the lantern was recently restored to its former elegance; it now acts as a beacon of the club's historical significance in the Sarasota community.

Recent additions to the property are the Dorothy Hopcraft Hibiscus Garden, the Cathy Fernandez Fern Garden, the Frankie Bretherick "Quiet Garden," and the Goodhart Shrub Garden. The Sarasota County Butterfly Club helps maintain the Catherine & Richard LaBrie Butterfly Garden.

From 8 to 11 a.m. each Friday, Garden Club volunteers can be found working on the site. The Botanical Gardens Committee is responsible for the maintenance of the gardens and the surrounding grounds.

Various events are held at the gardens in season, including the "Garden Fest" annual plant sale in September, the "Sarasota Architecture with Pizzazz" flower show in January, the "Tutta Bella" fashion show in February, and the "Gardens in Paradise" garden tour in March, as well as ongoing floral design classes and teas.
Marie Selby Botanical Gardens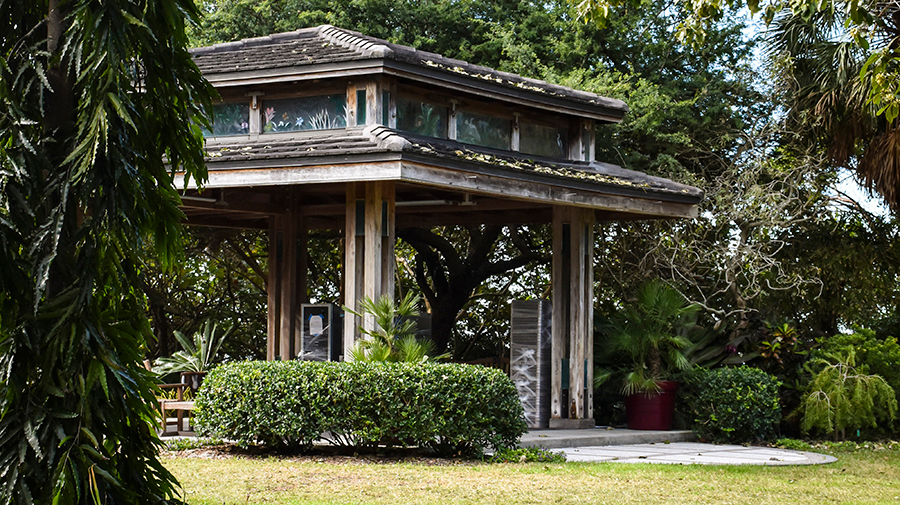 Nestled inside the former home of Sarasota donors William and Marie Selby, Marie Selby Botanical Gardens is horticultural haven for rare tropical plants. The site is also a leading plant conservatory, particularly for epiphytes (plants adapted to live in the tree canopy, including orchids, bromeliads, ferns and gesneriads).

Since 1973, scientists from Selby Gardens have ventured into some of the world's wildest places to study these unusual plants. The Sarasota property delights more than 140,000 visitors annually, and the grounds are open 364 days a year. Today, the property is double its original size, encompassing nearly 15 acres with 12 buildings (including eight greenhouses).

There is a tropical conservatory, a towering bamboo garden, banyan groves, a mangrove bay walk, a fern garden and a koi pond. The Ann Goldstein Children's Rainforest Garden, which opened in 2013, features interactive stations that allow families to explore rainforest plants and habitats.

The property maintains a plant collection representing thousands of specimens collected from New World tropic locations. There are art exhibits, garden music series and holiday gatherings onsite throughout the year.
Sarasota Succulent Society
Sixty-five years ago, a horticultural revolutionary named Walter G. Sparkman helped launch the Sarasota Succulent Society. He and a group of plant enthusiasts who studied at his 38th Street creek-side home wanted to create a retreat for succulent plants (species that retain water in arid climates, such as cacti and aloe).

Sparkman built individual gardens in his yard and filled them with succulent plants from around the world, which he watched carefully to see if they would thrive in Sarasota. They did, and the property grew wild with greenery.

Classes, tours, sales and other educational opportunities were soon offered at Sparkman's historical, Depression-era home. The property runs from 38th Street south to Myrtle Street and extends from Cocoanut Avenue east to the drainage canal.

Live oaks dating back 200 years, as well as several types of palm trees, a Royal Poinciana tree, a Cecropia tree, a Silk Floss tree and a Frangipani tree, are still onsite. Sparkman also cultivated lilies and a butterfly garden.

Sarasota Succulent Society events include the annual Labor Day, Mother's Day, Memorial Day and Presidents' Day sales. There are also casual sales from 9 a.m. to noon every Monday and on the third Saturday of each month.