Radishes and Butter Make a Delicious Duo
Not only do radishes and butter go well together, but enjoying circular foods (like radishes) around the New Year is a great way to ensure luck in the months ahead!
Radishes. They're not only low in calories and fat, they're also packed with Vitamin C, magnesium, calcium, potassium, folic acid and B-Vitamins, which means they're good for things like weight loss, cardiovascular health, reducing blood pressure, promoting digestion, and keeping us hydrated.
In terms of flavor, it seems folks either love them or hate them, which might have something to do with their peppery 'bite' that can be a bit strong. So how can one offset this peppery flavor? Try preparing them in a dish long considered comfort-food in France. The French have figured out that the best way to remove some of that bite is to combine them with sweet butter and salt. The radishes are served whole with bowls of salt and soft butter, and folks simply dip those radishes in the butter, top them with salt then pop them in their mouths.
But if you're not one to pop a whole radish into your mouth, an option is to make crostini with flavored butter. Simply toast crusty bread slices, spread on butter mixed with lemon zest and fresh herbs, then top them with thinly sliced radishes and a sprinkle of flaky salt. These little treats are yummy, and quite addictive, and you won't even notice the so-called 'heat' of the radishes.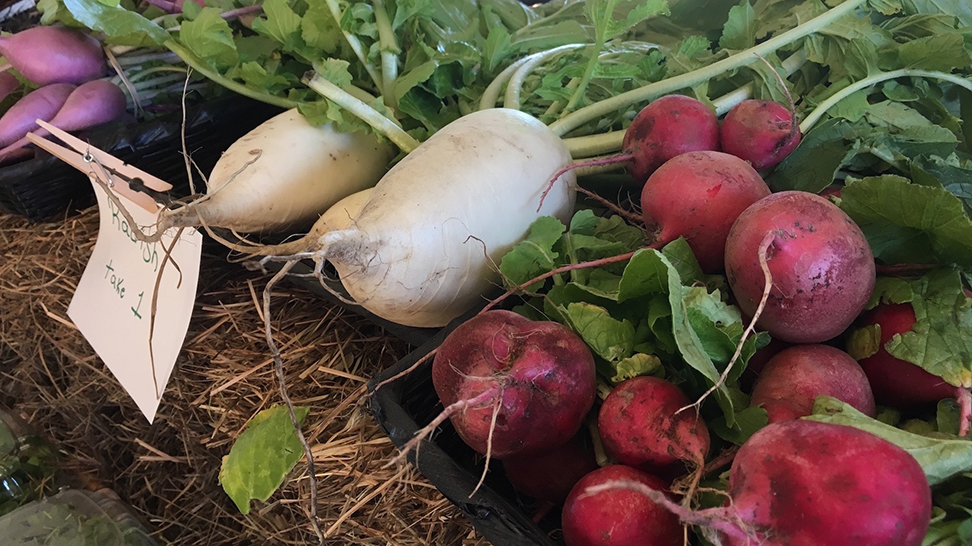 Radishes are now in season and you can find them at one of the busy farmers markets this time of year: Phillippi Farmhouse Market, Central Sarasota Farmers Market, Englewood Farmers Market, or the Sarasota Farmers Market, Venice Farmers Market or Siesta Key Farmers Market.
For tasty bread, try C'est La Vie on Main Street, Croissant and Co. on Venice Avenue in Venice, Jim's Small Batch Bakery on Gulf Gate Drive, Rendez-Vouz Bakery on Clark Road, or K&K Bakery in North Port. And if you can get your hands on some Dakin Dairy Farm's butter, you'll be in heaven. As for salt, try one of the specialty stores in the area, like Morton's Gourmet Market on Osprey Avenue or The Spice & Tea Exchange on St. Armand's.
Radish Crostini with Herb Butter
Herb Butter:
½ stick unsalted butter at room temperature
1 tsp. minced fresh parsley
1 tsp. minced fresh chives
Zest of ½ lemon
Pinch kosher salt and a grinds fresh black pepper
Crostini:
1 small/medium baguette (enough for 6-8 slices)
5 or 6 radishes, any variety
Flaky salt (e.g. Sea Salt, Maldon, Fleur de Sel)
Minced chives or parsley for garnish (optional)
Instructions:
1) Heat oven to 350 degrees.
2) In a small bowl, stir together ingredients for Herb Butter; set aside.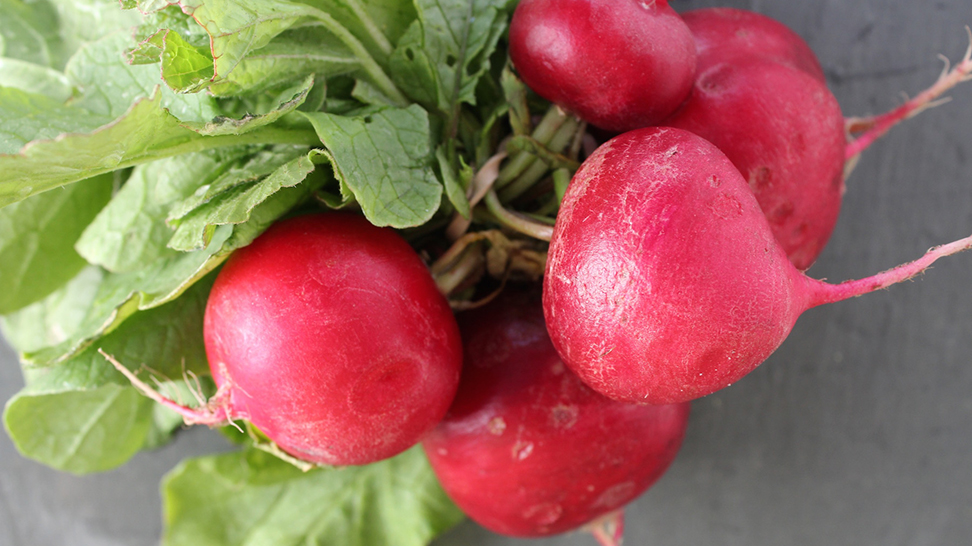 3) Wash and dry radishes then remove stem ends. Finely slice each, using a mandoline or a sharp chef's knife that allows you to create very thin, uniform slices. Place them in a bowl of water with ice cubes to keep them crispy.
4) Slice the bread into 1" thick pieces; place on a baking sheet and bake 5-8 minutes until toasty, but not too brown, then remove and cool.
5) Spread some butter on each piece of bread, add a few radish slices and a sprinkle of salt. Top with minced herbs, if desired.
###
Nicole Coudal is a writer and home-chef based in southwest Florida, where she fishes and cooks using local ingredients. When not on the water, she visits farms, farmer's markets, and other food-related venues to highlight what's in-season and to create tasty recipes. Read more at www.MyDeliciousBlog.com.