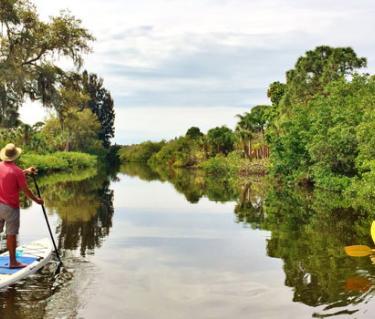 A Peaceful Paddle
Explore the hidden world of Venice by taking an adventure down the road waterway less traveled, Alligator Creek
My morning was rushed. It was earlier than I'm usually moving on a Sunday morning. And in the twenty minutes before my mother in law arrived to babysit, I needed to make and pick up breakfast, get the kids dressed, beds made, lunches prepped. It looked like a thunderstorm so do I pack a raincoat? It might clear up. Maybe I need sunscreen. Did I have enough water? Does the camera have batteries and memory space? Do we have the address? The hubs and I were off on a SUP (stand up paddleboard) adventure and I woke up not feeling it. I wanted to lay around in my jammies and drink coffee. Little things were stressing me out for no reason. I mean, does my mother in law really care if the beds are made? Not at all. But my shoulders were slowly creeping towards my ears and I that knot in my left shoulder was tensing up. We drove the twenty minutes south to Venice and as we began our trek, I felt it. My shoulders fell, my breathing slowed, and I was in the Zen zone.
A Hidden Gem
Alligator Creek is a hidden gem. In my ten years of living in Sarasota, I had never heard of it, let alone ventured upon its waters. But that Sunday morning the clouds cleared, the sun came out, and I fell in love. Not only with the beautiful waters and abundant nature, but also with the effect it has on those who succumb to its calming embrace. It's like being hugged by a giant nature teddy bear. Those mundane worries and stresses I had a mere 45 minutes earlier seemed mundane and silly. And instead of worrying and over-thinking things, I paddled. I paddled amongst untouched nature and immersed myself in a hidden world few people know about but all people should experience.
How To Get There, and Get Gear
To get to Alligator Creek, we parked at the South Venice Beach Ferry and Boat Ramp, which is also home of the Venice Beach Ferry, definitely worth a try. Hubs and I brought our paddleboards and our co-adventurer brought his kayak; if you're visiting the area, both are available for rent through SUP Englewood, Silent Sports Outfitters and Island Jet Ski Tours and Rentals. Down the Intercostal to the right a smidge is the entrance to Alligator Creek.
A Multi-faceted Wonderland
Once in its parameters, the current subsides and you're immersed in a calm wonderland where mangroves and ferns surround you, snook dart in the waters in front of you, and the air is so quiet you can hear miniature bait fish jump. Little secret lagoons and side canals give a sense of exploration and seclusion. If you're directionally-challenged like I am, fear not - the layout eliminates all possibility of getting lost and being forced to live a life amongst turtles, ibis, and snook nurseries. Actually, that would be quite lovely.
As the Creek progresses, the environment slowly evolves. The flora and fauna change and it's like being in a whole new location. Now you're in the Everglades. Now you're in the tropics. Now it's wetlands. But it's all Florida. Real Florida. With its indigenous plants and unique critters. And it's all yours to hold as it embraces you.
Sparse People-Sightings
In our four-hour adventure, we encountered people only three times, which I think is pretty rare and pretty great. The first was a lovely lady raking her back yard who, upon seeing us kindly smiled and said "good morning" before resuming her work. There was a couple going for a Sunday morning walk along the trail that runs parallel to part of the Creek; they paused and joked about me falling in. And, lastly, a man taking his puppy for an inaugural canoe ride. Each was pleasant; each was serene; each was quiet; each seemed to be simply enjoying the slow calm emitting from the water and allowing it to seep into their souls. It was unbelievably refreshing and completely contagious.
Little Paradise
Our fellow adventurer called Alligator Creek a "little paradise … full of life." And that sums it up. I found myself paddling along, listening to the sounds of mullet jumping and herons calling, and my mind, instead of looping grocery lists and worries, singing Simon & Garfunkel, "Slow down, you move too fast, you've got to make the morning last…."