Overnight outdoor indulgence in Venice
Venice fantasies often entail the soft sand of Casey Key and searching for shark teeth at Caspersen Beach, but outdoor lovers may want to considering some alternative activities as the area is rife with fun nature experiences.
When you dream of Venice, you may fantasize about sinking your toes into the soft sand of Casey Key and hunting sharks' teeth at Caspersen beach. While these are certainly some of the best outdoor activities to be had -- spending a week snoozing in the sand could leave your outdoorsy, adventure-loving side unfulfilled.
Don't think you have an outdoorsy side? You're probably what I like to call 'a beautiful-weather addict'. You don't want to go back to the hotel room, because it's too nice outside. Well, you don't have to; here in Venice you can feed your beautiful weather addiction all day and night.
The Hardcore Can Sleep Outdoors
Oscar Scherer State Park offers tent camping with water and electric hookups. Cook your dinner outside on one of their grills and gather around the picnic tables for an outdoor feast. The state park has over 15 miles of trails for biking and hiking, a nature center, and a variety of wildlife including the Florida Scrub-Jay, bald eagles, gopher tortoises, bobcats, and alligators.
If you're looking for more water-based activities, you can fish, snorkel, and even take a guided canoe tour of Lake Osprey, the freshwater lake inside Oscar Scherer.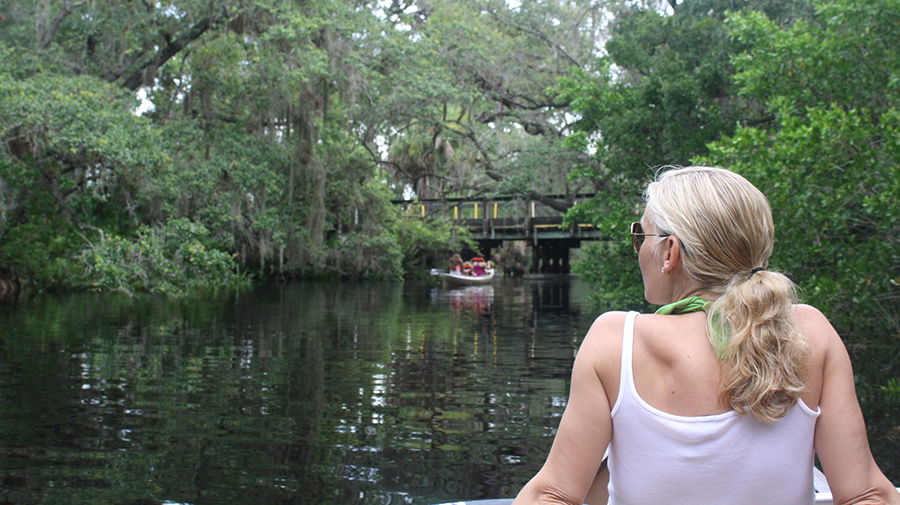 Sleep Inside in the Great Outdoors
If you restrict sleeping on the ground to the beach, tent camping may not be for you. Luckily, there are plenty of opportunities around town to go to bed feeling like you're outside while tucked into a cozy bed.
RV owners can find a place to park their homes in Oscar Scherer Park or they may choose one of many other RV spots around town.
Venice/Myakka River Resort welcomes "big rigs." Nestled in next to the Myakka River, this campsite is called a resort for a reason. With 30- and 50-amp hookups, free Wi-Fi, picnic tables, cable TV, and patio slabs, you'll feel like you're home.
Don't own an RV, but still want a bed?
Up the road from the Myakka River Resort is Camp Venice. At Camp Venice, you can rent a space for your tent or RV or you can rent a whole cabin. Their basic sleeping cabins feature a bed, electrical outlets, lights, air and heat. Bring your own linens and cooking arrangements. Leave your cabin in the morning and rent a canoe on the Myakka River.
Whether you decide on Myakka River Resort or Camp Venice, be sure to head over to Deer Prairie Creek for a horseback ride. Deer Prairie lies between the two campsites and is just a ten-minute drive from either one.
Choose Your Own Adventure
Sleep in the sand. Grill in the great outdoors. You can do it all in Venice. Which adventure inspires your inner outdoorsman?