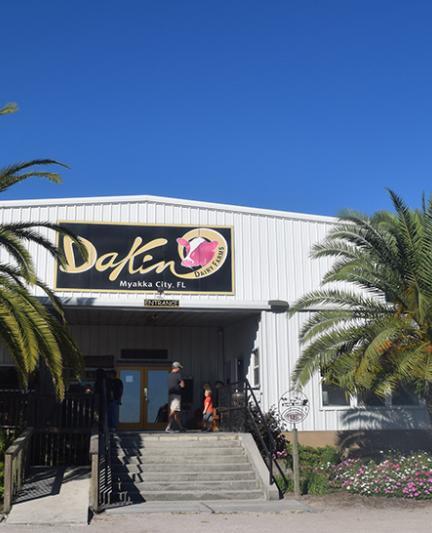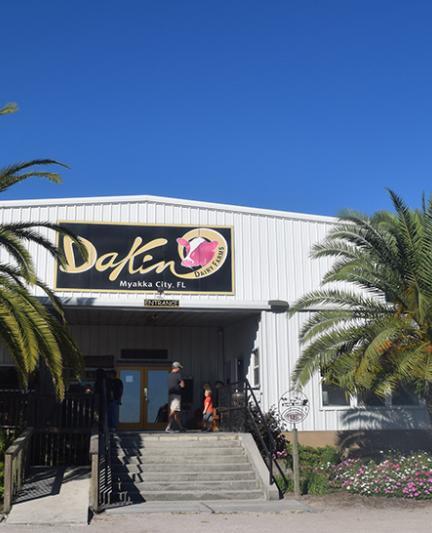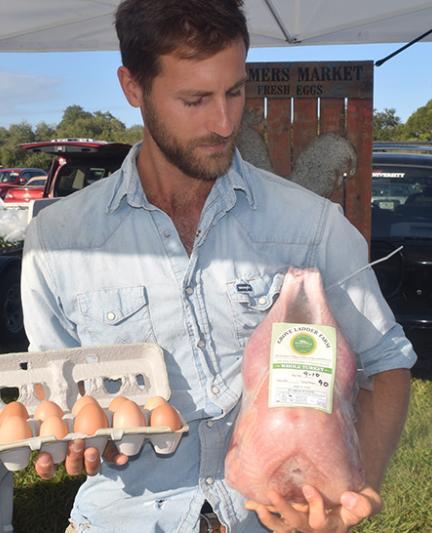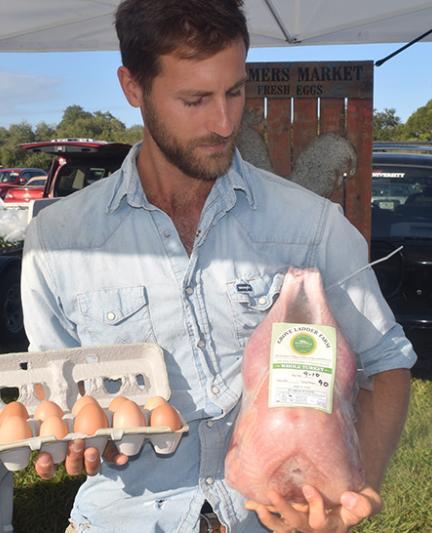 Fresh Sarasota milk, cheese, eggs, and chicken at local farms
Load up for your next meal at Dakin Dairy Farm and Grove Ladder Farm.
Food that's fresh from a farm makes all the difference in taste—and two Sarasota area farms make it easier to whip up memorable meals full of flavor.
Dakin Dairy Farms in Myakka City produces milk, cheese, and butter available at several locations throughout Southwest Florida; it's also a family-friendly destination that offers tours.
Grove Ladder Farm produces eggs and chickens (and even turkeys around Thanksgiving).
Here's a little more background on the two farms—and why you'll want to add their tasty products to your next meal.
Dairy Fun at Dakin
Take a scenic drive down State Road 70 until you reach Dakin Dairy Farm, where you and your family or friends can take a tour, have a picnic, feed the goats, dig for fossils, or just take in the scenic country views.
During one visit, the tour guide told visitors that Dakin is the only dairy farm in Florida open to the public that both produces and bottles its milk on site. Dakin's products have a great flavor and extra health benefits because its cows are grass-fed—that means it provides more vitamins D and E as well as more healthy fats.
Tour takers get to see how Dakin milks 70 cows at a time with modern machinery. The farm produces 60,000 to 70,000 gallons of milk a week among 4,000 cows! (2,400 are used for milking at any given time.)
Dakin also ventured into the cheese-making business with ambitions to produce cheese curds, cheddar, and mozzarella and more.
Tour takers also get an old-fashioned hayride, during which they're asked to "moooove the tractor" to get the hayride going. The hayride gives a view of Dakin's 1,000 acres and more cows. Next up are the baby pigs and calves; you can volunteer to feed the calves with large milk bottles, or you can help motivate the pigs for the pig races. Even adults giggle like kids as they take pictures and watch the calves get fed or the pigs move around the track.
After the tour, take a break to look around the farm store and pick up Dakin products (including chocolate milk, yum) or buy items for a picnic. Kids can dig for fossils, swing on a tire, take part in the corn maze seasonally, or watch and feed the playful goats. The farm is available for birthday parties and special events.
Dakin milk is sold at Whole Foods Markets in Florida, Detwilers in the Sarasota area, local Fresh Markets, some Winn Dixie markets in Sarasota, Brown's Grove, and other small markets.
Dakin Dairy Farms is open for tours from October to the first weekend in June; the farm market is open year-round.
Fresh Chickens, Eggs Abound at Grove Ladder
Fresh eggs add a special touch to breakfast dishes, not to mention other baking and cooking creations. If you can add locally-grown chicken to the mix, you've hit the food jackpot. Grove Ladder Farm, located on 10 acres, has continued to grow over the past couple of years. It now raises a few hundred broilers a month and has about 700 egg-laying chickens. Chickens have open space to roam free during the day, says owner Tim Clarkson.
Clarkson, along with his wife Chelsea and their three young daughters, make the rounds at the Phillippi Farmhouse Market on Wednesdays and at the Downtown Sarasota Farmers Market on Saturdays. Clarkson sells chickens in three sizes, ranging from under 2 lbs. to 3 to 4 lbs. He also has turkeys available around Thanksgiving. In 2015, he prepared about two dozen turkeys; in 2016, he ramped up production to around 100, as demand increases.
In fact, the interest in Grove Ladder products continues to flourish.
"There's a huge draw for clean, local meat," Clarkson says.
Part of the interest is the taste difference. Eggs from the supermarket can be several weeks old or more, Clarkson said. His eggs are usually two to three days old, and there's more nutritional value. That's because his chickens have access to the outdoors and consume fresh grass and non-GMO, soy-free grain, which adds to their nutrition. Clarkson also moves the chickens around regularly so they have fresh pasture. "They're free to act like a chicken should," he says.
Several restaurants also buy products from Grove Ladder, including Lila SRQ, State Street Eating House + Cocktails and Buttermilk Handcrafted Food, all located in Sarasota.
You can buy Grove Ladder products at Phillippi Farmhouse Market, Downtown Sarasota Farmers Market, and online. Grove Ladder also has several pickup locations for orders around Sarasota.