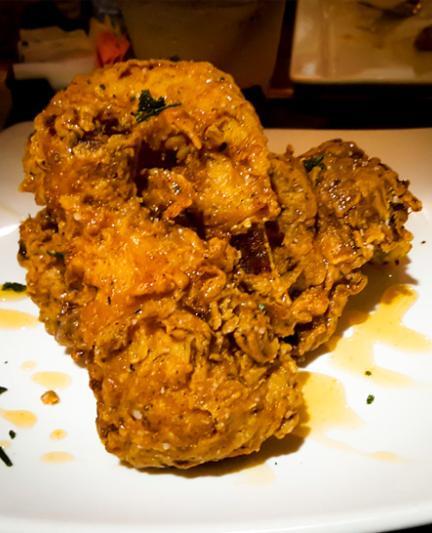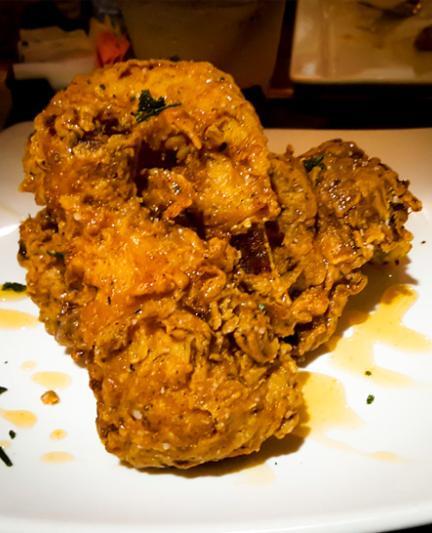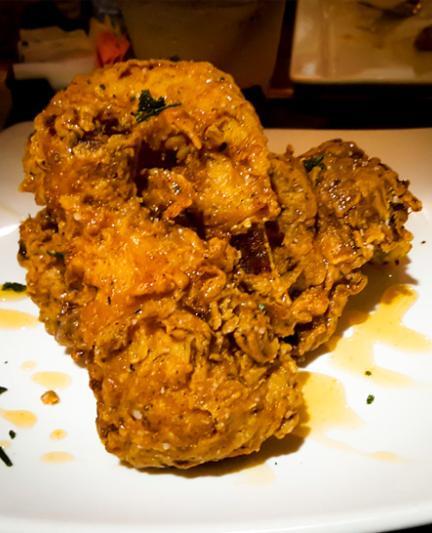 A fresh date night around downtown Sarasota
Try these fresh and local date-night dinners in the city of Sarasota
For my date nights, I'm always looking for an intimate place that not only has amazing food, but food that I can't cook at home. And when visiting somewhere, it's always nice to support local business and try local fare; the spirit of the region shines through the food and the people who prepare it with knowledge and love. Sarasota boasts many amazing restaurants that fulfil this criteria.
Far and away, the best meal I have had in Sarasota, perhaps ever, came from this unassuming restaurant on Main Street. You have surely passed it numerous times without realizing its existence; it boasts no sign and typically looks closed down.
Open late (6 p.m. to 2 a.m.) and allowing no children under the age of twelve, meLange does not need to encourage patrons; the food does that on its own. The establishment boasts a standard menu but I highly recommend the tasting menu. Courses upon courses (and wine if you so choose) served family style in perfect portions arrive in perfect timing. You need not make any decisions, simply tell them in you have any allergies or dietary restrictions and they will surprise you with a dining experience I expect from Top Chef or New York City. Actually, I was just in NYC and this is better.
Note: meLange is undergoing renovations and will reopen in October 2015.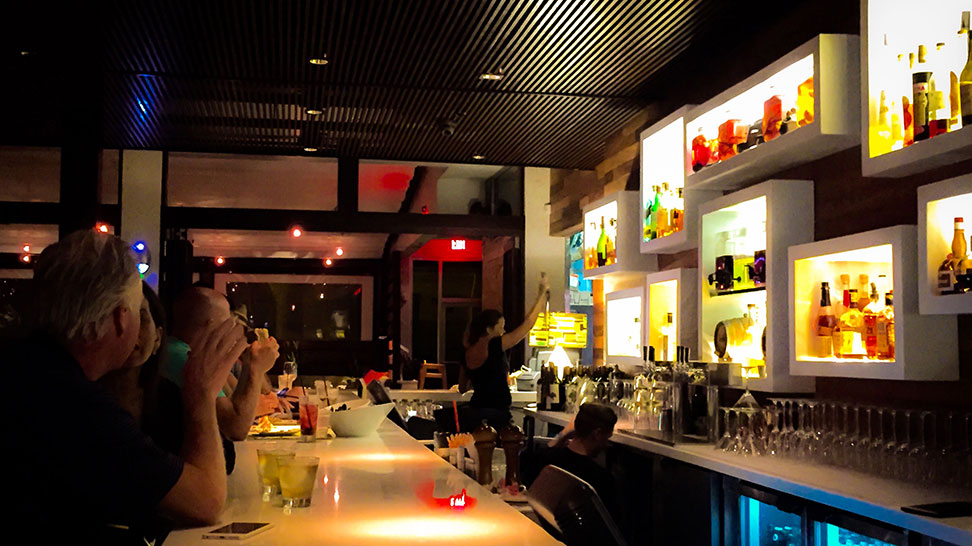 Social on First is one of the newer and trendier restaurants in Sarasota and its modern décor attracts a similar crowd. Leave your Hawaiian print shirt at home and gussy up a little.
Social has two bars, one indoors and one outdoors, though I prefer the outdoor lounge. Here you can relax on white fluffy sofas while the open sky illumines above you and enjoy one of their many craft cocktails or a glass of wine, people watching and chit chatting to your hearts content.
But don't be fooled by the sparkly clothes and sleek décor – Social on First is not stuffy. Quite the contrary. They manage to toe the line between modern and whimsical, with a menu that features a whole section dedicated to meatballs. You read that right. Meatballs. There's also fish, salads, pizza, mac and cheese, food to share, food not to share. All ethically and beautifully crafted for your dining and optical enjoyment.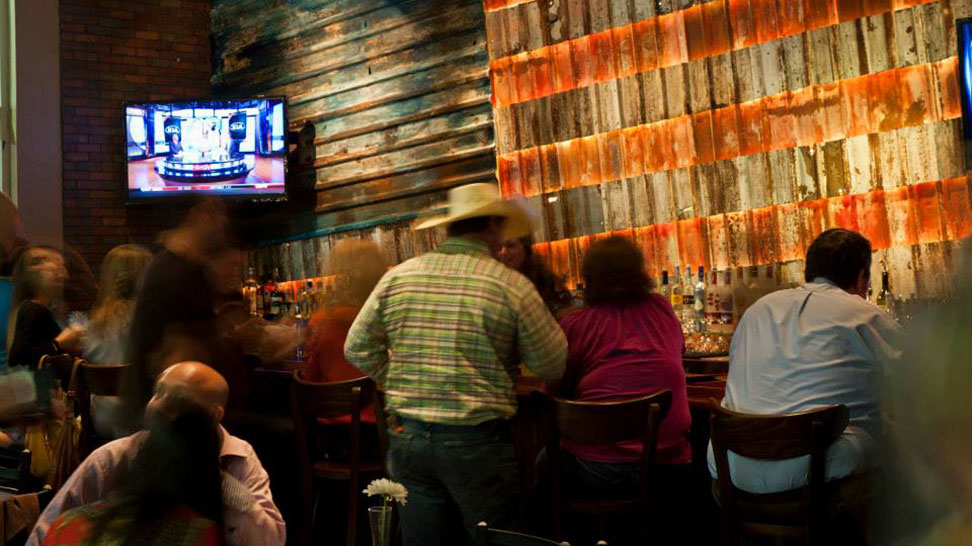 Made is the date night go-to when you want to eat somewhere nicer but still casual and eat amazing food. Located on the corner of Main Street and 301, across the street from the Regal Movie Theatre, Made is all about good food and having fun.
The staff are kind and friendly and tend to make you feel like you might be friends with them at the end of the evening. My husband is a fan of their cocktail menu – the incredible staff will gladly help you choose the perfect one – and pretty much everything they cook, from the puffy tacos to the fried chicken, the meatloaf to the brown butter and billionaire bacon brussels sprouts.
I always get the same thing, simply because it is so amazingly delicious that I have had dreams about it and need to go back and get more – the duck club. This award-winning sandwich features bacon, duck, brie, lettuce, and tomato, though I have them change mine to a fried green tomato, a wish they are always kindly happy to accommodate. Because that's what they're like at Made. Just plain nice and happy to serve you amazingly good food.
When an evening on St. Armand's is on the horizon, choosing where to dine can be a daunting task as there is a myriad of options, far more than in most areas of this size. But the beauty of Shore is not only in its impeccable décor or extensive menu, but that it somehow makes the diners feel as though they are away from the hustle and bustle of the shopping crowds of St. Armand's Circle and in a more intimate setting, although they are in the midst of tourist heaven.
Perhaps it's the upstairs location or the clever plant walls adorning the restaurant, but even sitting outside on their modern patio, you feel away yet still outside in the salty Florida air. Organic and local are words frequented on the menu and, like the décor, the menu is cool yet comfortable. From cauliflower 'steak' to Caesar kale salad, fried banh mi oysters (my personal favorite) to burgers with bacon jam, Shore Diner delivers just what you want on vacation – a little different from the usual, in the best possible way.
In a small neighborhood a few blocks south of Main Street, amongst Spanish moss-draped trees and quiet streets lies the Towels Court neighborhood. A community of art shops and galleries, the vibe is consistent – local, handmade, creative.
Indigenous, located within embodies these elements. Indigenous is well known amongst us locals for its seasonal, creative cuisine. Winner of the Golden Spoon Award and two-time James Beard Foundation Award for Excellence semifinalist, their creative use of ingredients in delicious manners is mind blowing. Outdoor seating, if available, takes full advantage of the quiet neighborhood and surrounding nature. Menu items such as Plentiful and Abundant Fish and Something from the Gardens demonstrate that the menu changes consistently based on what is available in the area and season. So not only can you know your food is fresh and eco-conscious, but that you can visit Indigenous every day of your vacation, always order the same thing, and never eat the same thing twice. And, hey, you're on vacation, go for it.