A Finger Lickin' Good Time: Suncoast BBQ & Bluegrass Bash
The Suncoast BBQ Bash is an annual fundraiser on the Suncoast Foundation for Handicapped Children, Inc. (SFHC). This two-day festival in Venice, Fla. is home to professional pitmasters and award-winning musicians.
How much would you pay to go to a festival with offering world-class barbecue, nationally recognized musicians, a boatload of family-friendly activities and more?
How about nothing?
The Suncoast BBQ and Bluegrass Bash runs March 27-28 at the Venice Airport Festival Grounds and features free admission (with free parking). It's served as the location of multiple BBQ state championships, but its the visitors who get the real prize of sampling some of the best smoked meats these professional pitmasters have to offer.
"A little hope and dream"
"We started with a little hope and dream of building a major event in the Sarasota County community to focus on basically to American traditions, barbecuing and bluegrass music," says Don Fisher, founder of Suncoast BBQ & Bluegrass Bash.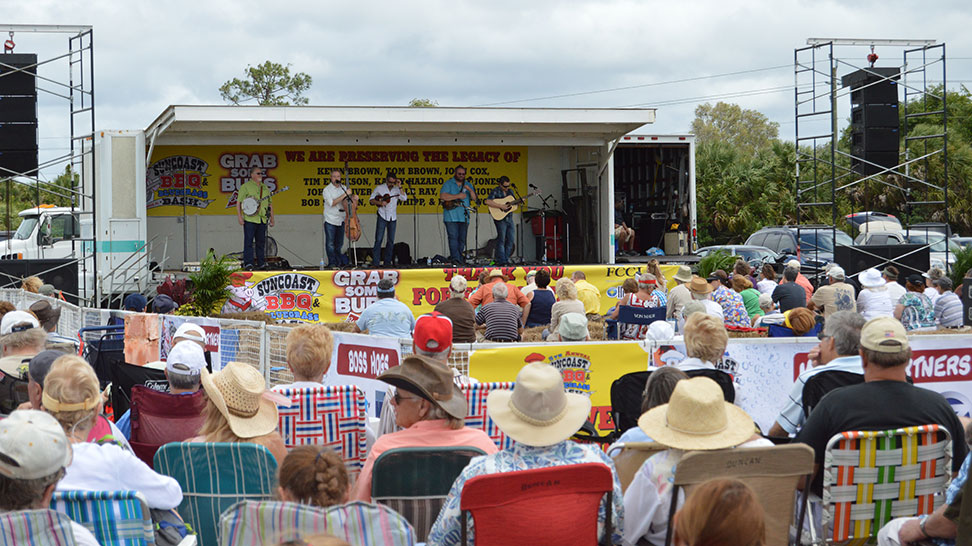 About the Festival
The BBQ contest consists of four categories: chicken, ribs, pork and beef brisket and stands out for allowing the public to buy samples of the competitive cooking throughout! More than 50 teams sign up for the opportunity to compete in the Florida BBQ Association sanctioned event, which is also a qualifier for the Jack Daniels, Smithfield National Championships and The American Royal World championships. The Florida BBQ Association sanctioned contest is also the largest in Southwest Florida and one of the few that allows members of the public to sample the submissions!
More than Barbecue and Bluegrass
Amidst the delicious barbecue and afternoon of bluegrass music, there's much more.
The festival will include family-friendly activities such as a kid's park with face painting, a bouncy house, games, and outdoor living education exhibits.
Last but not least, be part of the fun with the kick-off party featuring craft beers, a sporting clays contest, a cornhole tournament, and a chili cook-off.
View the Video, Learn More
Check out suncoastbbqbash.com for more information and view our video below for a preview from some of this year's contestants.