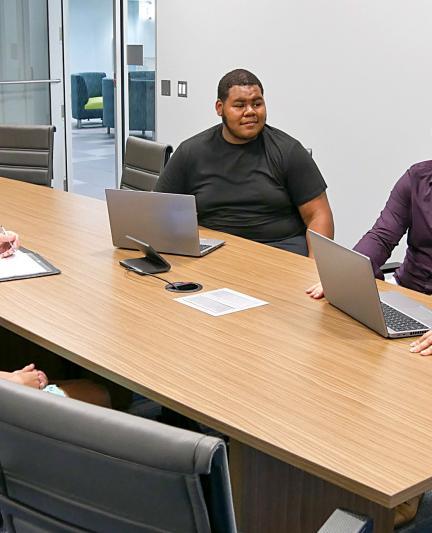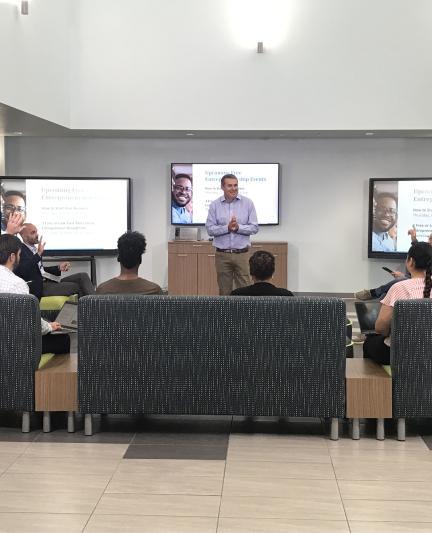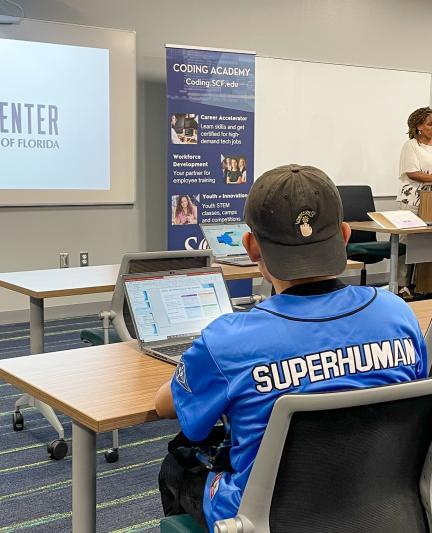 Where to Work – and More – Away from Home in the Sarasota Area
Visitors and residents alike can work, collaborate, network and learn at two local facilities.
Today's work environment looks a lot different than it did before 2020. We're taking care of business from wherever we are, not just in our corporate headquarters office or cubicle. While some of us still enjoy conducting meetings and crunching numbers at home in our pajamas, others are ready to get out of the house again. Luckily, two local facilities offer co-working space and many other opportunities under their roofs.
26 West Center
Newly opened in September 2021, 26 West Center at State College of Florida in Bradenton was designed as the reimagined next generation of higher education. While it does have programs for the college's students, its focus goes beyond the campus.
"This was really developed for our community," says the center's director, Kim Richmond, "We wanted a program that develops people, grows businesses and drives the local economy."
To that end, the 40,000-square-foot building houses six business services that are accessible to everyone, regardless of residency or enrollment in the college.
The Business Growth Lab is a co-working area with private offices that can be rented by the month. The fee includes mail service, fiber-optic internet and locked storage. It also has open desks and conference rooms.
Although 26 West Center supports businesses in all stages, from a blockchain startup to multimillion-dollar companies, two of its services appeal primarily to new businesses and hopeful employees. The Entrepreneurship Academy hosts affordable workshops and classes taught by entrepreneurs for entrepreneurs. Topics include digital marketing and how to build a website. The Personal Branding Lab will have its soft launch in July 2022 and aims to help people create their online professional presence, hone their resumes, prepare their portfolios and obtain headshots. Interactive networking workshops, mock interviews and one-on-one coaching will be available in the fall.
The Digital Collective, an all-encompassing marketing agency, can do everything from building websites to editing videos. The Coding Academy trains adults on cybersecurity, software development and similar topics, and it and holds summer camp for 6- to 16-year-olds.
A 2,000-square-foot Creative Studio enables businesses, nonprofits and organizations to livestream or record broadcast-quality video in front of a live audience of up to 35 guests. 26 West Center's onsite engineer and its state-of-the-art equipment can handle anything from split-screen feeds to on-screen graphics.
The facility also has several rooms of various sizes that can be rented by local organizations and businesses for meetings and trainings.
Longboat Key Chamber of Commerce
Longboat Key Chamber of Commerce has two workstations in their office that can be reserved by anyone for no charge. While the desks are not private – in fact, they're positioned next to each other – the chamber does have a boardroom that can accommodate small meetings behind closed doors. In addition, video conferencing can be set up on the large smart TV.
Whether you're here visiting family, you're fitting in a little business during vacation or you're a new resident to our area, you can take advantage of our area's welcoming and innovative work facilities.