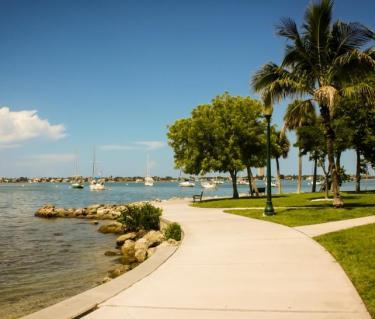 What to Do When You Are New vs. When You Are Local
Getting to know Sarasota County can seem daunting, but this guide is stuffed with fun Sarasota activities for the whole family
When you come to Sarasota County, there are a collection of activities you simply must do as soon as you get to town. Checking out our main attractions are part of the joy of exploring! As you continue your Sarasota journey you'll want to find our hidden gems as well, so that you can add them to your regular roster of super fun Sarasota activities. We've complied a list of how to live like a local whether your new or seasoned.
The Beach
Siesta Key when you're new, Lido or Longboat Key when you're a local
Everyone knows Sarasota has some of the greatest beaches in the world, and Siesta ranks number 1 year after year. When you're new you simply must visit the quartz, white sand beaches and take in the warm shallow water at Siesta. After you've settled in you'll want to explore some quieter spots, and we recommend the serene Gulf waters on Lido and Longboat Key.
Learn more about our beaches
Nature
Myakka River State Park when you're new, Historic Spanish Point when you're a local.
Looking to get out of town for a day outside? When you're new head straight to Myakka River State Park to see the river teeming with gators, miles of bicycle trails and beautiful Florida scrub. Once you've been here a while, head south to Osprey to Historic Spanish Point where the first Indigenous settlers of the area called home, and many years later Florida homesteaders. Remnants of the area's rich history abound in this local treasure.
Learn more about our natural areas
With the Kids
Bayfront Park when you're new, Payne Park when you're a local.
Shake out those afternoon ya-yas at the playground in Bayfront Park, right in the heart of downtown Sarasota. There is plenty of room in the vast green space to picnic with the family and enjoy the Bay view. Local favorite, Payne Park, is also located downtown, just a few blocks east and boasts the area's most impressive circus themed playground. It's also home to an epic skate park and relaxing Frisbee golf course.
Selby's Children's Rainforest Garden when you're new, Sarasota Jungle Gardens when you're a local.
Selby Gardens truly is fun for the whole family. When you're new to town take the kids to see the beautiful orchids and expansive grounds filled with tropical plants. The Rainforest Garden is nestled in the Banyon trees, creating a magical atmosphere for all ages. When you're ready to explore further, take the kids to North Sarasota for a fun filled day at Sarasota Jungle Gardens, where parrots can roller skate, and flamingoes eat right out of your hands.
Learn more about family fun
Shopping
The Mall at University Town Center when you're new, Southside Village when you're a local.
The Mall at University Town Center has any and everything you could ever want. Teeming with national shops like Anthropologie, Louis Vuitton, and Saks 5th Avenue, it's a fantastic one stop shop for everyone in your family. As you become more comfortable with navigating the city, pop over to Southside Village for some truly local finds inside its many unique boutiques, shops and restaurants.
Learn more about local shopping
Romantic Dining
Michael's on East when you're new, Euphemia Haye when you're a local.
Need a night out before you unpack one more box? Put on your best and head to Michael's on East to find out why everyone in town loves their service, food and ambience. For your next date night reserve a table at Euphemia Haye on Longboat Key and soak in the intimate setting and fabulous food.
Learn more about waterfront dining
The Best Cheeseburger
Mattison's City Grille when you're new, Hob Nob when you're a local.
Live music, outdoor dining, and killer cheeseburgers, Mattison's City Grille has everything a new resident could possibly want. For a decidedly different vibe while still sitting outdoors and eating the best burger around, head over to the Hob Nob - a vintage drive up restaurant with some of the best people watching in town.
Learn more about our dining scene
On the Water
LaBarge when you're new, Kayaking SRQ when you're a local.
Waste away in Margaritaville on the LaBarge, dancing barefoot in the sunset while cruising the bay in your new hometown. Be sure to snap a selfie to send back to your freezing friends up north. Once you gain your sea legs, drive out to South Lido and rent a kayak at Kayaking SRQ for a tour of Sarasota's mangrove tunnels, hours of canopied paddling and the perfect adventure on the weekend.
Learn more about our outdoor activities
For Groceries
Downtown Farmer's Market when you're new, Newtown Farmer's Market when you're a local.
Everyone loves a farmer's market, and Sarasota has several to choose from, many of which are hosted on different days of the week for your convenience. When you're new you'll definitely want to soak in the city sights while strolling the Downtown Farmer's Market on Saturdays. For a new take on an old classic stop by the Newtown Farmer's Market, located on the corner of Coconut and MLK for some of the tastiest treats around.
Learn more about our farmer's markets
The Arts
The Ringling when you're new, Sarasota Art Museum when you're a local.
One of the crown jewels of Sarasota County is the John and Mable Ringling Museum of Art, located in North Sarasota. The halls are replete with baroque art from the couple's private collection. Additionally you'll find an Asian Arts wing and the beloved Circus museum, which highlight's Ringling's entrepreneurial past and our Circus preservation future. You'll want to visit several times before you're able to see it all. Once you've exhausted every corner of the expansive grounds you'll want to venture to Sarasota Art Museum housed in a four-story historic schoolhouse. Our region's first museum dedicated to contemporary art, Sarasota Art Museum is sure to become your local favorite.
Asolo Repertory Theatre when you're new, West Coast Black Theatre Troupe when you're a local.
You'll swiftly learn that Sarasota is known for its vibrant cultural arts scene, and in terms of theatre we have tons of spots for you to check out. Start by catching a show at the Asolo Repertory Theatre, Florida's premier professional theatre. For your next show, celebrate the African American experience at the West Coast Black Theatre Troupe, where incredible performances will leave your jaw on the floor.