Unique Winter Experiences in Sarasota County
Looking for a blend of classic and off-the-beaten path Holiday happenings? Look no further than Florida's Gulf Coast®.
Winter in Sarasota is generally not a cold affair. Warmth is a result of the climate, though human good cheer is bountiful as well. We are, among other things, a beach destination after all.Rightfully so, our amazing collection of Winter events includes several outdoor offerings (including a few on the beach) where you can safely leave your jacket in your luggage – if you packed it at all.
Englewood Pioneer Days Festival and Parade Hurricane Reboot
Oct. 12 – Nov 3. at Pioneer Park on Dearborn Street in Englewood
The Pioneer Days Festival and Parade takes place in Englewood Florida, which is often rumored to be one of small-town Florida's best kept secrets, in terms of a hidden carefree slice of paradise. It's the kind of place to which writers and artists will often retreat to get their creative juices flowing in a private corner of sun-drenched beauty. And, this festival celebrates (on the down-low) this place's heritage as secret-paradise. There are several days' worth of events, and nearly all feature fun for the whole family, including car shows, history tours, an "Adult Shipwreck Dance Party," cardboard boat races (and other similarly family-oriented games and contests), food trucks, whiskey and beer garden, and even the "Largest Corvette Car Show in SW Florida." Learn More.
Sarasota Country Music Festival
Nov. 1-3 at JD Hamel Park in Sarasota
Let's just say that "Country" may not be a descriptive enough term for all the music and happenings at this festival. Bluegrass, Cajun, zydeco, and blues music are a few of the more specific descriptions of the musical styles that will be featured at the event, so don't expect to hear a sonic assemblage of the "usual suspects" topping pop country music's charts; expect something a bit more authentic (and varied!). There will also be delicious BBQ in between browsing the arts/crafts booths and other vendors' wares.
Sarasota Medieval Fair
Nov. 9-Dec. 1 at Robarts Arena in Sarasota
Huzzah! There are many ways to spend a day (or more) at the Medieval fair, as it's made up of incredibly entertaining sub-events from open to close. You can watch the fully-armored knights load up their lances and smaller armaments while they engage in lively jousting matches, which are always a great blend of athleticism, theatrics, and even comedy. Human chess is another favorite, with actors performing theatrical combat to bring each game's move to life to the great delight of all the spectators. Bawdy medieval-comedy troupes, acrobats, and musicians provide great fun and entertainment between the scheduled jousting matches as well.Between that and the breaks to pick up your turkey legs and horns of ale – there should hardly be a dull moment. Be sure to stop by the merchants for everything from realistically forged swords to leather period-garments. Learn more.
Siesta Key Crystal Classic
Nov. 15-18 at Siesta Key Public Beach in Siesta Key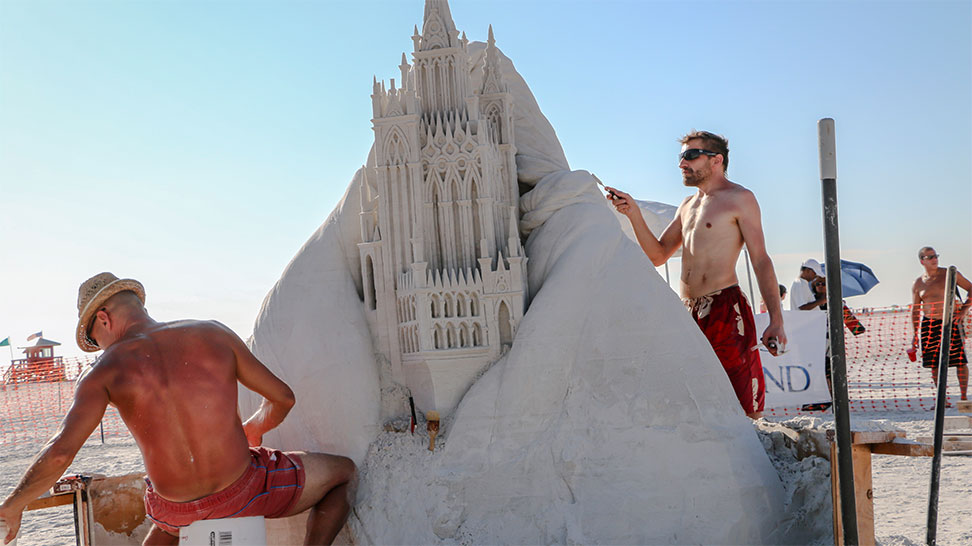 These are not your kids' sandcastles. For one thing, they are larger than life; often taller than the people who come to see the work. For another, these are stunning works of sculpture-art by gifted artists, made all the more precious by their impermanence. This competition draws the best of the best in this medium. Photos (while they may be a slightly less impermanent artifact) are not the same as an in-person experience of these incredible works. And since the sculptures are made from Siesta Beach's smooth, cool-to-the-touch, pristine crystal-quartz sand: the presentation is all the more beautiful and impressive; almost like marble statues. Learn More.
Chalk Festival
Nov. 15-18 at Venice Airport Festival Grounds in Venice
Like the Crystal Classic mentioned above, this is a festival that celebrates impermanent art. And while the sand sculptures at Crystal Classic present the illusion of marble statues popping up all over the beach, the depth of illusion in the Chalk Festival is quite different; many of the artists will render 3-D optical illusions in full color, such that visitors at certain angles will seem to behold scenes of strange people, places, and things erupting out of the pavement in vivid detail. The theme for this year's festival is "Garden of Wonders" which celebrates both nature and imagination, and these works of celebration will fade and dissolve away after the festival. Don't settle for the photos; experience the magic in person, from many angles! Learn more.
Siesta Beach Seafood & Music Festival
Dec. 6-8 at Siesta Key Public Beach in Siesta Key
Just what it says on the tin: it's a festival dedicated to seafood and music, but you should know that however much seafood you think there's going to be (and the level of variety), you should probably multiply that by a few factors. The line of vendors is never-ending, and you can smell the delicious waft offresh locally-sourced (and sustainable) Gulf Coast seafood immediately.…. It's not just seafood though; there are vegetarian and vegan options, as well as desserts; and of course, plenty of alcoholic and non-alcoholic beverages. The music spans several genres, from R&B to Jazz to Caribbean, and several musical stops in-between. It's very much a Floridian event, which this writer means as a compliment and point of pride. General admission is $5, VIP admission is $75. Learn more.
Poinsettia Parade & Festival
Dec. 7 at City Center Campus in North Port
North Port's holiday parade annually, where the flats are strewn with poinsettias and other holiday-themed decorations. Along with the vendors surrounding the parade, there will be musical aspects (local school choruses, others) and a tree-lighting ceremony. This year's parade will be in celebration of North Port's 60th Anniversary, so it should be a special celebration indeed. Learn more.
Lido Beach Holiday of the Arts
Dec. 7-8 at Lido Key Public Beach in Lido Key
Are you interested in authentic local hand-made arts and crafts by regional and national artists? For free? With a beautiful Lido Beach backdrop? You can peruse works across practically any conventional medium imaginable during this weekend art festival, with row upon row of exhibitions and pop-up shops to shop. The holidays will be right around the corner at this time, so this festival may also be an excellent opportunity to cover some of that almost-last-minute gift-gathering. Skip the retail-chain gift cards and go for something unique! You'll have more than a few options at this event. Learn more.
Sarasota Christmas Glow Run 5k
Dec. 7 at Nathan Benderson Park in Sarasota
The holidays are a time for good family, friends, cheer, celebration… and a lot of calories. Why not throw some of your fitness-activity quota in the same run? The course features holiday-themed music and lighting, and complimentary glow-products make for a visually-stimulating (and calorically-efficient) experience. Also, the event's website claims a "100% chance of pretty snowfall at the finish," though this author will not claim either to know what that means nor the authority to ruin the mystery waiting for the participant at the finish line. Learn more.
Venice Christmas Boat Parade
Dec. 7 at the Intracoastal Waterway in Venice
This parade has been put on annually since 1989 and has been open to new participants each year. The event celebrates both the Holiday season and Venice's beautiful waterways as boats festooned with lights form a nautical parade line stretches all the way from North Albee Road bridge to South along Casey Key Road. The lights on the boats at night create the illusion of Christmas lights ghosting above the water and ground levels, which should be seen rather than merely described. Learn more.
Lights in Bloom
Dec. 14-Jan 4, at Marie Selby Botanical Gardens in Sarasota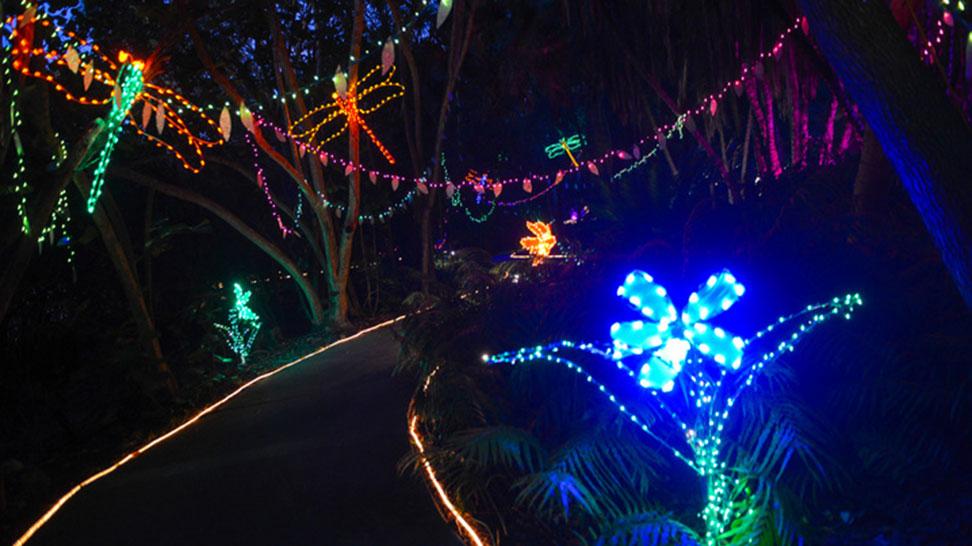 Marie Selby Botanical Gardens is already a gorgeous attraction, with fabulous plant-life grown by careful expert hands at every corner of the grounds. But during the holidays, the light installations make the landscape literally shine, and not just in stereotypically "holiday" color-palettes. They host holiday-themed activities and games for the whole family during the "Lights in Bloom" event, including visitations from Santa Claus! Also, there are absolutely delicious foods grilled by Michael's On East as well as a cash bar, so the event is truly a multi-sensory experience. Learn More.
New Year's Eve Block Party and Pineapple Drop
Dec. 31 at Main Street in Downtown Sarasota
Every NYE in Downtown Sarasota, the festivities are sweeter than the year before. Food, drinks, live music, and installations of amusement park rides take over several blocks of Main Street. Its surrounding intersections buzz as celebrants wait for the pineapple to drop as the new year to "drop" in. And then: fireworks! Good wishes, Auld Lang Syne, and cheer in every direction are all fairly predictable trappings of this block party. Learn More.