Tarpon Season: Silver Kings Are Here in Sarasota!
Look no further in Florida for awesome Tarpon fishing! These majestic game fish can be found right along our shoreline.
There are many species of game fish that anglers pursue along our coast, but one causes fisherman to go a little crazy during peak months of May, June and July. The fish make their annual migration from Chesapeake Bay through the Gulf of Mexico to gather in Boca Grande Pass before heading offshore to spawn, then moving to the Caribbean and places beyond.
Which fish is it? Tarpon. Megalops Atlanticus. "Silver Kings."
The "World's Oldest Tarpon Tournament"
We have a long history of Tarpon fishing, highlighted in 1929 when industrialist Powell Crosley Jr. visited Sarasota (at the invitation of Robert Ringling) and hooked his first fish. He even broadcast the first Sarasota Tarpon Tournament in 1930 putting us on the map for sport fishing. The Tournament is still a big part of our community, and 2019 marks its 89th continuous year of sanctioned competition, earning it the "World's Oldest Tarpon Tournament" moniker.
Over the years, the Sarasota Tarpon Tournament has been organized by many dedicated volunteers, and in 1990 it was even revitalized by local fishing entrepeneurs Dennis Hart, Aledia Tush and Jeffri Durrance. Volunteers continue the event's legacy, while supporting local charitable organizations like Suncoast Charities for Children. Aledia herself has won the tournament three times and her name, along with many others, is engraved on the historic silver trophy housed inside Sarasota County Historical Resources.
The Tournament also boasts a fun piece of history! In 1940, the planning committee held a beauty pageant, crowning a young gal its first "Tarpon Queen." It was a great marketing tool to promote the event, and in 1961 the Sarasota Chamber of Commerce even approved funding for a Tarpon Queen costume decorated with actual Tarpon scales! Over the years, the role of Tarpon Queen waned, but it was revived for the 80th year in 2010 by this very writer, outfitted with a brand new sash and crown, so the tradition lives on!
The Sarasota Tarpon Tournament wraps up in June, but even non-anglers may attend the awards ceremony for a nominal fee.
Try Tarpon Fishing in Sarasota county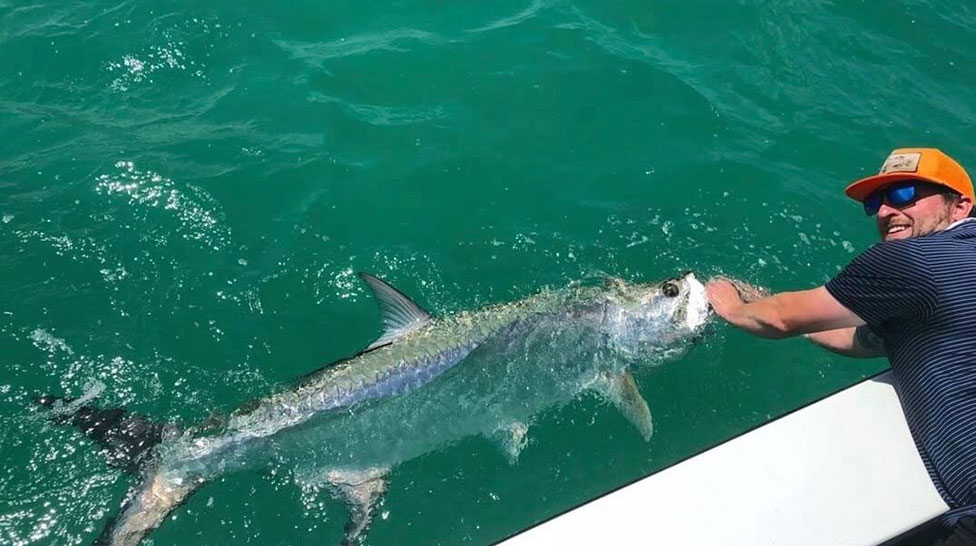 Some might be surprised to find you can experience incredible tarpon fishing right in Sarasota County. The fish are close to shore and accessible to anglers in a boat, kayak, canoe, or simply standing in the sand.
If you'd like to try Tarpon fishing, there are lots of professional guides to help. A few places to check out are: CB's Saltwater Outfitters, New Pass Grill and Bait Shop and Stump Pass Marina.
When it's quiet, you can hear the fish moving and when the sun hits the tips of their dorsal fins as they roll across the surface, adrenaline kicks in. But seeing fish is one thing; getting it to take your bait is a whole other story!
Tarpon have been around since prehistoric times. They can grow to 8 feet long, weigh almost 300 pounds, and their silver scales are a sight to behold, especially when struck by the sun. With their strength and stamina, they provide a challenge to anglers lucky enough to hook them, and their favorite technique to "throw a hook" is leaping completely out of the water and thrashing on the surface — a breathtaking sight. When it happens, anglers "bow to the king" by offering slack so the fish doesn't snap the line. The sport requires a keen eye, strength, a sturdy rod, feisty bait, and LOTS of patience. It's catch-and-release fishing at its finest, filled with opportunities to praise - and curse - the fish.
The fishery is managed by the Florida Fish & Wildlife Conservation Commission (FWC), which establishes catch-and-release rules for Tarpon and other species. There's a lot we know about Tarpon, but a lot we don't, which is why conservation professionals including nearby Mote Marine Laboratory study data about the fish, like migratory patterns, release methods, and DNA.
Nicole Coudal is a home chef and food writer based in southwest Florida, where she fishes and cooks using local ingredients. When not on the water, she visits farms, farmer's markets, and other food venues to highlight what's in-season and to create tasty recipes for her blog. Nicole is a regular contributor to Visit Sarasota and Edible Sarasota, as well as, a frequent guest on ABC 7's Suncoast View. Read more at www.MyDeliciousBlog.com.