Self-Care Tips from Sarasota Relaxation Experts
When you want to unwind but can't escape to Sarasota County's soon enough, try these at-home care ideas from our local health & wellness community
"Sundae's" Best Facial Cleanse

Photo Credit: Sirius Day Spa
"A super healthy at-home facial to cleanse, soften and moisturize. (And it's actually a lot of fun!) Sundae's Best is an easy 3 step facial treatment with natural ingredients to keep your skin clean, silky smooth and hydrated. Cleanse and remove makeup with PH balanced cleanser, get silky smooth firming with the benefits of chocolate then quench the skin while restoring beauty and suppleness with antioxidant rich watercress. Delightful!"
What You'll Need
(Sirius Day Spa recommends Farmhouse Fresh Products available at Sirius Day Spas. For more info visit
their website
.)
Green Tea Milk Wash $27 (alternative: 1 cup powdered milk, 2 tablespoons rolled oats, uncooked, 4 teaspoons dried green tea leaves, or contents of 2 green tea bags).
Sundae Best® Chocolate Softening Mask with CoQ10 $25 (alternative: Mix 1 tablespoon of melted chocolate with 1 tablespoon of thick add-ons free cream and add 1 tablespoon of liquid honey)
Watercress Hydration Cascade™ Gelée Moisturizer $39 (alternative: 1/2 cup coconut oil ,1 teaspoon liquid vitamin E, 12 drops essential oil)
Directions
Step 1: Apply cleanser using upward strokes. Start with the décolleté, move up the neck, covering the entire face and finish with the forehead. The cleanser will remove dirt and make-up and also help balance the ph of your skin. Remove cleanser with a warm, damp towel. The entire pre-cleanse and cleanse process should take about 5 minutes.
Step 2: Treat: (12-15 min) Now, with a fan brush (or your fingers!), apply a thin layer of the chocolate mask. With long, smooth strokes -- begin with the décolleté, move upward and finish at the forehead. Be sure to avoid the delicate eye area. Allow the mask to dry and enjoy the scent of a chocolate sundae! Finally, remove the mask with a warm damp towel. This mask leaves your face feeling tight, smooth, and radiant! For all skin types except those with roscea.
Step 3: Apply facial moisturizer using the same application method. Do not remove. The texture of this moisturizer is so light, it will melt on your skin. You will instantly love the beautiful glow, rejuvenated look, and the feel of your quenched complexion.
Sirius Day Spa is a one-stop spa experience with over 40 services. Affordable luxury includes massage, meditation, facials, mani-pedis, eyelash extensions, body wraps and more.
Hydrating Hand Mask
"The Hydrating Hand Mask is a Self-warming and softening hand mask that locks in your natural body heat using the same insulation technology as space blankets, allowing the coconut-infused formula inside to better penetrate the skin. Ten glorious minutes later, chapped hands are rejuvenated, cuticles are softened and you're that much more relaxed!"
What You'll Need
The Perfect 10 Hand & Cuticle Mask $10 at most major retailers (Ingredients: Shea Butter for extra moisturizing, soothes dryness and irritation; Macadamia Seed Oil hydrates and gently repairs damaged, scarred or aging hands; and Rose Hip Oil riches with fatty acids to restore moisture and elasticity. It is paraben free and cruelty free.)
Directions
Step 1: Open and unfold gloves.
Step 2: Apply to clean, dry hands.
Step 3: Seal around wrist and relax for 10 minutes (or longer if desired)
Step 4: Remove and discard gloves.
Step 5: Massage remaining cream into skin (there is no need to rinse).
Waxing The City is a body and facial waxing studio for men and women located across the street from the massive Mall at University Town Center. Their highly-trained staff are experts in skin care, with a wide range of services and treatments.
Owner Laura Bloise also recommends trying a more common facial "masque." Her store sells a variety depending on the type of skin: Illuminate for even skin tone, Soothe for irritated skin, and Hydrate for dry or fatigued skin to improve elasticity.
The Three-Part Breath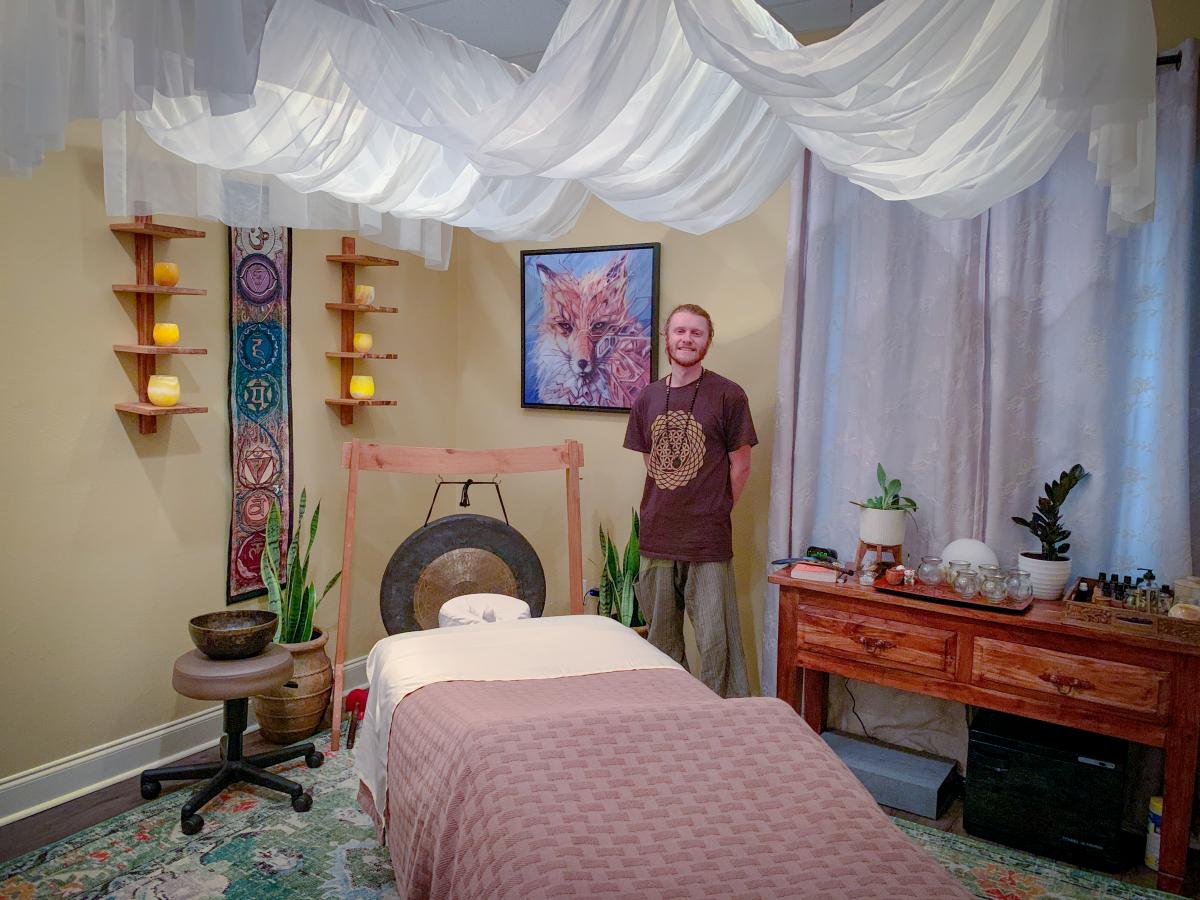 "One of the simplest ways to alleviate tension in the body is breath. Under stress, one thing humans tend to do is hold their breath, which causes the muscles and facia of the body to tighten and cause inflammation and pain. We see many clients that have neck, shoulder, and stomach tension, and believe that shallow breathing has a critical role in this dilemma. We recommend the 'Three Part Breath' (in Yogic Practices it is called 'Durga Pranayama' which loosely translates to breathwork exercises). This practice is also been called diaphragmatic or abdominal breathing. This is a very necessary and nurturing breathing practice. Three-part breathing will help anyone needing to create more oxygen/blood circulation, improve organ function or even just to center yourself and relax."
What You'll Need
Your body
A few moments of focus (or longer depending on desired results)
A comfortable place to rest (preferably lying down)
Directions
Step 1: Place one hand over the belly and the other on the chest.
Step 2: Exhale fully.
Step 3: Begin to inhale, drawing the breath into the belly, expanding the abdominal cavity, and utilizing the diaphragm. Continue drawing the inhale into the middle lungs, which expands the ribcage. When the breath reaches the top of the lungs, the upper chest will rise last.
Step 4: Exhale releasing the air starting from the chest down through the rib cage and last sinking the belly back down.
Step 5: Continue for 5-10 rounds or as long as desired until you feel your body relax.
Four Pillars is a wellness spa located in San Marco Plaza in Lakewood Ranch. Four Pillars provides luxurious facials and med spa treatments, massage therapy, sound therapy and energy sessions, as well as life coaching.
Licensed massage therapist Michael Fox breath work has been a powerful ally on his healing journey. It has helped him to become more present, more aware and in touch with his body. Pairing breath work with meditation or sound therapy (harmonic vibrations from the instruments, such as quartz crystal bowls, Tibetan bowls, chimes, and rain sticks) can have an even deeper penetrating effect on the body.